Malabon City Treasurer Amalia Santos has recently released the list of Malabon tax delinquent properties that are to be sold through a tax foreclosure auction sale on November 28, 2011, 9:00am, at the Lobby of the Malabon City Hall, F. Sevilla Boulevard, Tanong, Malabon City, Philippines.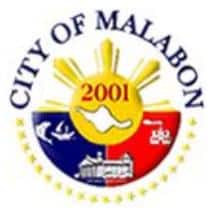 The said Malabon tax delinquent properties shall be "offered for sale to satisfy the incurred real property tax delinquency, penalties, and interest, moreover the expenses or cost of sale (as provided for in Section 260 of R.A. 7160)".
Complete list of Malabon tax delinquent properties for sale
Please see below the complete list of tax delinquent properties located in Malabon that are included in the tax foreclosure auction sale on November 28, 2011.
Click on the images below to enlarge. Right click to save a copy.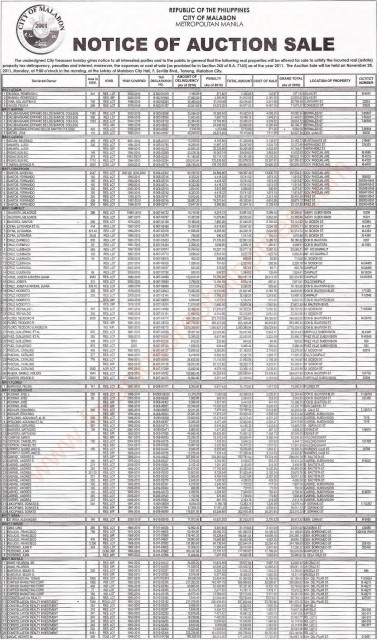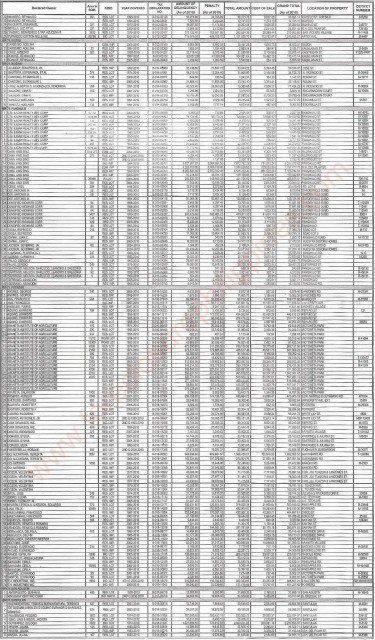 Also available: Click here to download a PDF version of the listing above that contains all pages in a single PDF file.
Source: Philippine Star print edition, November 10, 2011 – Page B-13-B-15
*Please take note that as the auction draws near, many of the owners of the properties on the list will have already settled the arrears on the properties. This means the actual list of properties for sale during the auction will contain fewer properties than the list above.
As stated on the notice above, interested parties who need more information may visit or call the Malabon City Treasury Department through telephone numbers 281-4999 local 3008. You may also visit their website www.malabon.gov.ph.
~~~
To our success and financial freedom!
Jay Castillo
Real Estate Investor
PRC Real Estate Broker License No. 3194
Blog: https://www.foreclosurephilippines.com
Follow me in Twitter: http://twitter.com/jay_castillo
Find us in Facebook: Foreclosure Investing Philippines Facebook Page
Text by Jay Castillo and Cherry Castillo. Copyright © 2011 All rights reserved.
Full disclosure: Nothing to disclose.