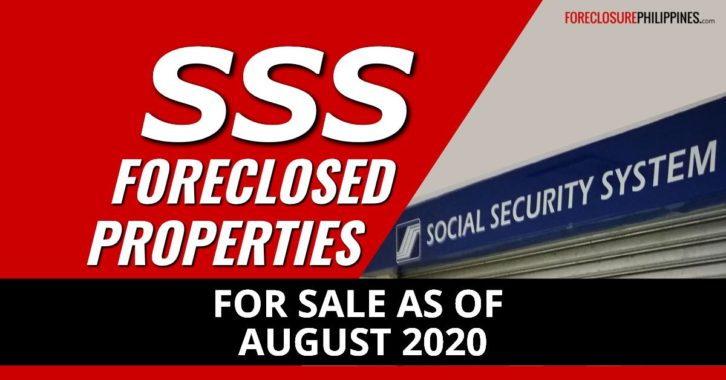 84 SSS foreclosed properties remain available for sale this August 2020. These are for negotiated sale as of July 31, 2020 (the last working day of July – which means this list is for August 2020 onwards). Details below.
View list of SSS foreclosed properties (database)
To view all SSS foreclosed properties with easy searching and filtering, access them all through our "Classifieds Database" below::
Click here to view searchable list of SSS Foreclosed Properties (Database)
Didn't find a property for you? Search from over 20,000 foreclosed properties…
If you didn't find a suitable property for you from this list from the SSS, you can search from over 20,000 foreclosed properties from several banks and government lending institutions located all over the Philippines.
Searching is easy, just use our Foreclosed Properties Search (FPS) tool below:
Step-by-step instructions:
Search by typing keywords (ex. Your preferred subdivision, village, condo, etc) and/or location(s) and click "Search" (Hint: Include keyword "sss-foreclosed" to only include SSS foreclosed properties in search results, leave blank for all).
Use "Advanced Search" to choose preferred price range, lot/floor areas (if data is available), and also to exclude those classified as occupied.
Browse all locations with foreclosed properties by Province/City
You can also browse all locations within the Philippines with foreclosed properties available from ALL banks/lending institutions, grouped by Province/City, on this page:
Click to browse all foreclosed property locations
Note: The "Classifieds Database" is a work in progress. If you have comments/suggestions, please do let me know by leaving a comment below.
Download the list of SSS foreclosed properties (PDF)
You may also view the list of SSS foreclosed properties in PDF format below.
Click to download SSS foreclosed properties listing (PDF)
Note: You will need Adobe Acrobat Reader to view PDF files, which is free to download at Adobe.com
Source: SSS Official website
How to avail (Summary)
Contact SSS directly for property availability and other details/requirements
Do your due diligence (inspect property, check documents, etc.)
Choose your preferred payment terms
Submit offer and requirements as instructed by SSS
(* The above is just a summary, please contact SSS directly for more details. Contact info can be found below)
Payment Terms
This is the latest info I got from the SSS:
Minimum Downpayment:

For PHP 500,000 and below – Minimum of 5% of purchase price
For above PHP 500,000.00 – Minimum of 10% of purchase price

Interest rates (for installment payment)

6% – 1 to 5 years installment term
7.5% – 6 to 10 years installment term
9% – 11 to 15 years installment term

Discounts:

10% discount on purchase price for cash purchase
10% discount on purchase price for successful eviction of illegal occupant for occupied properties.

Payment terms: Up to fifteen (15) years at 9% interest per annum (Note: interest rates can be lower if payment term is shorter, see above)
Note: You might be thinking about the additional 10% discount if a property is occupied. Before you decide, please remember that ejecting the occupants is not for the faint-hearted, which is why we recommend to move-on to other available properties if the property you are interested in turns out to be occupied.
Reminders
All foreclosed properties are for sale on an "as is where is basis". Property availability and prices are subject to change without prior notice. All offers are subject to approval by management. Misprints shall not be construed as misrepresentation of the property.
Who to contact for more information
For more details, please contact the designated contact person that handles the region where a foreclosed property is located. For quick reference, see below:
*Note: For NCR, the telephone number should already be 8 digits but I still could not connect when I tried to add 7 or 8 at the start. I'll update this when I am able to connect successfully.
National Capital Region

Contact Person : Ms. Lualhati A. Zuñiga /Antonio A. Salamat, Jr.
Telephone No. : (02) 920-6401 locals 5123/5125/5430
E-mail Address : [email protected] / [email protected]
Address : 12th Floor, SSS Building, East Ave., Diliman, Quezon City

Southern Luzon

Contact Person : Engr. Evangeline B. Rivera
Telephone No. : (049) 562-0324
E-mail Address : [email protected]
Address : 2F SSS Building, Balagtas Blvd cor. M. Paulino St., San Pablo City

Central Visayas

Contact Person : Mr. Leon C. Gelera, Jr.
Telephone No. : (032) 505-9301 to 10 loc. 250
E-mail Address : [email protected]
Address : SSS Bldg., Osmeña Boulevard, Cebu City

Western Visayas

Contact Person : Engr. Antonio G. Wong, Jr.
Telephone No. : (034) 709-0880, 709-0412 to 17 Local 303
E-mail Address : [email protected]
Address : 3rd Flr., SSS Bldg., 2nd Lacson St., Bacolod City

Southern Mindanao

Contact Person : Mr. Joseph G. Codilla / Mr. George C. Doria
Telephone No. : (082) 221-3493 / 221-3575 / 221-3536
E-mail Address : [email protected] / [email protected]
Address : SSS Bldg., J.P. Laurel Avenue, Bajada, Davao City
Full disclosure: Nothing to disclose, we are not accredited real estate brokers of SSS, and we are just sharing this to everyone who might be interested.
---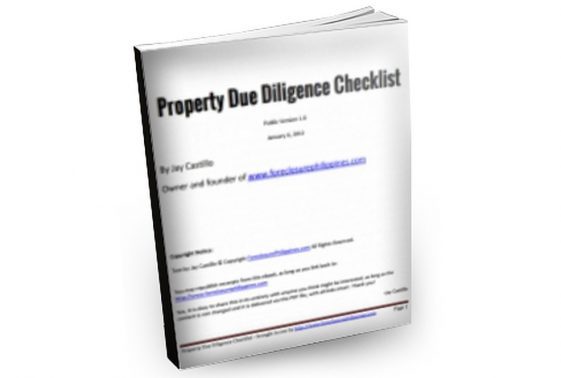 FREE CHECKLIST: IDENTIFY AND AVOID PROBLEMATIC FORECLOSED PROPERTIES BY DOING PROPER DUE DILIGENCE!
Avoid losing money, wasted time and effort caused by buying foreclosed properties that have too many problems, with our free 60-item Property Due Diligence Checklist. Grab your free copy now.
Related Posts