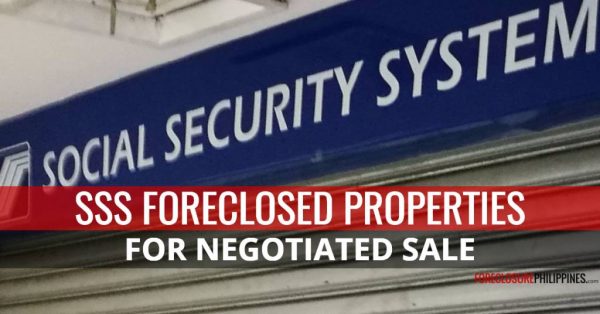 A total of 157 SSS foreclosed properties remain available for negotiated sale in their latest update, dated October 20, 2017. Details below.
SSS foreclosed properties for negotiated sale
Although the list contains 157 SSS foreclosed properties for sale, please bear in mind that the actual number of available properties might be less since the list indicates it was updated as of October 20, 2017.
Only 50 of the foreclosed properties from SSS has pictures, and you may access them all below.
Click to view/search SSS foreclosed properties for negotiated sale
Download the list of SSS foreclosed properties in PDF format
If you prefer the list in PDF format, you can view/download a compressed copy below.
Note: You will need Adobe Acrobat Reader to view PDF files, which is free to download at Adobe.com
Source: SSS Official website
Payment Terms
I might get a lot of comments asking for this, so I already called up SSS to ask for their payment terms, and here's what I got:
Minimum Downpayment: 10% of selling price if selling price is above PHP500,000.00, 5% if selling price is below PHP 500,000
Discounts: A cash sale will get 10% discount. You can also get 10% discount if a property is occupied.
Payment terms: Up to fifteen (15) years at 9% interest per annum (Note: interest rates can be lower if payment term is shorter, call for details)
Note: You might be thinking about the additional 10% discount if a property is occupied. Before you decide, please remember that we do not recommend buying occupied properties.
Reminders
All foreclosed properties are for sale on an "as is where is basis". Property availability and prices are subject to change without prior notice. All offers are subject to approval by management. Misprints shall not be construed as misrepresentation of the property.
–
For more details, please contact SSS directly through the contact details specified in the listings above.
Full disclosure: Nothing to disclose, we are not accredited real estate brokers of SSS, and we are just sharing this to everyone who might be interested.