Updated last October 31, 2023, here are all SSS foreclosed properties available for negotiated sale for the month of November 2023. Details below.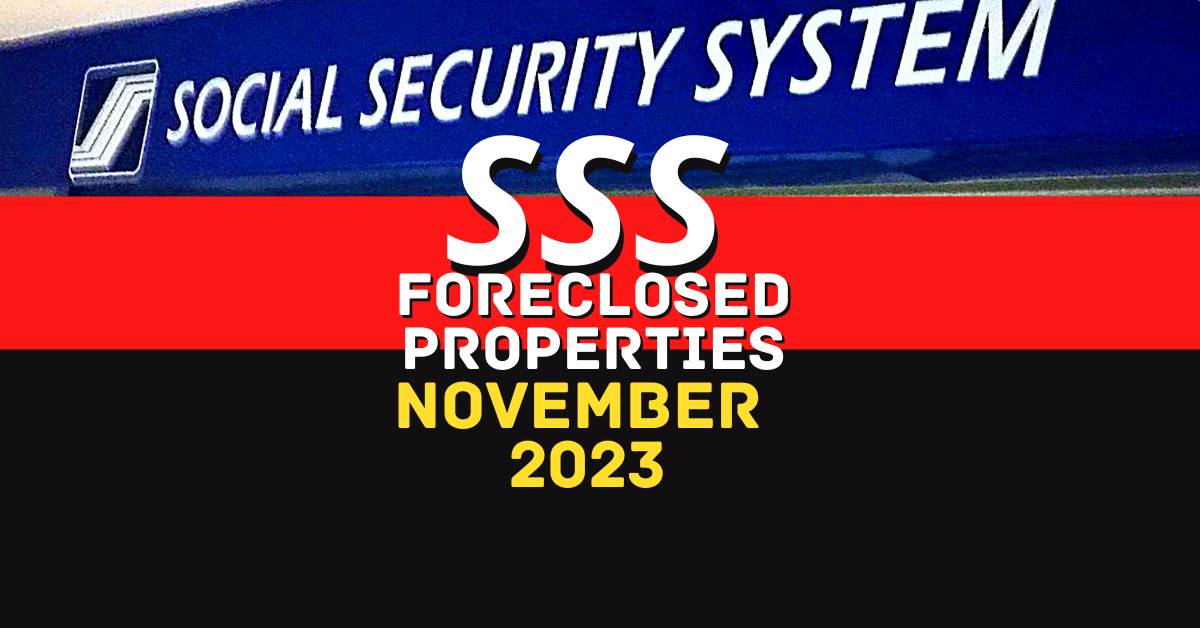 Reminder: This list has no occupancy status
I just want to remind everyone that the list of SSS foreclosed properties does not have any occupancy status.
To find out if a property has illegal occupants (or not), you will have to call the SSS contact person and ask.
Remember, If you decide to buy an occupied property, you will have to eject the illegal occupants and shoulder all related expenses. 🙁
As usual, we do not recommend buying occupied properties even if SSS offers a 10% discount on the purchase price for the successful eviction of illegal occupants (more on this below).
View/Download the list of SSS foreclosed properties (PDF)
PDF listings are here to stay for now, and you can view a copy of the searchable file online below (downloading is optional).
==> Click to view/download SSS foreclosed properties listing (PDF)
SSS contact info
Each geographic location will have different contact info, and these are all included in the listing above.
Please contact SSS directly.
How to buy/avail SSS foreclosed properties
Contact SSS directly for property availability and other details/requirements
Do your due diligence (inspect property, check documents, etc.)
Choose your preferred payment terms
Submit offer and requirements as instructed by SSS
(* The above is just a summary, please contact SSS directly for more details. Contact info can be found below)
Payment Terms
This is the latest info I got from the SSS:
Minimum Downpayment:

For PHP 500,000 and below – Minimum of 5% of purchase price
For above PHP 500,000.00 – Minimum of 10% of purchase price

Interest rates (for installment payment)

6% – 1 to 5 years installment term
7.5% – 6 to 10 years installment term
9% – 11 to 15 years installment term

Discounts:

10% discount on purchase price for cash purchase
10% discount on purchase price for successful eviction of illegal occupant for occupied properties.

Payment terms: Up to fifteen (15) years at 9% interest per annum (Note: interest rates can be lower if payment term is shorter, see above)
Note: You might be thinking about the additional 10% discount if a property is occupied. Before you decide, please remember that ejecting the occupants is not for the faint-hearted, which is why we recommend to move-on to other available properties if the property you are interested in turns out to be occupied.
Reminders
All foreclosed properties are for sale on an "as is where is basis". Property availability and prices are subject to change without prior notice. All offers are subject to approval by management. Misprints shall not be construed as misrepresentation of the property.
Full disclosure
Nothing to disclose, we are not accredited real estate brokers of SSS, and we are just sharing this to everyone who might be interested in SSS foreclosed properties.
Source: SSS Official website
Search for more foreclosed properties in our database…
You can also search from over 20,000 foreclosed properties in our database.
This includes other banks and lending institutions that have foreclosed properties for sale.
Use this to quickly search for all foreclosed properties in a subdivision, village, condominium project, city, etc.
==> Click for advanced foreclosed properties search
All locations with foreclosed properties by Province/City
You can also browse all locations within the Philippines with foreclosed properties available from ALL banks/lending institutions inside our database, grouped by Province/ City, on this page:
==> Click to browse all foreclosed property locations
Note: The "Foreclosed Properties Database" is a work in progress. If you have comments/ suggestions, please do let me know by leaving a comment below.