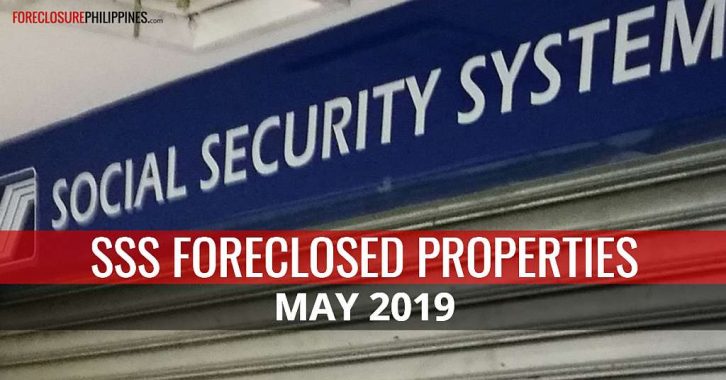 I just found the latest Social Security System or SSS foreclosed properties list, which are for negotiated sale. This is a nationwide list, and it was last updated on April 30, 2019 (the last working day of April – which means this list is for May 2019 on-wards). Details below.
Here's an overview of where the foreclosed properties on the list are located:
View list of SSS foreclosed properties (database)
To view all SSS foreclosed properties with easy searching and filtering, access them all through our "Classifieds Database" below::
Click here to view searchable list of SSS Foreclosed Properties (Database)
Search all foreclosed properties in our Classifieds Database
Step-by-step instructions:
Search by typing keywords (ex. Your preferred subdivision, village, condo, etc) and/or location(s) and click "Search" (Hint: Include keyword "sss-foreclosed" to only include SSS foreclosed properties in search results, leave blank for all).
Use "Advanced Search" to choose preferred price range, lot/floor areas (if data is available), and also to exclude those classified as occupied.
View/ download the list of SSS foreclosed properties (PDF)
You may also view the list of SSS foreclosed properties in PDF format, below (the list has 18 pages).
If the viewable list is not showing correctly above, or you prefer to download a copy, just use the download button/link below.
Click to download SSS foreclosed properties listing (PDF)
Note: You will need Adobe Acrobat Reader to view PDF files, which is free to download at Adobe.com
Source: SSS Official website
Past listings of SSS foreclosed properties (Archive)
This archive is like a record/history of past listings of SSS foreclosed properties for easy reference.
Click below to expand/show all archived listings:

Payment Terms
The last time I called up SSS to ask for their payment terms, here's what I got (Please call SSS to confirm if the following are still valid):
Minimum Downpayment: 10% of selling price if selling price is above PHP500,000.00, 5% if selling price is below PHP 500,000
Discounts: A cash sale will get 10% discount. You can also get 10% discount if a property is occupied.
Payment terms: Up to fifteen (15) years at 9% interest per annum (Note: interest rates can be lower if payment term is shorter, call for details)
Reminders
All foreclosed properties are for sale on an "as is where is basis". Property availability and prices are subject to change without prior notice. All offers are subject to approval by management. Misprints shall not be construed as misrepresentation of the property.
Who to contact for more information
For more details, please contact SSS directly through the contact details as indicated inside the list of foreclosed properties above.
Full disclosure: Nothing to disclose, we are not accredited real estate brokers of SSS, and we are just sharing this to everyone who might be interested.