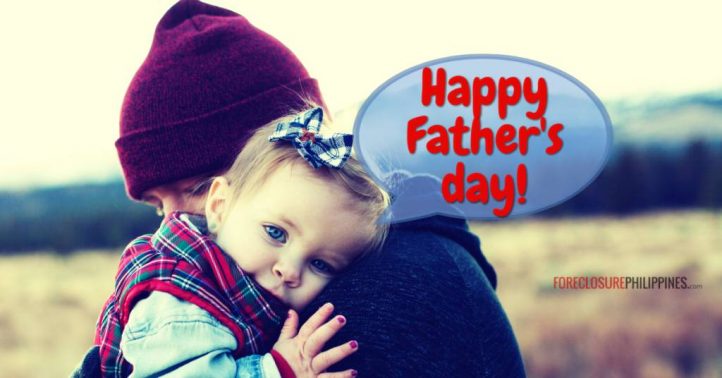 As we celebrate fathers' day today, I would like to greet  rich dads and soon-to-be rich dads out there "Happy Fathers' Day!". I also can't help but think about the obvious impact fathers have on all aspects of  the lives of their children, especially when it comes to the financial aspect. Let me explain further below.
What is a Rich Dad?
Before anything else, I would like to put things in the proper perspective. For me, a rich dad is someone who knows and applies much of the principles discussed in the book "Rich Dad Poor Dad" by Robert Kiyosaki. In a nutshell, I believe that a rich dad is someone who:
is financially literate;
knows how to manage his finances well;
makes his money work for him  by focusing on having sound and passive investments/ businesses than on working for money by being an employee; and
makes it a point to share these principles to his children and to everyone whose lives he touches, provided they are willing to learn.
In addition, I also believe a truly rich dad is someone who knows that the ultimate purpose of becoming rich is to help others (as explained by Bo Sanchez in his book 8 Secrets of the Truly Rich) and is not just concerned about amassing wealth and money.We already have too many people who are like that and I don't think we need any more of them.
What this country needs are people who can make better use of their true riches and make a positive impact on the lives of the people around them and the community.
Rich Dad Poor Dad is not just about Real Estate Investing

Since  what I am talking about is really centered on the book "Rich Dad Poor Dad", I would like to remind everyone that the book is not really just about investing in real estate and in foreclosures but rather about raising one's financial intelligence by being financially literate, which would ultimately lead to financial freedom.
Investing in foreclosures is just one of the means but the prerequisite is still financial literacy. Without financial literacy, a person who gets a lot of money will surely lose it soon. Just look at those who won in the lotto or got an unexpected windfall but lacked financial literacy and you'll know what I mean.
In foreclosure investing as well, one may be able to find good deals and make money but there is still a danger of losing it all if one is unable to manage his finances correctly.
My Rich Dad
It was my father's birthday last week and I, along with my wife and our son, visited him at the Manila Memorial Park.
During a moment of silence and reflection, it occurred to me that although my dad and I were very different, we are actually very similar in many ways .
You see, I had always wondered why my dad retired early and did not pursue his career as a surgeon. I always thought that he could have had a long and brilliant career and in the process we could have been more well-off.
While at the foot of his grave, it occurred to me that in spite of retiring early, he was able to provide his family (all six of us siblings plus our mom of course!) with all our needs and the best education possible.
In my case, I was able to go to La Salle Green Hills, Philippine Science High School (Pisay), and University of Santo Tomas and AMA Computer College. As far as I can remember, my brothers and sisters went to schools like Holy Spirit, St. Paul, Pisay, UP, and La Salle. Two even took up medicine.
And to think my dad didn't have a job while my mom was a housewife!
My Dad had passive income!
You see, it turned out that my Dad already had passive income (I had no idea it was passive income then) from the land that he rented out to tenants. He inherited the land from my grandfather. All he had to do was collect rent and manage the financial aspect, which he did with the help of my mom.
On being doctors
My mom had recounted that during that time, if they had relied on their income from practicing as doctors (mom was an anesthesiologist and dad was a surgeon), they would not have been able to give their children what they needed. I'm sure there are many doctors out there who really have the heart to help those who need medical attention, but find that there's simply not enough money from practicing the profession that would enable them to adequately support their families.
Yes, there are some doctors who earn a lot but I know there's much investment involved (further studies abroad, specialization, etc.) and the payback period can be quite long. I have observed that many noble professions (such as the teaching profession, aside from the medical profession) pay really low, and this either discourages people from pursuing them or pushes them to seek greener pastures abroad.
Wouldn't it be great if you could pursue what you really want – whether it be helping others , traveling all over the world, or both – without thinking of how you can support your family's needs as these are already covered?
The importance of financial literacy
Looking back, it's really unfortunate that when my father died in 1992, we were not able to manage our inherited land as well as he did. Yes, we did become professionals and our education has served us well, but we were trained to be employees and our mindset was not focused on earning passive income.
So you can see how important it is to take time to pass on your knowledge on financial literacy and passive income to others, most especially to the next generation.
Ever wondered why many rich families are able to preserve their wealth? It's because as time goes by, the financial literacy is passed from generation to generation.
Why the rich get richer and the poor get poorer
Yes, the rich do become richer and the poor get poorer – and it's not  the government's fault okay! (Yes, we do have problems like corruption but that's a different thing altogether) but because the rich are financially literate.
There's nothing wrong about wanting to become rich. Just remember to share your blessings with others. The rich people who give away their money to those in need (think of Warren Buffet, Bill Gates, John Gokongwei, etc.) are blessed even more.
I shall be my son's Rich Dad
We believe our son CJ is very lucky as my wife and I are committed to teaching him and instilling in him as much as we can so that he, his children, and his children's children will be financially literate and financially free.
As the leader of the family, I shall do my best to fulfill my responsibilities to provide for and support my family, and teach my son and our future children what is good, right, and just.
I would love to see the day when my son is old enough to read the book Rich Dad Poor Dad and he will say "Hey! I have a Rich Dad!"
Happy Fathers' Day!