While the Paranaque tax amnesty for realty taxes ends on November 15, 2013, Muntinlupa City real property owners have until December 31, 2013 to avail of a tax amnesty as announced through an advisory on the official website of Muntinlupa City. The good news is, we can expect that public auctions of tax delinquent properties in Muntinlupa shall NOT be conducted in the near future.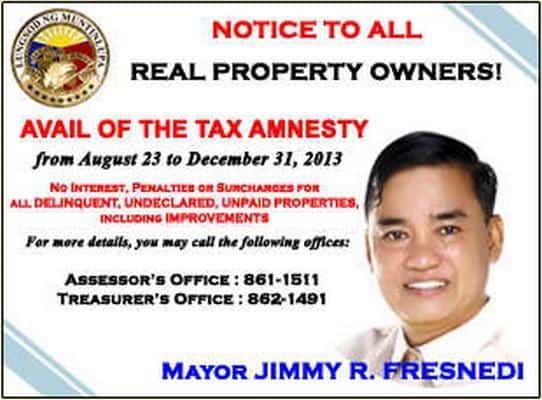 Muntinlupa City Tax Amnesty Details
According to the advisory, all real property owners can avail of the tax amnesty from August 23 to December 31, 2013.

It was also mentioned that there shall be…
"No interest, penalties, or surcharges for all delinquent, undeclared, and unpaid properties, including improvements."
An Inquirer.net news article reported that Muntinlupa City Mayor Jaime Fresnedi signed the ordinance that granted the tax amnesty last August 5, 2013.
As of October 9, 2013, we could not get a copy of the ordinance, or other details, from the Muntinlupa City website, as it seems the page for this is still being updated.
Anyway, as stated in the advisory above, interested parties can call the following to get more details:
Assessor's Office: 861-1511
Treasurer's Office: 862-1491
Tax amnesty for other Cities/Municipalities?
Do you know of any other Cities/Municipalities that have offered a tax amnesty to real property owners out there? If you do, please share it through the comments below. Thanks!