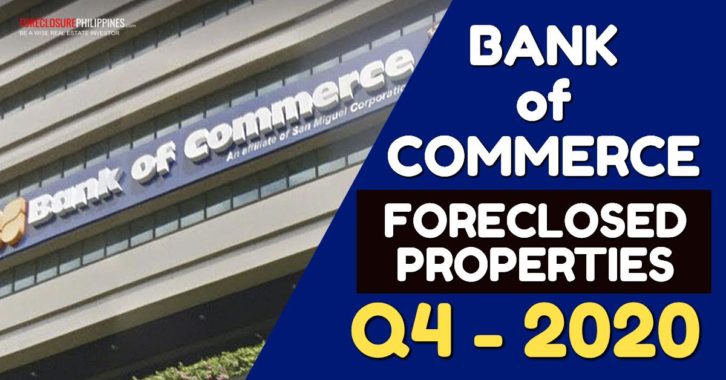 A total of 11,285 Bank of Commerce foreclosed properties are available for negotiated sale in their latest pricelists for the 4th Quarter of 2020. These include real estate from Metro Manila, Luzon, Visayas, and Mindanao areas. It also has a big list of memorial lots in provincial areas. Details below.
Please take note of properties with no price (for re-appraisal), "special concerns"
Please take note that quite a number of properties have no price because they are "For re-appraisal". You should call Bank of Commerce DIRECTLY to ask if the selling price is now available.
Also, some properties from Bank of Commerce have the following statuses or "special concerns":
* No Possession
** With pending case
*** Under redemption
"No Possession" means the property either has illegal occupants or the property is locked and the bank is unable to enter and take over the possession (Properties that are classified as "No possession" can be easily excluded when searching our database, more on this below).
"With pending case" means a court case is ongoing (usually between the bank and the former owner) and the buyer will take over from the bank.
"Under redemption" means a property is still within redemption period and the former owner can still get the property back by redeeming it. To learn more about the redemption period, visit this page at BATASnatin.com
View entire list of Bank of Commerce foreclosed properties (searchable database)
Click to view list with all Bank of Commerce Foreclosed Properties
Exclude properties with zero prices, no possession
Here are quick links to exclude properties with zero prices and no possession/occupied:
==> Click here to exclude all properties that have zero prices and are for re-appraisal
==> Click here to exclude all properties that have issues (those that are illegally occupied/bank has no possession)
View/download the listings per geographical region
Last updated on December 16, 2020
Listing Details
Number of Foreclosed Properties

Foreclosed properties in Metro Manila




Note: Includes properties for re-appraisal that have no posted price.
269

Foreclosed properties in Luzon




Note: Includes properties for re-appraisal that have no posted price.
1540

Foreclosed properties in the Visayas Region




Note: Includes properties for re-appraisal that have no posted price.
633

Foreclosed properties in Mindanao




Note: Includes properties for re-appraisal that have no posted price.
188

Memorial lots in provincial areas




8655
Total
11,285
Note: This list supersedes all listings from Bank of Commerce that we have shared in the past here at ForeclosurePhilippines.com
Note: You will need Adobe Acrobat Reader to view PDF files, which is free to download at Adobe.com
Didn't find a suitable property? Search properties from other banks/sellers
You can search from over 20,000 foreclosed property listings from other banks/sellers. Search by typing keyword(s) and/or location(s) and click "Search" using the search form below.
Use "Advanced Search" to exclude properties that have a *no possession status – They can be filtered out by excluding occupied properties, and also those that have no price and are for re-appraisal.
Listing details and important reminders
The foreclosed properties from Bank of Commerce are for negotiated sale, no need to go through a public auction.
This means that interested parties only need to submit their offers. There will only be a bidding if a property receives multiple offers. More details can be found in their reminders below.
IMPORTANT REMINDERS:

1) All sales on "AS-IS, WHERE-IS" and "NO RECOURSE" bases. No warranties.

2) Prices NOT applicable to buybacks by former owners. Please contact Acquired Assets Management Department for buyback price.

3) Properties & prices subject to change anytime & may be removed from the list for any reason Top Management deems appropriate.

4) The list may reflect properties sold without the knowledge of AAMD. For immediate correction, kindly advise AAMD of such fact if identified.

5) If multiple offers are received for the same property, a bidding shall be conducted and the property shall be awarded to the highest bidder.

6) Mere submission of an Offer to Purchase does not confer "first option" or "first right" to the offeror.

7) The deficiencies stated herein are not meant to be exhaustive, comprehensive or complete. Buyers are advised to conduct their own due diligence prior to making an offer.

8) The Bank only shoulders Creditable Withholding Tax up to purchase price. Excess CWT are for buyer's account.

9) This list is an intellectual property of Bank of Commerce. However, Bank of Commerce is not in anyway liable if this shall be copied, reproduced, altered and/or tampered for any activities other than the purpose of marketing properties contained in it.

10) No application fee is required.

11) Bid Offer should be labeled as "Bids and Awards Committee – Bank Property Bid" and be addressed to:

Bids and Awards Committee Secretariat
Finance and Controllership Group
12th floor SMPC Bldg., Ortigas Center
c/o Maritess C. Claveria
I would like to emphasize what was mentioned in the reminder that the list might contain properties that are already sold since the list is updated quarterly, and these foreclosed properties are offered to the public through various channels.
So if you are interested in any property, you should first check the availability with the bank to avoid wasting time.
How to inquire
For inquiries, please refer to contact details below, depending on the location of your target properties:
Interested? Please call 982-6000, locals:

Metro Manila Areas: 6372 & 6373
Luzon Areas: 6374 &6375
VisMin Areas: 6372 & 6147

Contact Persons:
Katherine Manalang – 09175208074
Anna Leon – 09173099575
Source: Bank of Commerce website
~~~
Disclaimer and disclosure
All foreclosed properties are for sale on an "AS IS, WHERE IS" basis. Interested parties are reminded to conduct proper due diligence prior to the purchase of any foreclosed property.
Availability, prices, and property status are subject to change without prior notice.
Misprints should not be construed as misrepresentation of the property.
Foreclosed property listings often include properties that are occupied. We do not recommend that you buy occupied properties, even if they are cheap.
We cannot entertain requests for assistance with finding foreclosed properties in any particular location, since we no longer broker foreclosed properties.
Since we don't broker foreclosed properties (as stated above), we obviously cannot entertain requests for foreclosed property details. We highly suggest that you contact the banks/sellers/government lending institutions directly for your requirements, or get the services of their accredited and licensed real estate brokers who may assist you.
Let me reiterate: PLEASE DO NOT CONTACT US/LEAVE A COMMENT TO REQUEST FOR PROPERTY SPECIFIC DETAILS. As stated above, the correct way to get details is to CONTACT THE SELLING BANK/INSTITUTION DIRECTLY TO INQUIRE (REFER TO THE LISTING FOR CONTACT DETAILS). Thank you for understanding!
Don't forget to subscribe to e-mail alerts to get notified when the next updated listings of foreclosed properties are published.
Happy hunting!