Here's a reminder for Quezon City real property owners: The tax relief for delinquent real properties will expire on June 30, 2015. This is in reference to Quezon City Ordinance No. SP-2363 which granted a tax relief for delinquencies incurred prior to 2010. Check out the details below.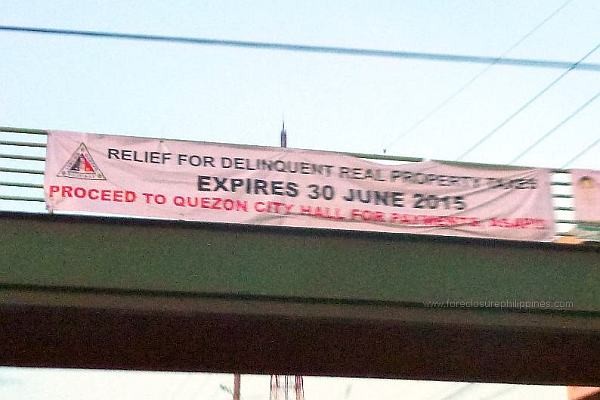 Just recently, we saw tarpaulins for the tax relief along Quezon Avenue, just like the one above (sorry for the blurry picture, It's the only readable picture my wife was able to take when we passed by).
What does Tax Relief mean?
Based on Quezon City Ordinance No. SP-2363, taxpayers that own real properties (this includes land, improvements, and machinery) which have incurred more than 5 years worth of delinquency,
"may pay the total tax delinquencies from 2010 to 2014, and are relieved from paying their obligation to pay delinquencies incurred prior to 2010."
I would like to emphasize that taxpayers are only relieved of delinquencies incurred prior to 2010. Delinquencies from 2010 to 2014 still have to be paid.
The granting of the tax relief is in line with Section 192, of Republic Act No. 7160 as quoted below (emphasis mine):
"Local Government Units may, through ordinances duly approved, grant tax exemptions, incentives or relief under such terms and conditions as they may deem necessary"
Furthermore, according to Section 2 of the ordinance, taxpayers can avail the tax relief from January 1, 2015 to June 30, 2015.
Exceptions
Let me quote Section 3 that defines exceptions below:
SECTION 3. Exceptions – The relief herein granted shall not apply to delinquent real properties that have already been auctioned in accordance with section 260 of Republic Act No. 7160 or are currently being settled or paid under a compromise or similar agreements and those with case pending with the Quezon City Board and Assessment Appeal.
Full Text
Instead of expounding on this further myself, I will just refer you to the full text of the ordinance below: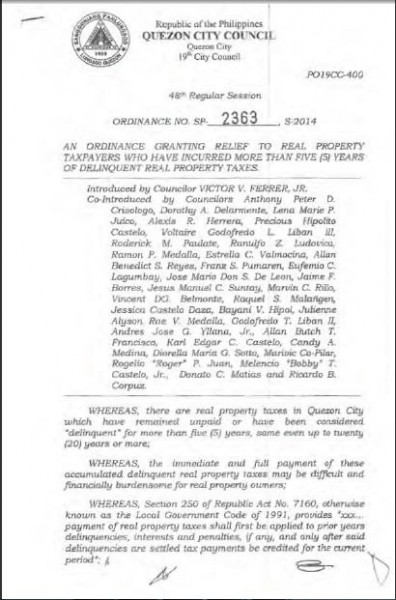 Click to download Quezon City Ordinance No. SP-2363 (compressed PDF file)
Source: Local Government of Quezon City website
Quezon City Real Property Tax Relief Coverage
Here's a list of barangays listed in the official website of the Quezon City local government that includes properties covered. If your barangay is included below, you may check if your property is included on this page: http://quezoncity.gov.ph/index.php?option=com_content&view=article&id=1620:tax-relief-deadline-june-30-2015&catid=118
Bagong Lipunan Ng Crame
Bagong Pagasa
Bagong Silangan
Bagumbayan
Bagumbuhay
Bahay Toro
Balingasa
Balongbato
Batasan Hills
Bayanihan
Blue Ridge A
Blue Ridge B
Botocan
Brgy. Alicia
Brgy. Amihan
Brgy. Apolinio Samson
Brgy. Baesa
Brgy. Bagbag
Bungad
Camp Aguinaldo
Capri
Central
Claro
Commonwealth
Concepcion
Culiat
Damar
Damayan
Damayang Lagi
Del Monte
Dioquino Zobel
Don Manuel
Dona Aurora
Dona Imelda
Dona Josefa
Duyan-Duyan
E. Rodriguez
E. Teachers Village
East Kamias
Escopa Iii
Fairview
Gintong Silahis
Greater Lagro
Gulod
Heights
Holy Spirit
Horseshoe
Immaculate
Kaligayahan
Kalusugan
Kamuning
Katipunan
Kaunlaran
Kristong Hari
Krus Na Ligas
Laging Handa
Libis
Lourdes
Loyola
Maharlika
Malaya
Mangga
Manresa
Mariana
Mariblo
Marilag
Masagana
Masambong
Matalahib
Matandang Balara
Milagrosa
Nagkaisang Nayon
Nayong Kanluran
New Era
North Fairview
Novaliches Proper
Obrero
Old Capitol Site
Paang Bundok
Pag-Ibig Sa Nayon
Paligsahan
Paltok
Pansol
Paraiso
Pasong Putik Proper
Pasong Tamo
Phil-Am
Pinagkaisahan
Pinyahan
Project 6
Quirino 2-A
Quirino 2-B
Quirino 2-C
Quirino 3-A
Ramon Magsaysay
Roxas
Sacred Heart
Salvacion
San Agustin
San Antonio
San Bartolome
San Isidro
San Isidro Labrador
San Jose
San Martin De Porres
San Roque
Sangandaan
Santol
San Vicente
Sauyo
Sienna
Sikatuna
Silangan
Socorro
South Triangle
St. Ignatius
St. Peter
Sta. Cruz
Sta. Lucia
Sta. Monica
Sta. Teresita
Sto. Cristo
Sto. Nino
Tagumpay
Talayan
Talipapa
Tandang Sora
Tatalon
Ugong Norte
Unang Sigaw
Up Campus
Up Village
Valencia
Vasra
Veterans Village
Villa Maria Clara
W. Teachers Village
West Kamias
West Triangle
White Plains
The page I listed above also reminds property owners on the list to visit the City Assessor's office to obtain an assessment of past years' delinquencies for settlement. Failure to do so may result in the inclusion in the next tax delinquent property auction in Quezon City.
Other Cities/Municipalities that offer tax relief
For 2015, the only other city where I have seen something similar is Las Pinas, which passed a city ordinance that granted a real property tax amnesty, which coincidentally is also up to June 30, 2015 only. Read the following for more details: Real Property Tax Amnesty For Las Pinas City Ends On June 30, 2015
Do you know other Cities/Municipalities that have granted a tax relief/amnesty that real property owners can avail right now? If you do, please share them through the comments below. Thanks!