So you want to create your own real estate website? Let me help you get started.
I will be a guest trainer at the upcoming PayPal 101 Workshop on November 19, 2011 at the 18th floor, UnionBank Plaza, Meralco Avenue corner Onyx & Sapphire Streets, Ortigas Center, Pasig City, Philippines.
I look forward to sharing what I consider to be "best practices" in setting up real estate websites during the workshop.
What I shall cover during the workshop
I will be using www.foreclosurephilippines.com and a couple of other websites we own as case studies. Obviously, I won't be discussing "theory". I will be sharing information on what has actually worked and continues to work for me, and how you can apply these to your own real estate websites.
I will also discuss things you should avoid!
By the way due to limited time, I will not be able to discuss "all" the "best practices" for setting up your real estate websites, I will just discuss the most important that I can fit in an hour. One more thing, I believe that most of the things I will discuss are also applicable to other niches! 🙂
I will also give short tutorials on a couple of tools I use which I hope attendees would really apply to their own websites. If you bring your own laptops and internet connection (just in case the wifi at the workshop venue becomes overloaded or enounters any problems), you can even follow along my tutorial and implement what I am teaching during the class.
Of course, I will also share info on why I use PayPal with my website and I will also share tips on how to keep your PayPal account secure.
Reminders:
This workshop is not for free, there is a very minimal participation fee of Php800/person.
To attend the workshop, you need to have a PREMIER or MERCHANT PayPal account.  No PayPal account? Don't worry, it's completely free to sign up for a PayPal account! To sign up or learn more, click here: https://www.paypal.com/ph/mrb/pal=V5NBQFDXCU9D2
Get more info or to sign-up
To get more info and reserve your seat(s) for the PayPal 101 workshop on November 19, please checkout this link: http://www.sendmaillogistic.com
Thanks again to my good friend and eBay power seller Eireen Diokno-Bernardo for inviting me to speak. It is truly a great honor!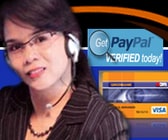 Eireen will be the head trainer for the PayPal 101 workshop. She  is a recognized eBay and PayPal E-Commerce Education Specialist for Southeast Asia. She is also recommended by Jim Griffith, the Dean of eBay University in the U.S. as an eBay Education Specialist for worldwide online trading in the Philippines. She has been endorsed by UnionBank for E-Commerce and E-Learning. Eireen also runs several top rated power seller eBay stores.
I hope to see you there!
Happy learning!
~~~
To our success and financial freedom!
Jay Castillo
Real Estate Investor
PRC Real Estate Broker License No. 3194
Blog: https://www.foreclosurephilippines.com
Follow me in Twitter: http://twitter.com/jay_castillo
Find us in Facebook: Foreclosure Investing Philippines Facebook Page
Text by Jay Castillo and Cherry Castillo. Copyright © 2011 All rights reserved.
Full disclosure: Each time a new merchant signs up for a PayPal Business or Premier account via the link or banner provide above, I will be eligible for a Merchant Referral Bonus.