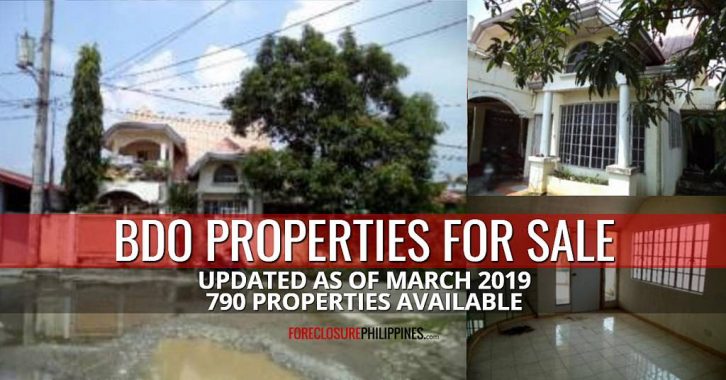 This is a list of BDO foreclosed properties from all over the Philippines updated as of March 2019, which includes a total of 790 properties for negotiated sale. This list was sent to me by a very reliable source, which came from the BDO Asset Management Group. Details below.
These BDO foreclosed properties are all for negotiated sale, which means you just have to submit an offer (this is not a public auction). Keep in mind that offers are still subject to bank management's approval.
Since these properties are offered for sale through various channels, there is a very big chance that there are properties on the list that are already sold. Because of this, you should first confirm the availability of any property that you are interested in.
Search directly here
Step-by-step instructions:
Search by typing keyword(s) and/or location(s) and click "Search".
Include keyword "bdo" to only include BDO foreclosed properties in search results (exclude to show foreclosed properties from other banks/entities that are currently inside the database).
Use "Advanced Search" to choose preferred price range, lot/floor areas (if available).
Alternately, a direct link that shows only BDO foreclosed properties can be seen below.
View all BDO foreclosed properties (database)
To view all BDO foreclosed properties, click on the button below:

Click to view all BDO Foreclosed Properties in searchable database
Download the list in PDF format
If you prefer the "old school" way of downloading listings, then you can do so below.
Note: The properties in the list in blue highlight are no longer available.
Click here to download the list in PDF format.
Note: You will need Adobe Acrobat Reader to view PDF files, which is free to download at Adobe.com
Contact info
For more information or clarification you may call or visit BDO's office:
Kimberly Joy Ogana / Sales Admin
(02) 702-7088
BDO Asset Management Group / Sales Department
25/F, Pacific Star Building, Sen. Gil Puyat Ave., corner Makati Ave., Makati City
For lease offers, please call:
(02) 702-7033 / 702-7825
You may view details of these assets through the bank's intranet site or go to
www.bdo.com.ph/properties-for-sale
---
Disclaimer:
Sale shall be on "as is where is" basis.
All offers are subject to Management approval.
Availability of units and prices are subject to change without prior notice.
Misprints should not be construed as misrepresentation of the property.
Lease offers welcome for all condominium units listed except those under "With Authority to Sell". Please call for price.
Where applicable, prices are exclusive of VAT
Full disclosure
Nothing to disclose. While we are accredited licensed real estate brokers with BDO, we are posting this as a form of public service to our readers and subscribers. We have stopped brokering foreclosed properties at the moment, so please contact BDO directly to inquire. Thank you for understanding!
For real estate brokers/sales persons who want to market these properties, please contact BDO directly for accreditation requirements.
Please feel free to share this listing to your friends and associates.