More than 700 BDO foreclosed properties are available as of November 26, 2021. This is the 2nd update for November and comes from Ms. Mila Dioneda of the BDO Property Management – Retail Sales. Details below.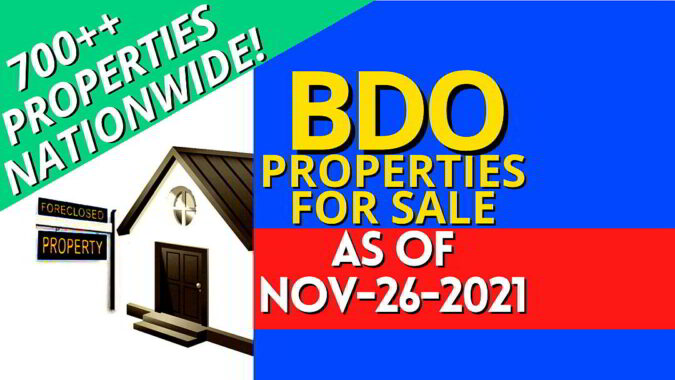 BDO foreclosed properties are for negotiated sale, which means you just have to submit an offer which are received on a "first come, first served" basis (no need to go through an auction/bidding, see steps below).
Keep in mind that offers are still subject to bank management's approval.
Since these properties are offered for sale through various channels, some properties on the list might be already sold. Because of this, you should first contact Ms. Mila to confirm the availability of any property that you are interested in.
View / Download BDO foreclosed properties listing
You may view the entire list of BDO foreclosed properties below
(Note: Foreclosed properties highlighted in blue are no longer available)
PDF List not showing properly? Download the list below:
==> Download BDO foreclosed properties list (PDF)
Reminder: You will need Adobe Acrobat Reader to view PDF files, which is free to download at Adobe.com
I will add this updated BDO listing to my foreclosed real estate database as soon as possible. In the meantime, you can check other listings inside the database below. ~Jay Castillo
Search for more foreclosed properties
Wait, there's more! You can also search from our database that includes other banks and institutions that have foreclosed properties for sale.
Foreclosed properties database
To quickly search for all available foreclosed properties that include other banks/ institutions, visit our Foreclosed Properties Database linked below:
==> Click for foreclosed properties database
All locations with foreclosed properties by Province/City
You can also browse all locations within the Philippines with foreclosed properties available from ALL banks/lending institutions inside our database, grouped by Province/ City, on this page:
==> Click to browse all foreclosed property locations
Note: The "Foreclosed Properties Database" is a work in progress. If you have comments/ suggestions, please do let me know by leaving a comment below.
How to avail / buy BDO foreclosed properties
Based on our past transactions with BDO, here's a quick overview of the buying process via negotiated sale:
1. Identify the foreclosed properties you are interested in from the latest list from BDO.
Browse through the list of foreclosed properties and Identify properties you are interested in.
2. Contact BDO directly to get more property details
You can proceed and contact BDO directly to get more property details / payment terms / schedule an ocular, etc. Contact info can be found within this blogpost (just below this summary), inside the downloadable list in PDF format.
Recommended reading:
3. Do your due diligence
If you are seriously interested in a property/ies, you should do your due diligence (inspect the properties, verify the title/tax declaration, check what are the taxes and fees you will shoulder as the buyer, etc.). We recommend that you do the inspection personally.
If you're abroad, you can ask a trusted relative do the inspection for you, but I still recommend that you come home at least once to personally inspect the property yourself, before submitting an offer.
4. Choose your payment terms
In addition to cash payment, here are the payment terms we got last time we checked for BDO:
Reservation Fee: 5% of selling price
Minimum downpayment: 25% of selling price (exclusive of the 5% reservation fee)
70% balance: Payable over 5 years at 12% annual interest rate. Optionally, you may choose to get a loan takeout later either from BDO or other banks/lending institutions. Call BDO for details.
By the way, since payment terms often change, most especially the interest rates, always call the bank directly to get what currently applies before you submit your offer(s).
5. Submit an offer (received on a "first come first served basis")
Note: Offers are now received on a "first come first served basis". This is the new sales process as of June 1, 2021. In the past, if a property gets multiple offers, there will be a bidding. Now, whoever made the first offer will get processed and can end up as the winning offer if it gets approved (no need to go through a bidding).
If the property/ies you are interested in pass your due diligence, you can go ahead and submit an offer, inclusive of the 5% reservation fee. Call BDO directly to get all details and complete list of forms and requirements. All offers are subject to management approval.
6. Wait for your offer to get approved/disapproved
a. If your offer was approved, your 5% reservation fee becomes part of the downpayment, and BDO will assist you with finalizing the purchase. You need to choose between cash payment (usually due in 30 days after notice of approval), in-house financing, or bank loan (you need to finalize your downpayment amount/ years to pay for the balance and interest rate, submission of requirements, contract signing, when you can move-in, etc.)
b. If your offer was not approved, your reservation fee will be returned to you.
Note:The above is just a quick overview based on our own experiences from past transactions with BDO. Their exact procedure is subject to change without prior notice. Our standard Site Disclaimer applies.
To get more details, please contact BDO directly. Refer to their contact details below
Contact info
For more information or clarification with regard to the foreclosed properties in BDO's latest list, you may call or visit BDO's office:
Mila Dioneda / Sales Officer
09564920261 / 09223724522
BDO Property Management – Retail Sales
25/F, Pacific Star Building, Sen. Gil Puyat Ave., corner Makati Ave., Makati City
For lease offers, please call:
(02) 8702-7033 / 8702-7825
You may view details of these assets through the bank's intranet site or go to:
Disclaimer
Sale shall be on "as is where is" basis.
All offers are subject to Management approval.
Availability of units and prices are subject to change without prior notice.
Misprints should not be construed as misrepresentation of the property.
Lease offers welcome for all condominium units listed except those under "With Authority to Sell". Please call for price.
Where applicable, prices are exclusive of VAT
Full disclosure
Nothing to disclose. While we are accredited licensed real estate brokers with BDO, we are posting this as a form of public service to our readers and subscribers. We have stopped brokering foreclosed properties at the moment, so please contact BDO directly to inquire. Thank you for understanding!
For real estate brokers/sales persons who want to market these properties, please contact BDO directly for accreditation requirements.
Please feel free to share this listing with your friends and associates.