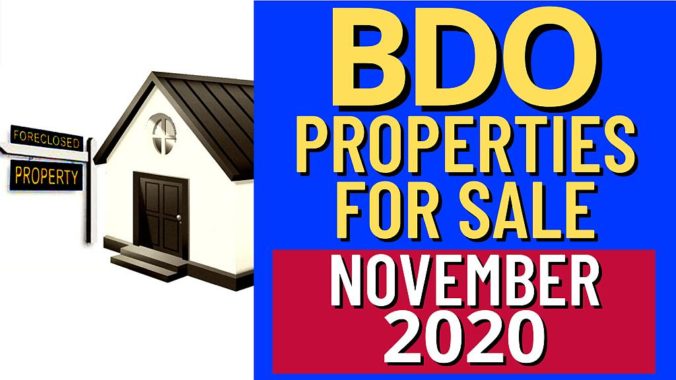 A total of 911 BDO foreclosed properties are available for negotiated sale in this nationwide list, updated for November 2020. This list is from Ms. Mila Dioneda of the BDO Property Management – Retail Sales. Details below.
BDO foreclosed properties are for negotiated sale, which means you just have to submit an offer (no need to go through a public auction). Keep in mind that offers are still subject to bank management's approval.
Since these properties are offered for sale through various channels, some properties on the list might be already sold. Because of this, you should first contact Ms. Mila to confirm the availability of any property that you are interested in.
(Note: I have NOT yet included in my foreclosed properties database due to time constraints, I will upload these in the coming days)
Download the BDO foreclosed properties list in PDF format
If you prefer the "old school" way of of viewing listings in PDF format, then you can do so below.
Reminder: Properties highlighted in blue are no longer available.
Click here to download the BDO foreclosed properties list in PDF format
Note: You will need Adobe Acrobat Reader to view PDF files, which is free to download at Adobe.com

Contact info
For more information or clarification you may call or visit BDO's office:
Mila Dioneda / Sales Officer

09564920261 / 09223724522

BDO Property Management – Retail Sales

25/F, Pacific Star Building, Sen. Gil Puyat Ave., corner Makati Ave., Makati City

For lease offers, please call:

(02) 8702-7033 / 8702-7825

You may view details of these assets through the bank's intranet site or go to

www.bdo.com.ph/properties-for-sale
Disclaimer
Sale shall be on "as is where is" basis.
All offers are subject to Management approval.
Availability of units and prices are subject to change without prior notice.
Misprints should not be construed as misrepresentation of the property.
Lease offers welcome for all condominium units listed except those under "With Authority to Sell". Please call for price.
Where applicable, prices are exclusive of VAT
Full disclosure
Nothing to disclose. While we are accredited licensed real estate brokers with BDO, we are posting this as a form of public service to our readers and subscribers. We have stopped brokering foreclosed properties at the moment, so please contact BDO directly to inquire. Thank you for understanding!
For real estate brokers/sales persons who want to market these properties, please contact BDO directly for accreditation requirements.
Please feel free to share this listing with your friends and associates.