So you bought a foreclosed property, renovated it, and started with marketing. Now a potential buyer (or tenant) calls up and wants to see your newly renovated property. But it's bare, and actually boring. Here's a quick but elegant home staging tip that costs very little, but can help make your property stand out.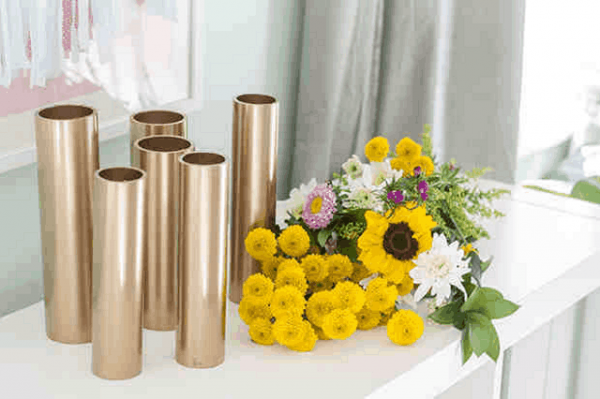 Got a piece of PVC pipe lying around? You can turn it into a stunning flower vase using no more than a saw, some spray paint, and your choice of flowers.
Materials
A long piece of PVC pipe at 12 inches long
A hand saw
A miter box (optional)
Sandpaper
Spray paint
Other decorations (optional)
Procedure
With the hand saw, cut the PVC pipe. Cut them into segments at least 6 inches long. (You can use a miter box to help you make a straight, clean cut)
Smoothen the segments. Use sandpaper to smoothen the rough edges.
Clean the segments. Wash or brush any grit off of the surface, then wipe it down and dry with a clean cloth, or simply air-dry. Make sure that the surface is smooth and clean for the paint.
Prepare your work area. Choose a dry and well-ventilated space. Cover your work area with old newspapers, cardboard, or a clean sheet of plastic, or taurpalin.
Ready your spray paint. You can use different colors if you so choose. You can also opt for an elegant look with metallic silver or gold (see picture). Shake the can of paint well before using, then spray over the pipes. Make sure to cover the entire surface area. Leave dry for 20 minutes, then spray a second coating if needed. Let dry overnight.
Optional – prepare your choice of additional decorations, like beads and buttons that you can stick on the pipe using glue. You can also opt for decals or stencils. Go crazy with it — use your imagination.
Add flowers – Finally, select an armload of flowers for your new set of DIY vases. Arrange them as you please into each tube. Use this as the centerpiece for countertops in your kitchen or keep them as eye-catching displays in your dinning area or living room. They're versatile decorations either as a set or on their own.
Bonus tips
The pipes-turned-vases can also function as pencil and pen-holders. You can even tell your would-be buyer/tenant that these are all included with the property.
To be continued…
More home staging tips to come.
About Property24.com.ph
Property24.com.ph is the leading Property Portal in the Philippines with hundreds of thousands of for sale and for rent property listings. They provide an effective online platform for leading Real Estate Developers, Agencies and Brokers that allow them to showcase their listings to a wider audience of qualified prospective buyers.
Source