With the start of the Duterte Administration, people generally have a positive outlook for real estate in the Philippines. In this post, we will see a lot of reasons why we should expect stability and growth. This is a perfect follow-up to my wife's article Real Estate Outlook in a Duterte Presidency.

Note: This is a contributed article written by Mr. Jojo Salas, Director – Pinnacle Research and Consulting.  As usual, this article from our friends at Pinnacle is full of valuable information for smart real estate investors. I have quoted the original article below, but I added a table of contents, a few additional links (emphasis mine), and my own opinion on this (Don't worry, I have kept my opinion very brief, no kidding!).   ~ Jay Castillo
Stability and Growth – Market Insight Q2 2016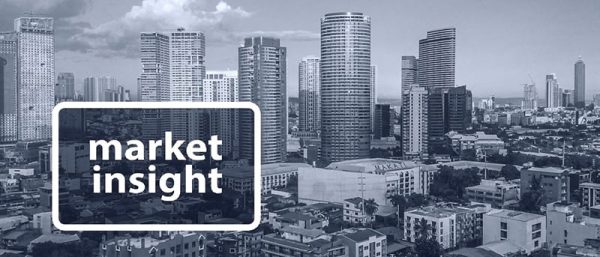 STABILITY AND GROWTH
The political cycle is said to greatly impact the economic cycle. The relatively peaceful and decisive national elections last May bodes well for sustaining the country's robust economic growth. The electoral process proved once again that Philippine's democracy is stable and that the political actors are mature enough to accept the verdict of the elections. While President-elect Rodrigo Duterte wrested the support of the voters from the current ruling party, a smooth transition of power is expected; just like the political transition of President Benigno Aquino III in 2010 even when his party was the staunchest critic of then-President Gloria Macapagal-Arroyo. Political realignment at the national and local levels has been observed in recent weeks, laying the ground for a fresh presidency with a strong mandate from the electorate.
Likewise, the state of the economy impacts on the real estate market. One major economic phenomenon in the Philippines is the sustained growth of the Business Process Outsourcing (BPO) Industry. As earlier reported, total employment in BPO industry breached the one million mark by mid-2015 and key industry players are targeting 1.2-1.3 million by year-end. Revenue-wise, BPOS industry leaders are projecting to overtake the dollar remittance from overseas Filipino. What is more relevant is the intertwining of political policies with the economy. With the enactment of Republic Act No. 10844 creating the Department of Information and Communications Technology, more departmental focus may be given to the industry and sector drivers like the BPO industry as compared to the now defunct Department of Transportation and Communication. This kind of legislative initiatives will surely keep the BPO and telecommunications industry growing.
Another political intervention that may sustain growth is the commitment of the incoming Finance Secretary Carlos Dominguez to revisit the REIT Law and its implementing rules and regulations based on an interview by Manila Times published on June 12, 2016. The law intends to incentivize income-generating properties like office, retail, hotel, and even residential and hospital developments provided that the company that owns them are listed in the stock market and these companies will distribute 90% of their net operating as dividends to stockholders. Subsequent rules on public float and value added tax on the transfer dampened the appetite of would-be REIT company applicants. Thus, there is a need to revisit these additional requirements in the implementing rules.
Since the current political climate positively impacts on the economy, it is also instructive to assess the macroeconomic indicators to understand and project the growth of the real estate market in the months and years to come.
MACROECONOMY

The Philippine gross domestic product (GDP) grew by 6.9% during the first three months of the year, which is a big boost from the annualized GDP growth of 5.8% in 2015. This jump was expected due to election-related spending, and ever-increasing consumer spending. More importantly, the growth is higher than the annualized projection of 6.0% to 6.4% growth by major rating firms and international banks and institutions. It is safe to say that the incoming economic team of the Duterte-administration will come up with its projections that would reflect this range of GDP growth.
The Bangko Sentral ng Pilipinas (BSP) latest figures show that the net foreign direct investment (FDI) has been steadily growing in the past five years. The net FDI reached close to US$ 6 billion in 2014 and 2015.
Based on latest BSP statistics, the average bank interest rate for the month for May 2016 increased to 4.82% as compared to 4.0% by end of 2015. The average Philippine Peso to US Dollar exchange in May 2016 is at Php 46.8023, as compared to the average of Php 45.5082 as of last year. Stable bank interest rate and foreign exchange are very good for consumers, especially that most buyers would finance their purchases.
Overseas Filipino remittances have been stable. Total remittances for 2015 reached US$25.77 billion compared to US$24.63 billion for 2014, or an increase of 4.6%. Remittances for the first three months of the year reached US$6.56 billion. Inflation rate for the months of January to May 2016 is a slightly lower 1.3% compared to 1.4% in 2015 according to BSP. While low inflation is generally correlated to weak economic activity, the labor market is generally stable. The latest unemployment rate is pegged at 6.1% as of April of this year as compared to 6.6% by end of 2015. Again, these indicators are very positive to consumers as well as to real estate developers.
According to the Department of Tourism, the total Visitor Arrivals in 2015 reached 5.36 million, registering an increase of 11.67% over the arrivals in 2014. Tourist arrivals already reached 1,602,253 by end of March this year. For three consecutive months, the country's tourism grew by double digit at 13.17% in January, 20.42% in February, and 11.86% in March. These tourist arrivals generated total revenue of about Php67.74 billion. It is no wonder why there are a lot of hotel and leisure development across the country.
All of these indicators point to a strong economic footing of the Philippines. Since the economy is generally stable and growing, it is important to know the impact of the economy on the different sectors of the real estate market.
OFFICE MARKET
The growth of the business process outsourcing (BPO) industry has been phenomenal in the last decade making it the main driver of the demand for office space during this period, and for years to come. With the target of 1.3 million employees and annual generation of more than US$ 25 billion in the next couple of years, real estate developers are building to deliver over one million square meters of office space in the next two years in major business districts in Metro Manila, on top of the existing six million square meters. While the planned office stock of Grade A and Prime Grade A office stock seems high, it is important to note that overall vacancy across these business districts is still at a low of 4% as of June 2016.
The office market is still a landlord's market, and given the low vacancy, rents have been increasing and recently plateuing in recent months. Rents in Makati Central Business District (CBD) generally held up, where Premium Grade A buildings have a weighted average of Php 1,295 per sqm per month, Grade A buildings have a weighted average is Php 905 per sqm per month, and for Grade B&C Buildings, the weighted average is Php 695 per sqm per month. Pinnacle Research observed that Makati Grade A Buildings gained the upper hand in asking rates as compared to Bonifacio Global City (BGC) Grade A Buildings due to the sheer office stock that came online in BGC in the past months, approximately 100,000 square meters.
The weighted average rent in BGC of Php 895 per sqm per month. The average rent of Grade A office buildings in Ortigas is still at Php 650 per sqm per month since older buildings are weighing down the rents of newer stock. Alabang and Bay Area business districts have a slightly higher weighted average rent of Php 660 per sqm per month due to newer stock. Quezon City office rents have increased to a weighted average of Php 680 per sqm per month, also due to newer buildings.
The new trend in Office Market is the strong selling market especially in BGC. While corporates typically prefer leasing as compared to buying office spaces due to financial and tax benefits, the strong demand for office space and increasing rents have compelled some companies to simply acquire office spaces. The pre-selling re-started by the Ayala Group with its High Street South (HSS) Corporate Plaza Tower 1 in 2012, at a selling price of Php 130,000 per square meter. Its success immediately followed by HSS Tower 2, and other Ayala developments that are now selling between Php 180,000 to Php 230,000 per sqm, depending on the building. The Ayala Group also launched its Alveo Financial Tower in Makati CBD with a tag price of Php 240,000 per square meter. Pre-selling of office spaces is indeed back.
The REIT Law may further enhance the attractiveness of owning office buildings that generate stable rental income. REIT Company would likely put office buildings in the REIT portfolio since the investing public are well aware of the steady demand for office space and its attendant recurring income.
RESIDENTIAL MARKET
Servicing the estimated demand for housing at 5.5 million for this year, even just a small portion of it, is a key driver of growth. Supply-wise, the highest number of approved license to sell is just a little over 200,000 housing units per year. Left unchecked, the housing backlog is steadily increasing every year. This is the reason why real estate developers have been targeting to deliver one million housing units to reverse this trend of widening gap between undersupply and increasing demand.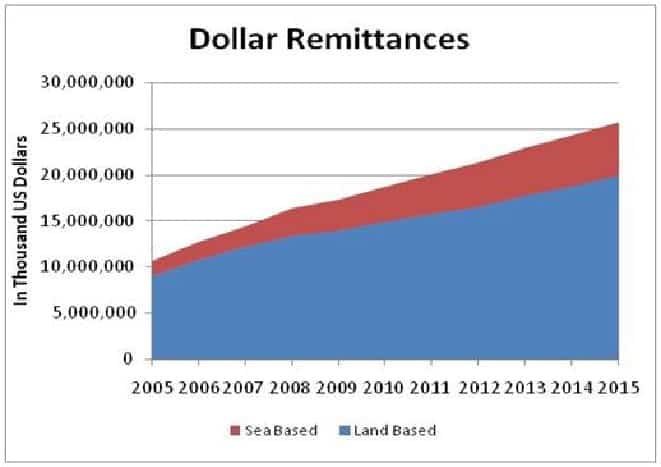 The perception of too much supply is due to the brisk development of mid-market residential condominium buildings in Metro Manila. Some may be baffled why the top players like Ayala, DMCI, Filinvest, Lopez/Rockwell, Megaworld, Metrobank, Robinsons, SM, and Vista Land Groups are continuously building. This is so because they are successful in selling their products. Competing against these players for the same market segment, though, is not advisable since they have the marketing and financial clout to build, sell and deliver their projects.
It is important to note the projections of the Housing and Urban Development Coordinating Council (HUDCC) of the annual increase in demand. While this projection is up for revision in the light of the recent Census of Population and Housing and the Family Income and Expenditure Survey, its national and regional presentation is helpful in assessing the demand for housing.
In the past years, most developers have been offering developments in Metro Manila. At present, most top developers and even the second-tier developers are targeting other regions, especially the highly urbanizing regions, since competition in Metro Manila has been tighter in recent quarters, and land prices have been soaring.
The mass-housing 8990 Group is targeting the affordable segment and building outside of Metro Manila as well. It is launching some 14 new projects all over the country this year with a total of 12,453 housing units, where 46% would come from Luzon, 30% from the Visayas, and 24% from Mindanao.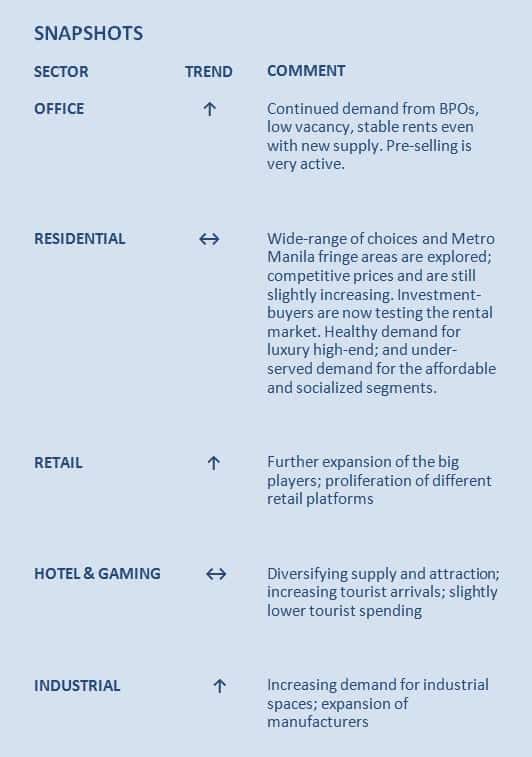 Another underserved demand in the residential market is the high-end segment. Unlike the price conscious mid-market segment, the high-end and luxury residential market is price resilient. Expatriates working in the Philippines, high caliber local executives, and discerning overseas Filipinos who experienced luxury amenities abroad are all looking for facilities and services that suit their tastes and whims, and are willing to pay higher costs.
Low density and exclusivity is paramount to these buyers/occupiers. Security is also very important so that buyers/occupiers can avoid noisy neighbors and unwanted visitors. Often times, these luxury high-end condominium projects are secluded, quiet and away from the bustling noise of the central business district (CBD), even when they are in the middle of the CBD. Another trend is offering quality service like concierge/butler/valet services similar to a hotel. One project, The Residences at Alphaland Makati Place, has even raised the bar of amenities and services and incorporated The City Club in this high-end development. It is not only offering quality service, the full complement of clubbing is available.
It is not only Makati and BGC that are seeing high-end residential products. Even the low-density City of San Juan is now seeing high-end condominium products. One86 at Wilson is 32-unit, 10-storey residential project along Wilson St. that is bragging to be an extension of Greenhills. It is offering only four units per floor, tight security, and will provide services like valet and concierge to assist buyers and tenants alike.
Given the level of real estate development, the Bangko Sentral ng Pilipinas recently launched its residential real-estate property index (RREPI) to evaluate housing developments and prices. Based on its three-quarter monitoring, housing prices increased by 9.2%. This increase is said to represents a vibrant housing industry in the Philippines that is confirmed by the trends in consumer prices and the recent result of the consumer expectation survey. Asset price inflation is quite remote because it is driven by robust demand, not oversupply according to BSP as reported by ABS-CBN News website on June 5, 2016.
Apart from brisk buying, one way of assessing the residential market is through the rental market. Rents of residential condominiums have been generally stable, given the wide range of options in the market. Luxury condominium units command the highest rents that plateaued at Php 1,000 per square meter per month, or Php 300,000 per month-level for big units of 300 sqm-cut. The typical rental range for luxury two-bedroom and three-bedroom units is between Php 120,000 to Php 250,000 depending on the size, location and furnishing. For the luxury and high-end segment, there are limited choices for rent.
Leasing of studio and one-bedroom units is stable and still ranges between Php 15,000 to Php 30,000, and may reach the Php 50,000 per month-level, depending on the location, furnishing, and amenities of the condominium building. It would be worthwhile to monitor the rents of one-bedroom and studio units to evaluate the yields of these "investment units."
One maverick group that is maximizing the rental market is the JNJ Summithill Group. It is successful in servicing a market niche, building "dormitels" near major universities. Its first project is the "Upad" in the vicinity of De La Salle University-College of St. Benilde and St. Scholastica's College offering rooms that can be shared by two, three, four or even six students. Professionals are most welcome and can opt to lease one room for himself/herself alone. Apart from very plush room amenities, Upad has a gym and a pool supporting the healthy lifestyle of the young students and professionals or "millennials". The building is practically 100% occupied. It is now finishing its second project is along P. Campa St. in Manila City, which is very close to the University of Sto. Tomas, and is already almost completely leased out.
Growth in the selling and leasing of residential units will continue to provide shelter to the population. This process would provide profit to the developers while bridging the gap with the demand and housing supply.
RETAIL MARKET
The retail market will likewise be boosted if the REIT Law will eventually implemented and developers will list their income-generating retail properties as REIT companies in the stock exchange. The investing public would enjoy dividends from the 90% net operating income of these retails spaces. As earlier reported, the SM Group has 58 malls, Robinsons Group has 40 malls, and Cosco/Puregold Group has 36 stores. The Ayala Group intends to reach the 3-million square meter mark in shopping mall footprint by 2020 while Megaword Group will launch an average of 60,000 to 70,000 square meters of retail space every year until 2019. The Vista Land Group intends to open six to seven "AllHome" annually over the next five years that would be integrated with their residential developments.
Apart from the malls, these retailers have been expanding the various retail platforms such as groceries and convenience stores among others. Continuous growth in the retail market would make shopping even more convenient to the consumers.
HOTEL AND GAMING MARKET
Philippine tourism has been benefitting from the steady growth of tourist arrivals in recent years. While the 6 million-per year mark is still to be reached, tourist arrivals for the first three months already reached over 1.6 million. More importantly, the government through the Department of Tourism and its attached agency the Tourism Infrastructure and Enterprise Zone Authority (TIEZA) have been devising ways to prop the country's tourism.
Like the REIT Law and Philippine Economic Zone Authority, TIEZA has been empowered to give incentives to investors and developers in the tourism industry to accelerate developments. The implementing rules of these incentives have been however stalled due to President Aquino administration's suspicion on tax and other fiscal incentives. While waiting for the final verdict on the incentives, TIEZA designated tourism enterprise zones (TEZs) in Bulacan (Ciudad de Victoria); Cebu (Queen's Castle); Davao (Hijo); Dumaguete (Bravo Golf Resort); and Manila (Resorts World). It also identified flagship TEZs to spur developments in various regions. At present, the identified flagship TEZs are in Bataan (Mt. Samat Shrine); Bohol (South Palms); Manila (Rizal Park); Palawan (San Vicente); and Surigao Del Norte (Kapihan Nature and Adventure Park).
The focused development of tourism infrastructure would positively impact on the development of hotel, gaming and leisure industry. This would be good to both the local and foreign tourists since there will be more choices of tourist spots, events and accommodations; and in turn, generate more revenues, dollars or otherwise.
INDUSTRIAL MARKET
Special Economic Zone status and Philippine Economic Zone Authority (PEZA) accreditation have been motivating investors and developers to build more industrial cum commercial spaces. PEZA even accredits Information Technology Parks/Centers, Tourism Economic Zone, Medical Tourism Economic Zones, Retirement Economic Zones, Agro-Industrial Economic Zone, Facilities Economic Zones, and Utilities Enterprise Economic Zone.
The Filinvest Group is pushing its advantage in integrating mixed used developments around Clark Special Economic Zone (CSEZ). The Group won the development rights on the 288-hectare Clark Green City and long term lease of the 201-hectare former Mimosa Leisure Estate. Filinvest would presumably take advantage of the pent up demand for industrial spaces, and blend in other commercial and residential developments to increase the level of success and profitability.
The Ayala Group is developing the Alviera Industrial Park (AIP) in Porac, Pampanga. The Group is likewise positioned to capture the demand for industrial spaces between CSEZ and Subic Bay Freeport Zone. The 31-hectare industrial park has reported its brisk sales.
While these top players have positioned to capture the demand for industrial spaces, President-elect Duterte is planning to establish economic zones outside of Metro Manila as reported by Philippine Star on May 28, 2016. This pronouncement would give a boost to the growth of the industrial sector.
WINNERS
There is no doubt that the economy and the various real estate sectors are growing. Since everyone is anticipating the incoming Duterte administration, it is important to benchmark growth from the current state of affairs. Based on the report of Manila Bulletin on May 12, 2016, here is a glimpse of the 8-point Duterte's economic agenda:
Continue and maintain the current macroeconomic policies. However, reforms in tax revenue collection [within the Bureau of Internal Revenue (BIR) and the Bureau of Customs (BOC)] efforts will be complemented by the reforms within the bureaucracy of these tax collecting agencies.
Accelerate infrastructure spending by addressing, among others, major bottlenecks in the Private-Public partnership (PPP) program. Maintain the target of setting aside five percent of the country's gross domestic products (GDP) to infrastructure spending.
Ensure attractiveness of the Philippines to foreign direct investments by addressing restrictive economic provisions in the Constitution and our laws, and enhancing competitiveness (i.e., "ease of doing") the economy.
Pursue a genuine agricultural development strategy by providing support services to small farmers to increase their productivity, improve their market access, and develop the agricultural value chain by forging partnership with agribusiness firms.
Address the bottlenecks in our land administration and management system.
Strengthen our basic education system and provide scholarship for tertiary education which is relevant to the needs of private sector employees.
Improve the income tax system to enable those who earn little to have more money in their pockets.
Expand and improve implementation of the Conditional Cash Transfer (CCT) program.
These economic policies are not entirely different from the Aquino's policies, with some refinements perhaps. Probably, the major departure is ensuring the attractiveness to investor. There is also a subsequent pronouncement on REIT Law by the incoming Finance Secretary. Businessmen are already anticipating positive news on the REIT and the incentives provided by PEZA, TIEZA, Bureau of Investments and even Philippine Retirement Authority.
Anticipated growth provided by these policies would definitely impact positively on the real estate market. For 2015, according to PSA the real estate sector was the fastest growing industry in terms of gross revenue during the fourth quarter. PSA's Total Gross Revenue Index for the last quarter of 2015 inched up by 5.9% with the growth being driven by the real estate sector growing at 12.7%. In addition, there are typical indicators to assess the continued vibrancy of the economy, for the real estate market, the newly launched residential real-estate property index (RREPI) will be very useful. This is similar to the consumer price index to assess the relatively fluctuation of prices.
After more than a decade of economic growth and several years of real estate boom, everyone is anticipating the positive political climate to sustain this growth. While growth may not be phenomenal due to higher base, stable growth is more than welcome.Mr. Jojo Salas, Director - Research and Consulting
About Pinnacle
Pinnacle Real Estate Consulting Services, Inc.
provides a full range of services to buyers, real estate lenders and investors. A team of experienced professionals is dedicated to enhancing the value of clients' investments throughout the Philippines.
Do you also share the same positive outlook for real estate?
I'm very optimistic with the Duterte administration and I hope each and everyone of us will focus on doing our part to help, anyway, this is for the common good of every Filipino.
How about you?