2012 is about to end and I'm sure a lot of you out there are thinking of ways to jump-start the coming new year. If you are planning to get into real estate investing, then MoneySense's Ultimate Guide to Property Investing (First Edition) is a guidebook (in magazine format) you might be looking for.
It is chock-full of information which would-be real estate investors need and want to know.
Of course, we are a bit biased as Jay and I are contributing authors. We have contributed the following articles in the book:
Buying Foreclosures and Participating in Auctions by Jay Castillo
Due Diligence and Property Inspections by Jay Castillo
Taxes on the Sale of Real Property by Cherry Vi M. Saldua-Castillo
Thanks again to Heinz Bulos for giving us the opportunity to be contributing writers!
What's inside The Ultimate Guide to Property Investing?
The other articles are very informative as well, we ourselves have learned so much from them.
Here is a complete list of articles which you'll see through the table of contents (posted with permission from Heinz) so you'll know what to expect inside The Ultimate Guide to Property Investing: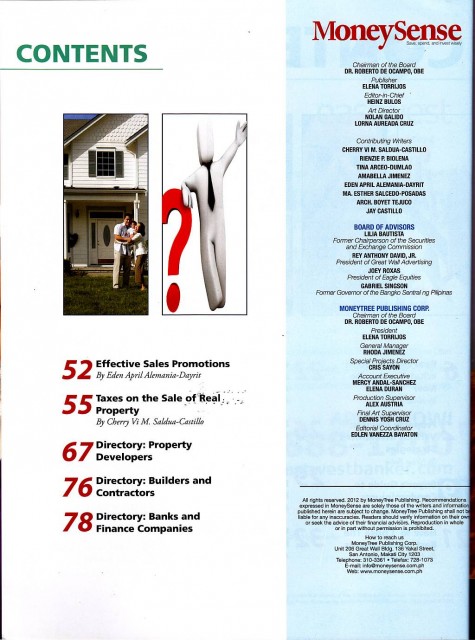 Real Estate Boom: What Can You Do Now? by Heinz Bulos
Property Payoffs (Seven Ways To Profit From Real Estate) by Heinz Bulos
Buyer's Guide to Condominiums by Tina Arceo-Dumlao
Choosing The Best Value Condo by Amabella Jimenez
The Economics of Building Your Own Home (10 Ways to Save Money Without Cutting Corners) by Ma. Esther Salcedo-Posadas
Walk the Talk (Different Stages of Building a Home) by Anthony Fernando
Professional Fees (Estimates) by Anthony Fernando
Build Your Dream House (Without Turning It Into A Nightmare) – A Checklist for First-Time Homeowners by Arch. Boyet Tejuco
Points to Ponder in Preparing Your Dream House by Arch. Boyet Tejuco
Money Matters: Finances, Costs, and Professional Fees by Arch. Boyet Tejuco
Building Your House and a Professional Relationship by Arch. Boyet Tejuco
The Housing Loan Primer (The institution, the requirements, and the numbers) by Rienzie P. Biolena, RFP
10 Questions to Ask When Applying for a Mortgage by Heinz Bulos
Ten Ways to Save on Your Mortgage by Heinz Bulos
7 Ways to Lower Your Amortization by Heinz Bulos
Should You Go Fixed or Variable? by Heinz Bulos
The Basics: Housing Loans by Heinz Bulos
10 Ways to Lower Your Home Insurance Costs by Heinz Bulos
Effective Sales Promotions by Eden April Alemania-Dayrit
Directory: Property Developers
Directory: Builders and Contractors
Directory: Banks and Finance Companies
If you want to buy a copy, it's only Php250.00 (IMHO, it's worth every centavo and more). We were able to find copies at the magazine areas of Powerbooks Megamall and Greenbelt 3. You may opt to ask for assistance from the salesperson because it might take you a longer time if you will search for it among the magazines available in the magazine area.
Happy learning!
~~~
To our success and financial freedom!
Cherry Vi M. Saldua-Castillo
Real Estate Broker, Lawyer, and CPA
PRC Real Estate Broker License No. 3187
PRC CPA License No. 0102054
Roll of Attorneys No. 55239
Text by Jay Castillo and Cherry Castillo. Copyright © 2008 – 2012 All rights reserved.
Full disclosure: Nothing to disclose.