The next Dream Buys Auction of RCBC  Savings Bank foreclosed properties will be on March 21, 2015, Saturday, 9:00am, at the 29th Floor, RCBC Savings Bank Corporate Center, 26th and 25th Streets, Bonifacio Global City, Taguig. This auction happens to be on the same day of the Usapang Foreclosed Property Investing seminar, which means I won't be able to attend this (again!). Anyway, please refer to the auction announcement and complete listing below.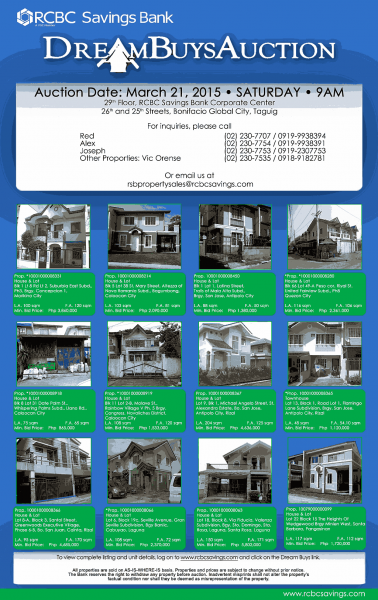 Sorry for the short notice
I apologize for the short notice as the auction is already on Saturday, but I only received the complete listing yesterday. Let me reiterate, this is a more comprehensive list, which is different from the list you will see at the acquired assets section of the print edition of the Manila Bulletin, which is just an excerpt.
As I post this, the auction is just two days away, so the schedule might be too tight for most of you out there to do your due diligence.
Anyway, I am still sharing this as I am sure a big number of the foreclosed properties on the list will remain unsold (this is normal) and can be purchased through negotiated sale after the auction, and you can submit your offers until the next auction is announced.
How to inquire
Since I have to make last minute preparations for my 4-hour talk for the Usapang Foreclosed Property Seminar on the same day, I obviously cannot answer any inquiries for this list, so please contact RCBC Savings bank directly!
RCBC Savings Bank's contact details are in the poster above, and is also on the last page of the listing below.  Please be guided accordingly, thank you!
Download the list of RCBC Savings Bank foreclosed properties
You may download the complete listing of RCBC Savings Bank foreclosed properties included in the auction on March 21, 2015 below.
RCBC Savings Bank foreclosed properties for auction on March 21, 2015 (PDF format)
Source: Jennifer A. Carpio – Channels Management Officer | Asset Sales Department – PMSD, RCBC Savings Bank

Happy hunting!
~~~
Text by Jay Castillo and Cherry Castillo. Copyright © 2008 – 2015 All rights reserved.
Full disclosure: Nothing to disclose.
P.S. – Okay, so you've been getting updated listings of foreclosed properties from us, but do you know exactly what to do with them?
If you want to learn how to get started with foreclosed property investing, you can still join us at the Usapang Foreclosed Property Investing Seminar (Batch 2) on March 21, 2015, 5pm to 9pm (Dinner will be served!). There are still a few slots remaining, click here for more details. I will be the main speaker (my talk is scheduled for 4 hours… no kidding!) and I look forward to seeing you there!