I was inspired to write this post after I watched "The Secret" for the nth time… and remembered a question made through the blog's comments section.
The question was posted under my post Foreclosure Investing Is Not Really Just About The Money, It's About Financial Freedom!
Here's the question:
"Is it really achievable that you will be financially free in real estate investing?"
I was very quick to answer with a resounding yes to that comment.
However, while watching the video of The Secret, the quotation below flashed on the screen, I thought to myself that maybe the late Henry Ford had a more accurate answer.
"Whether you think you can or you can't, either way, you are right"

– Henry Ford
The reason I say this is because more often than not, the answer to similar questions really depend on ourselves, on what we believe.
If we believe that we can accomplish one thing, then there is a great chance that that we will, especially if that belief is accompanied by passion and action.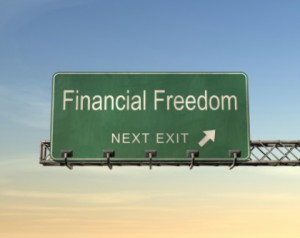 On the other hand, if we believe we can't, that is usually enough to hold us back and we can't succeed because we won't even try.
I know how that feels. Had I been asked the same question 4 years ago, I would have had a different answer. I would have probably said I can't make real estate investing work along with a lot of reasons and excuses.
Obviously, I was able to change that mindset. Otherwise you won't be reading this blog as it would not exist at all.
It really took a long time for me to change my perspective and I'm glad I was able to do so.
I could say I was lucky and life pushed me to the right direction or maybe I am just very passionate about this quest of mine as my wife would often say. Whatever it was, I am just happy that I can now say that it really is possible to gain financial freedom from real estate investing. I know this from experience.
No, I am not yet financially free, but I truly believe that I shall be financially free soon*.
*Update: I already got out of the rat race and the next challenge is to make it permanent!
Do you want to join me on my journey? Believe that it can be done, have faith, and take action. Let me leave you with another quote below which I also got from watching "The Secret". I hope it inspires you.
"Take the first step in faith. You don't have to see the whole staircase, just take the first step."

– Martin Luther King Jr.
To our success and financial freedom!
Jay Castillo
Real Estate Investor
Real Estate Broker License #: 3194
Text by Jay Castillo. Copyright © 2010 – 2017. All rights reserved.
PS. Are you a new visitor? Click here NOW to start learning more about foreclosure investing in the Philippines
PPS. Don't be the last to know, subscribe to e-mail alerts and get notified of new listings of bank foreclosed properties, public auction schedules, and real estate investing tips.