Earlier this year, I shared with you Eden April Alemania's story about the first auction of bank foreclosed properties she attended where she bought her first property. Her journey did not stop there.
From her first deal, she went on to her other deals to become a real estate entrepreneur. And it doesn't even stop there; she's opened doors to becoming a speaker.
Read her speech in the Rookie of the Year Toastmaster's contest last December 2009:
Don't you just love blankets? They feel so soft, snug and warm. When I was a kid, Lola said I can't sleep without one. I would even drag it with me when I play.

I thought I outgrew the habit but it just evolved to something else.

Growing up, I was enveloped by a blanket of security in the form of little pleasures.

Most of it in the form of money such as being enrolled in private schools, a cell phone and an allowance.

Upon graduation, I was afraid to go out of the confines of my comfortable shell simply because I didn't know what to expect. Part of the worry stems from not getting an allowance!

Little did I know that being employed is also another blanket in disguise. Let me explain why:

I started my career as a chemical engineer in a semiconductor firm.

I was covered by PD1530. (you know what that means?) It is payday 15th and 30th. Getting a monthly paycheck became my source of security. It went on for almost 3 years until I got to the point where I became physically exhausted.

Whenever I render overtime hours to the company, sometimes unpaid, I would say to myself, wouldn't it be better if I dictate how much money I will get instead of people telling me how much I am worth in pesos?

I loved my job but there are uncontrollable aspects such as pay cuts and unpaid overtime and I can't do anything about them simply because I am not in charge.

Suddenly, I realized that my job was just another blanket and that the blanket felt too snug, too warm and too soft for comfort. I didn't like it.

Then, talks of recession in the first world countries emerged where people are losing their jobs! Then, I experienced the biggest lightbulb moment of my life. There is no security in employment! I could've been the one laid off, downsized, fired! The blanket that I've been clinging on to isn't real.

And it hit me like a brick on my head!

I don't need to be employed to have money. Because money is just an idea, and it is easy to make money.

Let me say that again. Money is just an idea, and it is easy to make money. (I had to repeat this to myself a lot of times before I really believed this statement.)

How did I do it? I took the path of entrepreneurship.

I began dabbling into real estate. (To learn how Eden started in real estate, Grab a seat in the Think Rich Pinoy Seminar)

Early on in my career as an investor, I was approached by a property seller who cannot sell his house in Tagaytay and is willing to sell it for just Php600,000 or 40% of its value.

You know what I did, I sold it  for Php1Million.

And I got a Php100,000 fee from it.

Now, where did that Php100,000 come from? Is that even legal? That value came from my head. I dictated how much my service will cost. And yes, it is perfectly legal. It is called wholesaling.  (see Eden's blog for the actual deal)

And to top that, I never even set foot on the property. He practically sold the property by himself. All I did was to send him leads. That, I realized, is my core gift. I know how to market real estate. That is what I am passionate about. That should be what I should have been holding on to all my life.

So, again, money is just an idea. And it is easy to make money.

I've been covered by blankets all my life.

And these blankets? I don't need anymore.

– Eden April Alemania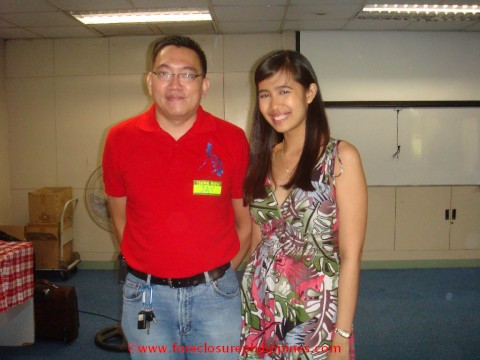 To meet Eden and Larry Gamboa, grab a seat in the Think Rich Pinoy Seminar this coming December 4, 2010.
Click here to download more information about the Think Rich Pinoy Seminar (please feel free to forward to your friends).
To our success and financial freedom!
Jay Castillo
Real Estate Investor
Real Estate Broker License #: 20056
Blog: https://www.foreclosurephilippines.com
Follow me in Twitter:http://twitter.com/jay_castillo
Find us in Facebook:Foreclosure Philippines facebook page
Text by Jay Castillo and Cherry Castillo. Copyright © 2010 All rights reserved.
PS. Don't be the last to know, subscribe to e-mail alerts and get notified of new listings of bank foreclosed properties, public auction schedules, and real estate investing tips. Mailbox getting full? Subscribe through my RSS Feed instead!