The Quezon City Office of the Treasurer has recently issued a notice with regard to tax delinquent real properties that will be up for sale through public auction on December 8, 2011, at 10:00am.
The venue of the public auction will be the Ground Floor, Taxpayer's Assessment and Payment Lounge, City Hall Complex, Quezon City, Philippines.
This tax foreclosure auction sale is to be conducted by virtue of the provisions of Sections 260 and 263 of RA 7160, otherwise know as the Local Government Code of 1991.
Complete list of Quezon City Tax delinquent real properties
The complete list of Quezon City Tax delinquent real properties can be found below. Click to view/right-click to save. Please take note that due to the large file sizes (around 1.2Mb each), it may take some time to view/download these files, depending on your internet connection speed.
By the way, I apologize if some parts of the list are hard to read, the print quality of the notice of sale was not so good.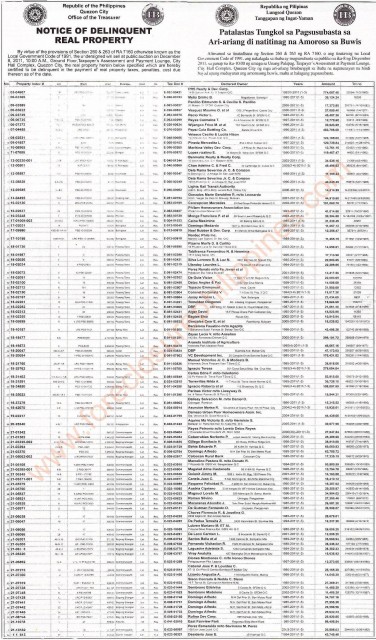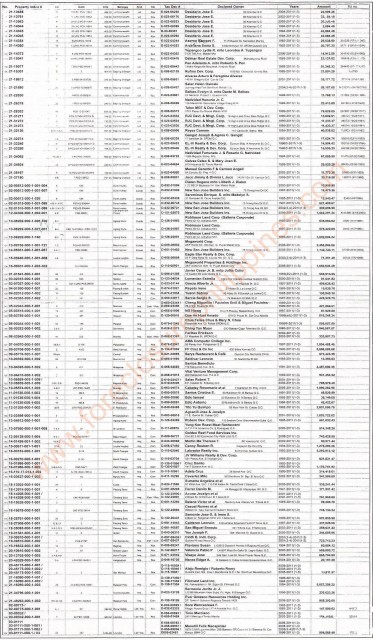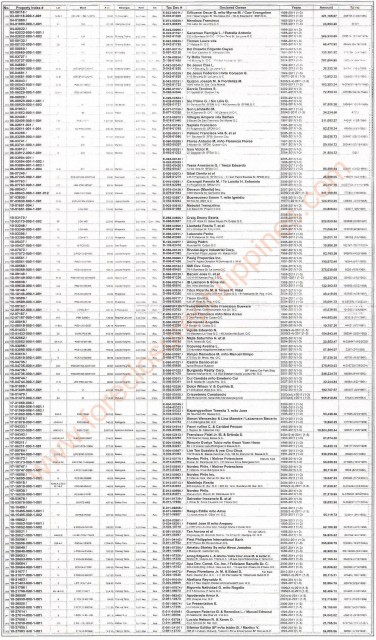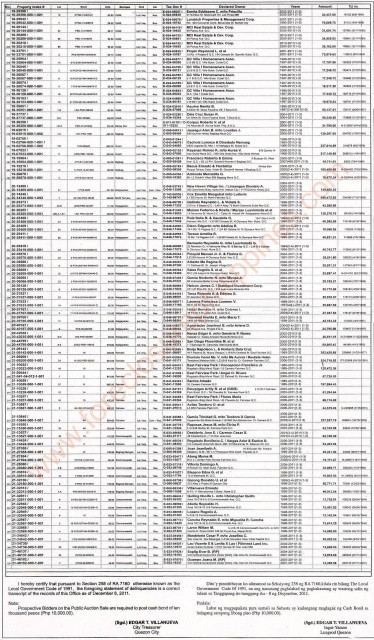 Also available: Click here to download a PDF version of the complete list of Quezon City tax delinquent properties for sale on December 8, 2011 (this contains all 4 pages in a single PDF file)
Source: Philippine Star print edition, November 21, 2011, page B-14 to B-17
*Please take note that as the auction draws near, many of the owners of the properties on the list will have already settled the arrears on the properties. This means the actual list of properties for sale during the auction will contain fewer properties than the list above.
Note: As per notice of sale above, prospective bidders on the Public Auction Sale are required to post cash bond of ten thousand pesos (Php 10,000.00).
Interested parties who need more information may visit or call the Quezon City Treasury Department.
Contact numbers for the Quezon City Treasurer's Office can be found in the official website of the Local Government Quezon City through this link:
~~~
To our success and financial freedom!
Jay Castillo
Real Estate Investor
PRC Real Estate Broker License No. 3194
Blog: https://www.foreclosurephilippines.com
Follow me in Twitter: http://twitter.com/jay_castillo
Find us in Facebook: Foreclosure Investing Philippines Facebook Page
Text by Jay Castillo and Cherry Castillo. Copyright © 2011 All rights reserved.
Full disclosure: Nothing to disclose.