Added on May 26, 2015: Valley Fault System Atlas Google Map from Quake Alarm Philippines
Added on of May 20, 2015: Valley Fault System Atlas for Greater Metro Manila Area (Complete PDF)
I wrote this post last Monday and scheduled it for posting later this week. I feel that this needs to be published ASAP since there was an earthquake just now (June 19, 2013, around 7:05 pm). Jay and I were at the 29th floor and we really felt it! Strange that I really felt compelled to write this in the first place.
Update as of October 23, 2013:  The Importance Of Earthquake-Resistant Homes And What We Can Do About It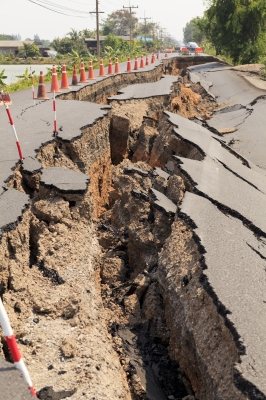 The explosion in Serendra last May 31, 2013 triggered thoughts about the relationship between earthquakes and real estate. As we know now, LPG pipes which are all around buildings and roads in the Bonifacio Global City (BGC) may be the source of an explosion should there be an undetected leak – and a leak may be caused by several factors, including earthquakes, whether strong or weak. Needless to say, an explosion may lead to loss of lives and real property, so this issue is a valid concern.
With or without the issue of LPG pipes, earthquakes are definitely a concern, specially since there are already several buildings and condominiums already built and still being built, and the Philippines is an earthquake-prone country.
The Philippines and the Pacific Ring of Fire
I remember I was still in elementary when I learned that the Philippines is part of the Pacific Ring of Fire  where most of the earthquakes and volcanic eruptions in the world occur. It doesn't take a rocket scientist to conclude that if you value safety and the value of your real property, business, or agricultural products, you should not live or buy property along an active earthquake faultline or an active volcano.
I was surprised to note that there are around four (4) earthquakes everyday all over the Philippines. This is definitely a serious concern – nobody knows when and where the next earthquake will occur.
Where are the earthquake fault-lines located?
The website of Philippine Institute of Volcanology and Seismology (Phivolcs), http://www.phivolcs.dost.gov.ph/, has the links to the Philippine fault zone maps on the left side of its homepage.
Valley Fault System Atlas – Greater Metro Manila Area
Here's the table of contents for the Valley Fault System Atlas for the Greater Metro Manila Area, which Jay downloaded from the Phivolcs website for one whole day (yes, it took that long to download!), while the first 3 pages were from Rappler.com.
Jay consolidated the files into a single file and optimized/compressed it resulting in a smaller file (around 40Mb for the whole valley fault system atlas) but still with high-resolution images, and uploaded it in Scribd for easier viewing/downloading (see embeded file from Scribd below).
CITIES and MUNICIPALITIES (and corresponding PAGES)
Transected by the Valley Fault System

Bulacan

Doña Remedios Trinidad: 4-5
Norzagaray: 4-7
San Jose del Monte City: 6-9

Rizal

Rodriguez: 6-13; 16-19; 22-23
San Mateo: 14-21

Metro Manila

Quezon City: 12-15; 20-49
Marikina City: 34-43
Pasig City: 48-53
Makati City: 54-59
Taguig City: 58-71; 74-75
Muntinlupa: City 70-99

Cavite

Gen. Mariano Alvarez: 100-103
Carmona: 102-105
Silang: 106-111

Laguna

San Pedro City: 94-95; 98-101
Biñan City: 106-107
Santa Rosa City: 108-109
Cabuyao City: 110-113
Calamba City: 110-119
Valley Fault System Atlas – Greater Metro Manila Area (Complete) by Jay Castillo
Valley Fault System Google Map from Quake Alarm Philippines
The Valley Fault System Google Map below is an interactive map created by Quake Alarm Philippines. (While this is way better than downloading a PDF file, you still need to verify with the official map from PHIVOLCS).
Active Faults and Trenches in the Philippines
The Phivolcs has previously stated in 2011 that the West Valley Fault is "ripe" for movement, and that it could possibly generate a 7.2 magnitude earthquake. In a March 2012 article,  Elmo San Diego, action officer of the Quezon City disaster risk reduction management council and head of the city's department of public order and safety, was quoted as saying that the areas on top of the fault line are "unlivable".
Personally, I use http://nababaha.com/marikina_valley_fault.htm as it has a fault trace map. The guys behind www.nababaha.com converted the Phivolcs map of Active Faults and Trenches in the Philippines into a Google map, so it's easier to check how far a property is from the West Valley Fault. Nababaha.com is a non-profit project by members of the Volcano-Tectonics Laboratory of the National Institute of Geological Sciences, University of the Philippines.
Liquefaction Susceptibility Map of Metro Manila
Thanks to Darren's comment below about liquefaction, I added below the liquefaction susceptibility map of Metro Manila from PHIVOLCS' website.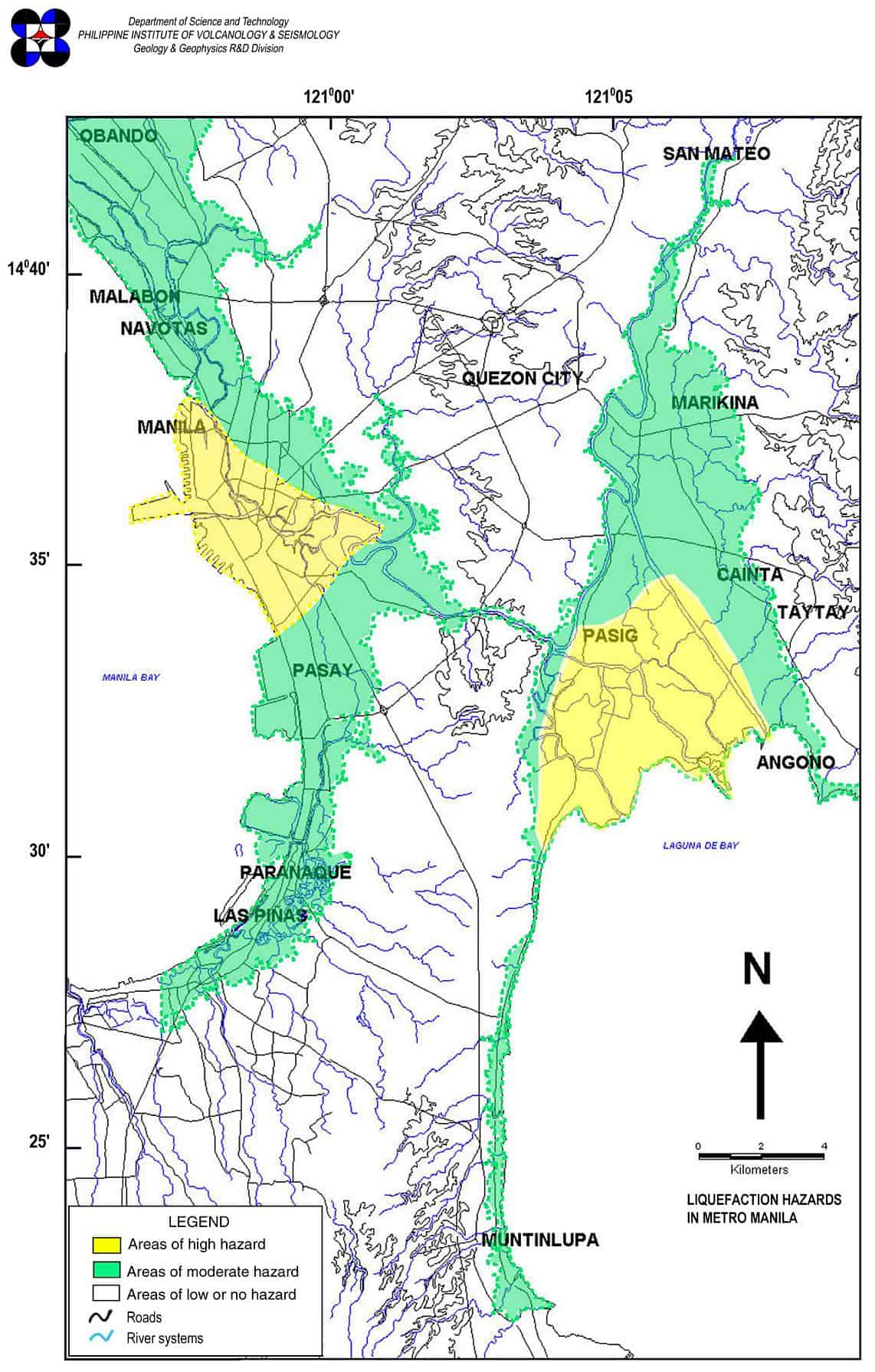 Liquefaction (soil liquefaction in particular) is defined in wikipedia as:
Soil liquefaction describes a phenomenon where by a saturated or partially saturated soil substantially loses strength and stiffness in response to an applied stress, usually earthquake shaking or other sudden change in stress condition, causing it to behave like a liquid.
These are just some of the effects of liquefaction:
What is considered safe?
The next question of course would be, "How far from the fault trace should a property be to be considered safe?". Based on the active fault map for Taguig (which I suppose is the same for all):
Recommended buffer zone is 5 meters as reckoned from both sides of the fault trace or from the edge of the deformation zone.
If you know someone from Phivolcs, please invite him/her to elaborate on this in the comments section.
Choose properties that are less affected by earthquakes
During an earthquake, which do you think is more susceptible to damage, a bungalow, or a high-rise building? It's a given that we also have to consider the strength and quality of materials used, structural design, track record of the developer/contractor, etc.
Think about it, a poorly built townhouse might collapse while a well built 40-story building might easily withstand a strong earthquake. But with all things equal (both structures are of high quality and pass/exceed building standards), where would you prefer to be when the "big one" hits?
Of course, it's just common sense, but common sense is not so common nowadays.
Earthquake Preparedness
I was in Grade 6 when the July 16, 1990 earthquake struck. I didn't even know what an earthquake felt like. I just felt dizzy and wondered why the classmate in front of me kept moving in his chair. I was lucky that our school was far from the epicenter, and the layout of our school made it easy for us to be secure. Many were not as lucky.
Needless to say, we need to be prepared in case an earthquake occurs. Our buildings and structures should be able to withstand a strong earthquake, and should comply with or even exceed the standards set by our Building Code and its implementing rules and regulations.
Here is a quick Earthquake Preparedness Guide from Phivolcs: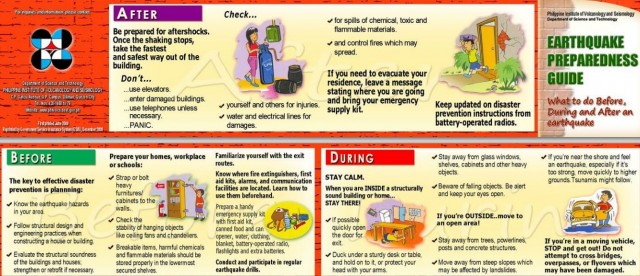 The following is from the Philippine Information Agency:
Pre-Earthquake

I.  Planning for Effective Disaster Prevention

Know the earthquake hazards in your area
Follow the structural design and engineering
Evaluate the structural soundness of the buildings and houses, strengthen or retrofit, if necessary

II.  Prepare your homes, workplace or schools

Strap or bolt heavy furniture/ cabinets to the walls
Check the stability of hanging objects like ceiling fans and chandeliers
Store properly breakable items, harmful chemicals, and flammable materials

III. Familiarize yourself with the exit routes.  Know where fire extinguishers, first aid kits, alarms, and communication facilities are located.  Learn how to use them beforehand.  Prepare a handy emergency supply kit with first aid kit, canned food and can opener, water, clothing, blanket, battery-operated radio, flashlights, and extra batteries.

IV.  Conduct and participate in regular earthquake drills

During Earthquake

I. When you are inside a structurally sound building or home, stay there and remain calm.

If possible, quickly open the door for easy exit
Duck under a sturdy desk or table and hold on to it, or protect your head with your arms.
Stay away from glass windows, shelves, cabinets and other heavy objects

II. If you are outside, move to an open area

Stay away from trees, powerlines, posts and concrete structures.
Move away from steep slopes which may be affected by landslides
If you are near the shore during an earthquake, move quickly to higher grounds.  A tsunami might occur.
If you are in a moving vehicle, stop it and move out.  Do not attempt to cross bridges, overpasses, or flyovers which have been damaged.

Post-Earthquake

I.  Be prepared for aftershocks.  Once the shaking stops, take the fastest and safest way out of a building.

Don't use elevators, enter damaged buildings, or use telephone unless needed.  Do not panic.
Check yourself and others for injuries.  Check water and electrical lines for damages. Check for spills of chemical, toxic, or flammable materials.  Check and control fires which may spread.

II.  If you need to evacuate from your residence, leave a message stating where you are going for family members and concerned people to know.  Bring your emergency supply kit with you.

III. Be updated on disaster prevention instructions from battery-operated radios.
How about flood-prone areas?
Since I mentioned nababaha.com earlier in this article, you might be asking about other hazards like flooding. Obviously, you can also use nababaha.com as a resource in evaluating whether a property is flood-prone or not, which is also one of the considerations in real estate investing.
You can also check out Jay's post on floodlines: Watch out for floodlines when inspecting foreclosed properties!
At the time Jay wrote that post, DOST's Nationwide Operational Assessment of Hazards (NOAH) was not yet available. Now, NOAH can show real-time data on current flooding. I plan to write an in-depth post about NOAH and geohazard maps which deal with landslide and flood-prone areas in a future post.
What can you say about earthquakes and real estate?
Cherry Vi M. Saldua-Castillo
Real Estate Broker, Lawyer, and CPA
PRC Real Estate Broker License No. 3187
PRC CPA License No. 0102054
Roll of Attorneys No. 55239
2013 Internal Education Head, REBAP-LMP
Text by Jay Castillo and Cherry Castillo. Copyright © 2008 – 2013 All rights reserved.
Full disclosure: Nothing to disclose.
P.S. – I would like to apologize for the delay in the posting of articles and answering of comments and emails, we have been quite busy over the past few weeks with our offline activities (and Jay also got sick). Thank you for understanding.