I was invited to speak at the upcoming Think Rich Pinoy Seminar on December 3, 2011 and I want to ask "How may I help you?".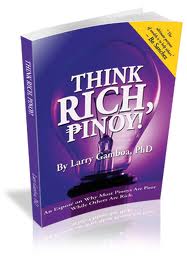 If you are attending the seminar, I would like to know what is it that you want me to discuss that would be most helpful to you. My talk will only be for 40 minutes and I want to make it count.
Just to give you an idea of what I have shared during some of the past Think Rich Pinoy Seminars, here are just some of the topics I have already covered:
I have shared some of my experiences and lessons I have learned in buying foreclosed properties, including challenges and success factors.
I also talked about how and why I decided to quit the rat race to go full-time with real estate investing and internet marketing.
I also shared in detail how I ended up transitioning from being an I.T. professional to a real estate investor and what questions one should ask (along with some of the answers) when one is just getting started with real estate investing.
This time around, I plan to give a presentation on "how to do the numbers" which attendees can use to analyze potential deals. However, I still want to verify if that is really what you want to learn from me on December 3.
My objective is to help attendees go beyond the learning, and to start with the doing!
Please let me know what you want by leaving a comment below.
Click here to learn more about the Think Rich Pinoy Seminar on December 3, 2011
If you can't make it to the seminar…
If you are not attending, I still want to hear from you!
What do you want to learn about foreclosed real estate investing?
Please let me know so I can prioritize which articles I should publish first. I have more than 30 articles in draft, excluding listings of foreclosed properties, and yet there are more I want to share about investing in foreclosed properties.
Please go ahead and hit the comments section below, Thanks a lot for your help!
~~~
To our success and financial freedom!
Jay Castillo
Real Estate Investor
PRC Real Estate Broker License No. 3194
Blog: https://www.foreclosurephilippines.com
Follow me in Twitter: http://twitter.com/jay_castillo
Find us in Facebook: Foreclosure Investing Philippines Facebook Page
Text by Jay Castillo and Cherry Castillo. Copyright © 2011 All rights reserved.
Full disclosure: Nothing to disclose.