Maybe yes… maybe no… it depends on a lot of things! Obviously not all foreclosed properties are good deals.
It's common sense that not all properties are good investments, foreclosed or otherwise. You don't need to be a real estate investing guru to know this.
However, based on the number of times I've been asked the same question, I feel a lot of people out there have a misconception about foreclosed properties.
Let me make it clear, NOT all foreclosed properties are good deals, and it would be foolish to think all of them are.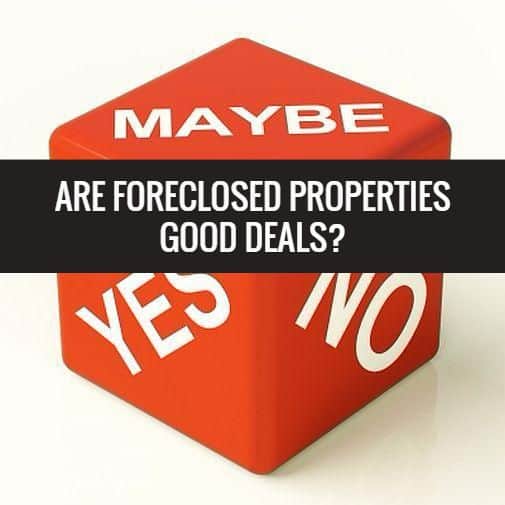 A lot of foreclosed properties are bad deals…
Don't ever expect all foreclosed properties to be good deals because if you do, you are setting yourself up for frustration, disappointment, and failure, especially when you start finding foreclosed properties that turn out to be horrible deals. More on this later.
"Hey Jay, are you saying foreclosed properties are no good?", you might be asking.
As I said, it depends. No, I'm not discouraging you, I'm just trying to help with managing expectations. Admittedly there are more bad deals out there than good deals, but there are still more than enough hidden gems out there that can make worthy real estate investments, and the key is finding them.
One needs to look at a lot, and when I say a lot, I mean a lot of properties, to find those hidden gems, after all, investing in foreclosed properties is a numbers game.
There are good deals out there… it's a numbers game
I've said it before and I'll say it again, investing in foreclosed properties is a numbers game.
The greater the number of foreclosed properties you look at, the greater the chance that you will find those good enough deals, and even some great deals. However, you will find a lot of bad deals in the process, but that's just part of the game. It's okay to find horrible deals, as long as you find out before you bought the property, and move on.
Keep in mind that one cannot just give up after looking at a few properties. I often hear people get frustrated with foreclosed properties after looking at just one or a couple of properties, or even with just one listing that really did not have many properties to begin with. And then they give up and say things like
I'll never find any good deals…"
or
The numbers will never work…"
or
This is too hard…"
or
I'm just wasting my time…"
Sorry, nobody said foreclosed real estate investing is easy! It may sound simple, but it isn't easy.
The 100-10-3-1 Rule
You basically need to look at a significant number of properties to find those properties that are worth a second look.
How many would that be? The general recommendation would be to find about 100 properties worth a second look, after doing initial shortlisting. Out of those 100 properties, you will probably find 10 worth inspecting. Out of those 10 worth inspecting, you might find 3 properties that are worth giving offers for or bidding for, if they were for sale through a public auction. Out of the 3, you may end up buying 1.
That's a brief overview of the 100-10-3-1 rule. I've read many variants of this rule from books and also from some of my mentors but they are basically the same. You analyze 100 properties, inspect 10, submit offers on 3, and end up buying 1. These are just average numbers, but you'd be surprised how accurate this average can be in real life. Been there, done that!
Other numbers to consider
Of course there are other numbers to consider when applying the 100-10-3-1 rule and when "doing the numbers".
Numbers like After Repair Value (ARV), projected repair costs, target profit, Maximum Allowable Offer(MAO), Cash on Cash Return (CCR), Return-On-Investment or Return Of Investment(ROI), Net Operation Income(NOI), Cashflow, etc., to name a few, also need to be considered. For each of these numbers, you as the real estate investor will ultimately have to decide what is acceptable for you. These numbers will determine if a foreclosed property is a good deal or not.
If this sounds too daunting and tedious for you, I would be the first to say that this might not be for you. But there's no harm in trying right?! Imagine what could happen if you consistently did this until doing the numbers became a habit and you actually became good at it!
No, I won't have time to explain all of these numbers now, but one by one, they will be covered here soon.
Sometimes it's all in the mind
I still remember during the early part of 2008 when I found myself unable to find any good deals in any of the listings of foreclosed properties that came my way.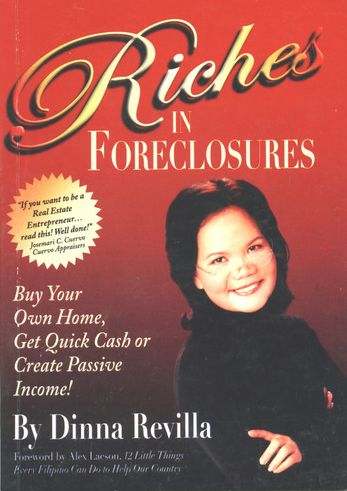 I was still recovering from feelings of being betrayed after how Dinna Revilla, a former real estate mentor, got arrested and became a "fallen real estate guru", and in disgust of what she allegedly did to those who trusted her(as far as I know, the case is still pending), I just decided to invest in mutual funds instead of real estate.
My respite from real estate investing however was short-lived because I eventually met another mentor, Doctor Jon Abaquin, who was also featured in Larry Gamboa's book "Think Rich Pinoy"(see page 155), who later challenged me and a couple of my friends to each buy a property within 90 days.
Lo and behold, from the same listings lying on the table in my bedroom where I could not find any suitable properties, all of a sudden I was able to pinpoint at least 3 very promising foreclosed properties from 3 banks and I ended up submitting an offer for the most promising one. Later, that one offer got accepted. That experience opened my eyes and from that point onwards, I truly believed that there were good, and great deals out there, I just had to look a little bit harder!
But what if I do find a good deal but have no money to invest?
My take on this: Financial literacy is a prerequisite to real estate investing.
Being financially literate leads to proper management of one's money and finances, which should then help one save enough capital for investing. When that right deal comes, you will be ready.
If you think that would take too long, then another option would be to find investors for your deal, although personally, I would recommend that beginning investors do it by themselves, especially on the first few deals.
I believe you should build your track record with your own money first before risking other investors' money. If you can't even handle your own money, how do you expect to be able to handle the money of investors?! Sorry if I may sound harsh, but hey, this is just my opinion.
So how many properties have you looked at?
Have you looked at 1, 2, 3… and have given up already? If yes, you are NOT looking hard enough.
Remember, the more you look and do the numbers, the greater the chance that you'll find that real estate investment for you.
Next time someone asks you, "Are foreclosed properties good deals?"
I'm pretty sure most of you out there will eventually encounter this question once you decide to invest in foreclosed properties and people learn what you do.
Well, I hope to help save you the trouble of coming up with your own answer, which can turn out to be a very long one, just like mine. If you want, you can just send them over here, and I hope my answer above will be of help.
Next question please!
Good luck and happy investing!
~~~
To our success and financial freedom!
Jay Castillo
Real Estate Investor
Real Estate Broker License #: 3194
Blog: https://www.foreclosurephilippines.com
Follow me in Twitter:http://twitter.com/jay_castillo
Find us in Facebook:Foreclosure Philippines facebook page
Text by Jay Castillo and Cherry Castillo. Copyright © 2010 All rights reserved.
PS. Are you a new visitor? Click here NOW to start learning more about foreclosure investing in the Philippines
PPS. Don't be the last to know, subscribe to e-mail alerts and get notified of new listings of bank foreclosed properties, public auction schedules, and real estate investing tips. Inbox getting full? Subscribe through my RSS Feed instead!
Image courtesy of Stuart Miles / FreeDigitalPhotos.net