Tag: real estate guru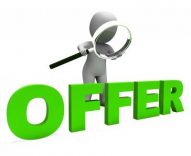 Updated as of November 7, 2014 :  This article has been updated to reference veteran real estate investor Ron LeGrand as the one who created the term MAO. The formula ...
Read More ›
Maybe yes... maybe no... it depends on a lot of things! Obviously not all foreclosed properties are good deals. It's common sense that not all properties are good investments, foreclosed ...
Read More › I started this blog as a tool to help me in my real estate investing activities. In this blog, I have all my foreclosed property listings and important websites online, ...
Read More ›
As 2008 comes to an end, first and foremost, I would like to say thank you to all of you my dear readers and visitors. I created this blog only ...
Read More ›