Don't waste time going through heavy traffic to fall in line at the local Registry of Deeds to get a certified true copy of land titles, just do it online!
Checking the certified true copy of the land* title for a target foreclosed property is an essential part of doing proper due diligence, and it is now so much easier!
*How about Condominiums (which some people say have no land)? In addition to real estate that have land (ex. house and lots, vacant lots, etc.), there are land titles for condominium units and these are called Condominium Certificate of Titles or CCT's. You can also request for certified true copies of CCT's via LRA's eserbisyo portal.
Check out the short introduction video below.
Video: How to get certified true copy of land title online
I would like to thank Ms. Anna Michelle Gatbonton-Legados for sending a copy of the video to my wife Atty. Cherry Castillo for sharing here. Ms. Anna is the Business Development Manager at LRA Services.
Here's a link to the eSerbisyo portal:
Video Transcript
Kamusta mga landowners!

Kailangan mo ba ng Certified True Copy ng titulo o CTC pero pahirapan makakuha?

Pagdating mo sa registry of deeds, kasing haba ng EDSA ang pila?

Ramdam kita, may solusyon dyan ang Land Registration Authority:

Online na ang pagkuha ng CTC sa kanilang eSerbisyo portal!

Iwas pila, iwas hassle.

Paano?

1) Mag login sa eSerbisyo portal via eserbisyo.lra.gov.ph at gumawa ng account.

2) Sa pag-request ng CTC ng iyong lupa, Ilagay ang registry of deeds kung saan naroon ang lupa, title type, at title number.

3) Bayaran ang transaction fee online gamit ang autorisadong e-payment gateway partners.

Pagkatapos, ang iyong dokumento ay ipapadala sa address kung saan nyo Ito gustong ipadala.

Ang dali lang di ba?!

Ang pagkuha ng CTC is as easy as 1-2-3.

Madali, Mabilis, Maaasahan! Yan ang eSerbisyo.

Mag request na ng inyong CTC online.

Request for your CTC now.
Win an iPhone 14 Pro Max when you request for your CTC online
Until April 16, 2023, all completed requests for CTC's via eserbisyo.lra.gov.ph are qualified to join eSerbisyo's 2nd anniversary raffle promo. Refer to details below.
Here's are complete details for the raffle promo from this pdf file at the eserbisyo website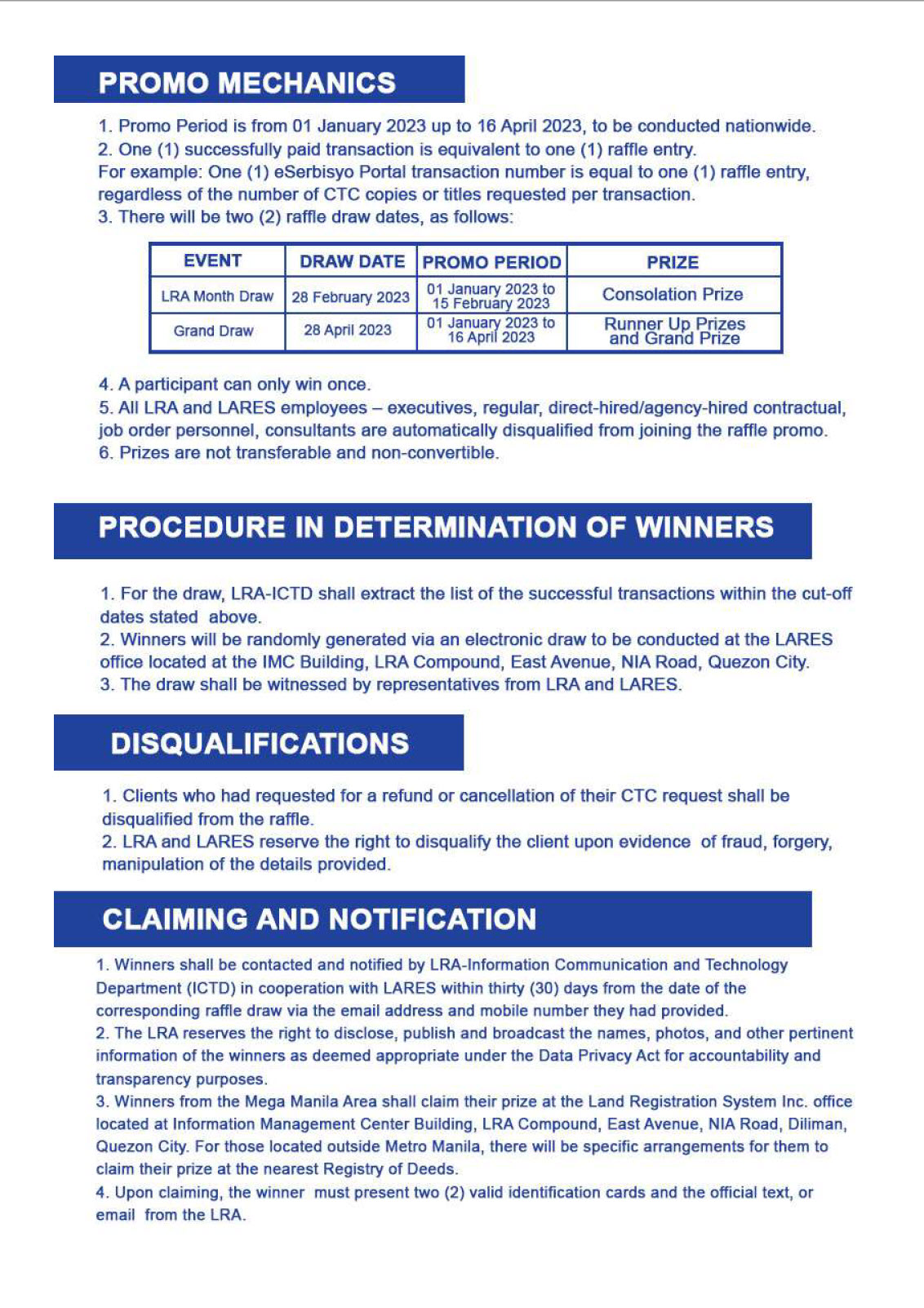 Source: Anna Michelle Gatbonton-Legados – Business Development Manager, LRA services www.lares.com.ph
Additional info on how to use the eSerbisyo portal
Here are links to user guides at the eSerbisyo portal
Got questions about getting certified true copies online?
If you have questions, I highly suggest you check out the answers to frequently Asked Questions. Simply go to https://eserbisyo.lra.gov.ph/ and click on the "FAQ's" link.
I will also update this article with answers for questions I might have when I try out this service.
I plan to make a complete video tutorial on this so if you have questions you want me to answer in the video, please let me know by leaving a comment below.
Disclaimer/disclosure
Nothing to disclose: We are sharing this as a public service announcement to all readers and susbcribers of foreclosurephilippines.com. This is NOT a paid advertisement.