Tag: real estate investment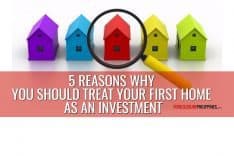 If you are buying your home, you should not waste the opportunity to buy a good investment. Yeah, your own home might not be considered as an investment that earns ...
Read More › If yes, then this seminar might be for you. My friend Tyrone of MillionaireActs.com sent me details of this seminar of his officemate Ray Alejandrino and thought of sharing it here ...
Read More ›
Maybe yes... maybe no... it depends on a lot of things! Obviously not all foreclosed properties are good deals. It's common sense that not all properties are good investments, foreclosed ...
Read More › This is just a reminder for interested parties to get ready for the 2009 Philippine Housing Fair which pushes through on December 27-29, 2009 at the SM Megamall Megatrade Halls ...
Read More › My wife who has become so obsessed with finding a new house we can call our home shares updates on what we are thinking of doing with our old house ...
Read More › Update dated June 2, 2011 – After much thought, I have decided to leave Trace Trajano's local coaching program and my role as one of the local coaches. I would ...
Read More ›