A total of 994 BFS foreclosed properties are available for negotiated sale in the December 2021 nationwide list. This comes directly from Bahay Financial Services (BFS). Complete listing and details below.
BFS listing updates summary for November 2021:
~Jay Castillo
Reminder
Please take note that a significant number of properties are "Occupied", and we don't recommend buying occupied properties even if they are cheap). Please refer to FAQ#10 below for more details.
View all BFS foreclosed properties (database)
To view all foreclosed properties from BFS in our database (for easy searching/filtering), click on the button below:
==> Click to view ALL BFS Foreclosed Properties (with pictures and vicinity maps)
Search for more foreclosed properties
Wait, there's more! You can also search from our database that includes other banks and institutions that have foreclosed properties for sale.
Foreclosed properties database
To quickly search for all available foreclosed properties that include other banks/ institutions, visit our Foreclosed Properties Database linked below:
==> Click for foreclosed properties database
All locations with foreclosed properties by Province/City
You can also browse all locations within the Philippines with foreclosed properties available from ALL banks/lending institutions inside our database, grouped by Province/ City, on this page:
==> Click to browse all foreclosed property locations
Note: The "Foreclosed Properties Database" is a work in progress. If you have comments/ suggestions, please do let me know by leaving a comment below.
Big discounts for BFS foreclosed properties are available!
To get the best deals, here are some very important reminders from BFS:
-> SPOT CASH BUYERS GET THE BIGGEST DISCOUNTS!
-> Discounts from 5% up to 40%+++!
-> UP TO Php 500K PRICE DROP on some properties!
=> Don't forget to tell BFS that you learned about them from ForeclosurePhilippines.com to get the best deals!
How to buy BFS foreclosed properties
Here's a step-by-step guide for buying BFS foreclosed properties: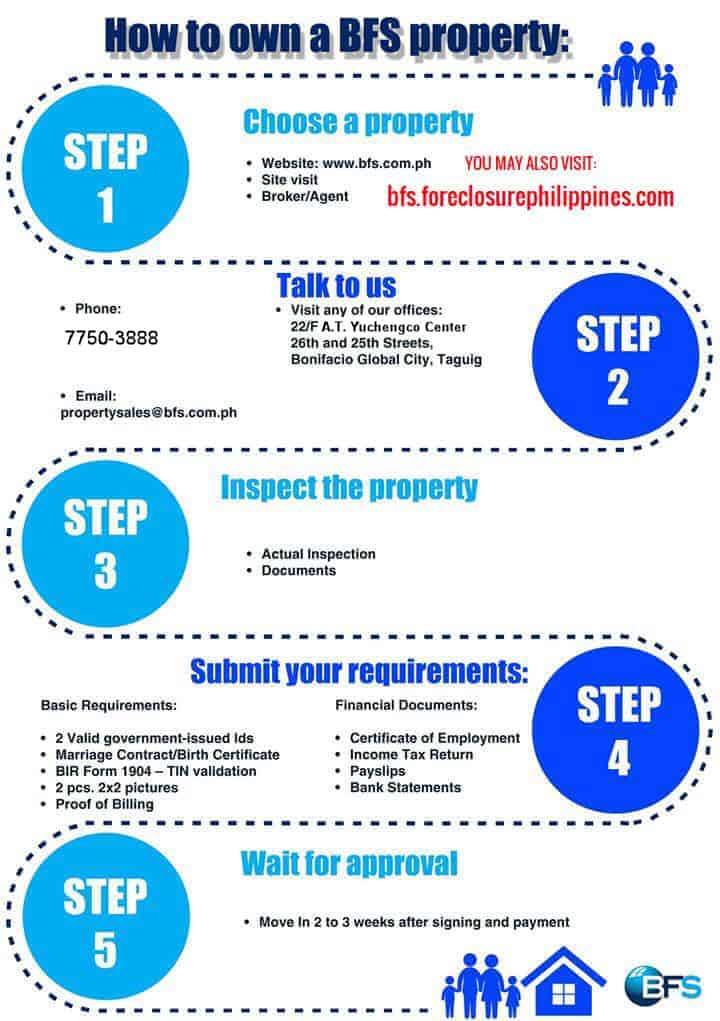 Source: BFS Facebook page
BFS Telephone Numbers
To inquire, please call BFS directly and get ready with your target property's account number.
BFS Trunkline (Taguig Head Office):  (02) 7750-3888
BFS Davao Office: +6382 221-0809
BFS Office Addresses
You may also visit BFS offices at the following locations:
Bonifacio Global City (Head Office)
22nd Floor, A.T. Yuchengco Center (formerly RCBC Savings Bank Corporate Center)
25th and 26th Streets, Bonifacio Global City, Bonifacio Global South,
Taguig, Philippines
Davao Office
Unit 301, Plaza de Luisa
Ramon Magsaysay Avenue
Davao City, Davao, Philippines 1634
Telephone: +6382 221-0809

Found a property for sale from 3rd parties that comes from a listing of BFS foreclosed properties? Here's my advice
I have been receiving a lot of questions about properties for sale from 3rd parties that are actually from BFS. If you encounter something similar, you should read the article below to avoid becoming a victim of a foreclosed property scam:
Frequently Asked Questions (FAQ)
Here's a compilation of frequently asked questions about BFS foreclosed properties. Click a question to view the answer:
Note: FAQ #1 to #8 are from the BFS FAQ Page, but since a lot of you have been asking, I added FAQ #9 and #10. If you have other questions, please let us know by leaving a comment below. ~ Jay Castillo
Disclaimer and disclosure:

* Offer prices subject to change without prior notice.

** BFS does not make any representations with respect to these properties. We encourage you to make an ocular inspection of the property – these, or the creditor's rights over these, are sold "As is, Where is" and the pictures contained herein may vary from the actual condition of the property.

*** Some of these properties may still be subject to redemption. In case of redemption, you will be reimbursed from the redemption proceeds.

**** These Properties may still be subject to a transaction or proceeding, which necessarily involves government agencies. BFS has no control over, and makes no representation with respect to the time it will take for concerned government agencies to process and release the necessary documents and clearances.

*****All taxes are the responsibility of the Buyer.