Here's the list of Buena Mano / BPI Foreclosed Properties for sale via "online sealed bidding". The deadline for bids is on July 27, 2022, 9:00am. Check out the details below.
Important Reminder: The telephone numbers of the designated bank officers that handles each of the foreclosed properties are included in the list below. If you are interested in a foreclosed property, please call them up directly. This is the fastest way for you to get information. Thank you for understanding!
Online Sealed Bidding Schedule
Please see below the schedule for submission of bids.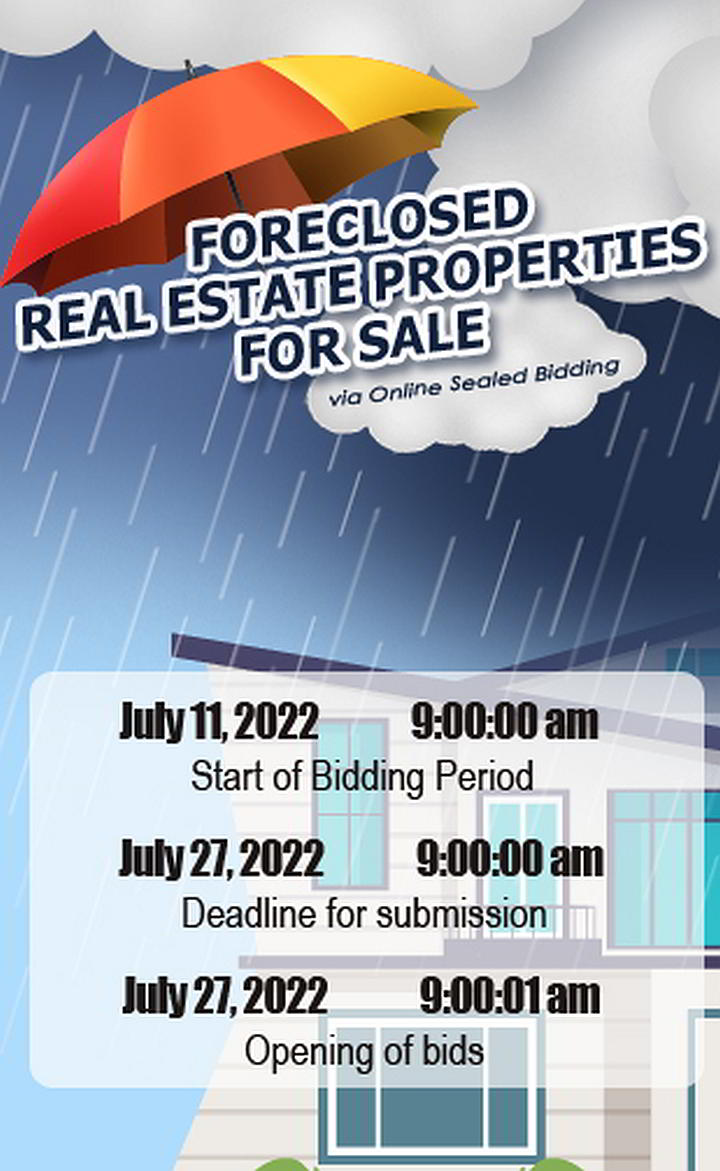 Start of Bidding Period: July 11, 2022, 9:00:00 am
Deadline for submission: July 27, 2022, 9:00:00 am
Opening of Bids: July 27, 2022, 9:00:01am
Buena Mano / BPI Foreclosed Properties List for online sealed bidding
For easy searching/filtering, browse all Buena Mano / BPI foreclosed properties inside our foreclosed real estate database.
==> Click for all BPI foreclosed properties scheduled for "online sealed bidding"
The source of this compilation of listings is Buena Mano's official website as retrieved on July 15, 2022.
Alternately, you can also get an "old school" copy of the list in PDF format below: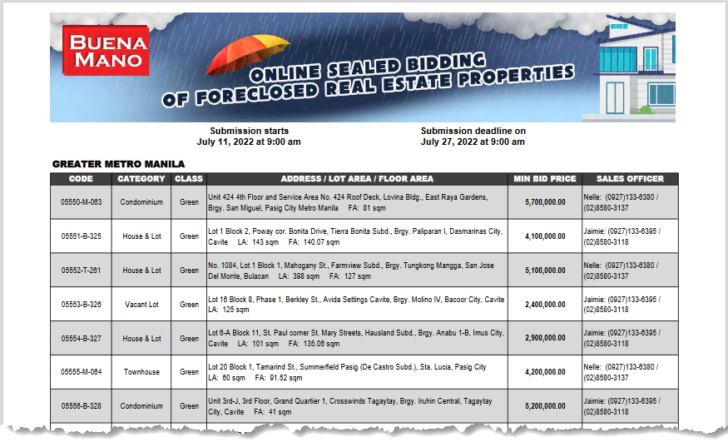 ==> Click to download buena-mano-bpi-foreclosed-properties-2493sb-flyers-07-2022.1_compressed.pdf
Note: You will need Adobe Acrobat Reader to view PDF files, which is free to download at Adobe.com
Property classifications for Buena Mano/ BPI foreclosed properties
The list contains Green Tag and Yellow Tag properties. Please see below for more details with regard to these property classifications: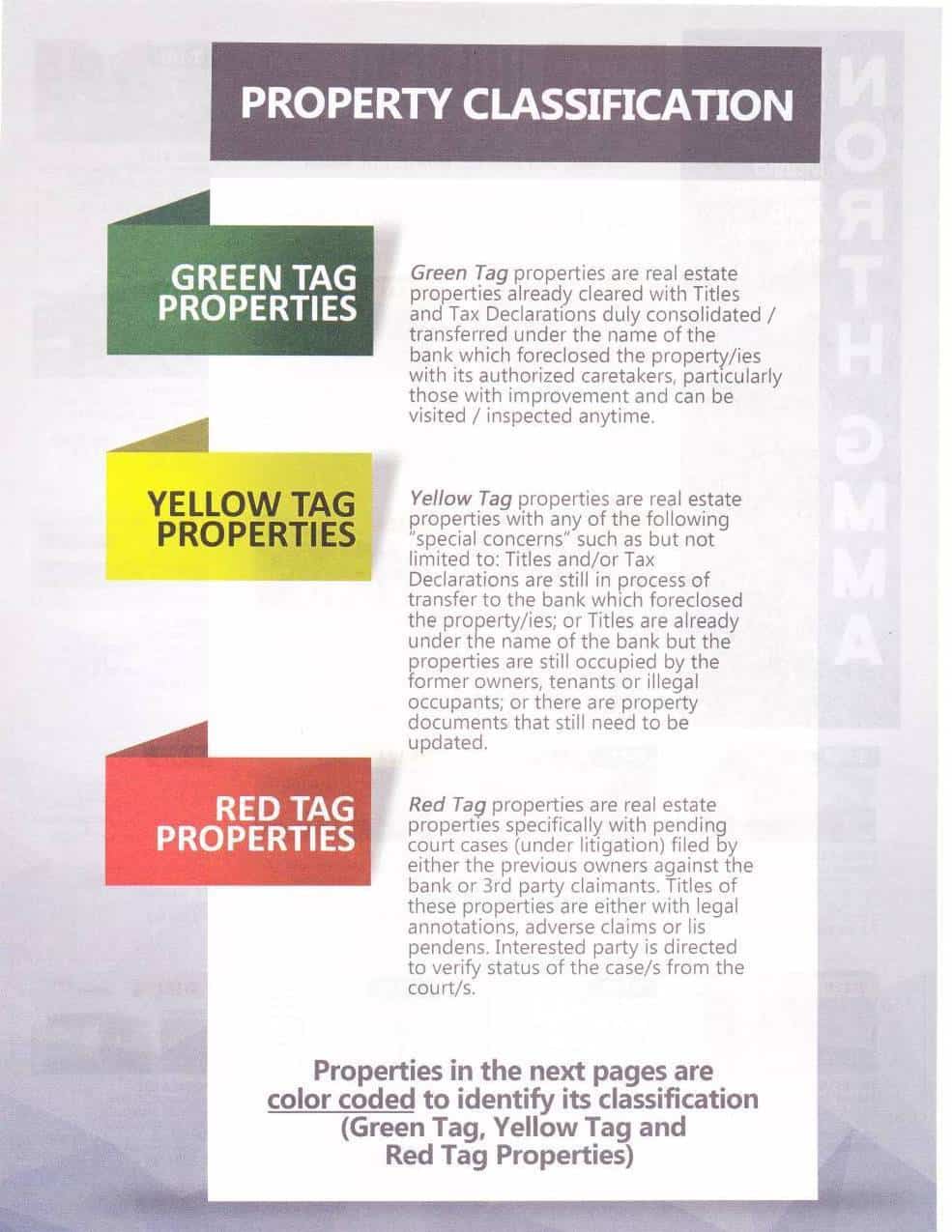 Green Tag properties are real estate properties already cleared with Titles and Tax Declarations duly consolidated / transferred under the name of the bank which foreclosed the property/ies with its authorized caretakers, particularly those with improvement and can be visited/ inspected anytime.
Yellow Tag properties are real estate properties with any of the following "special concerns" such as but not limited to: Titles and/or Tax Declarations are still in process of transfer to the bank which foreclosed the property/ies; or Titles are already under the name of the bank but the properties are still occupied by the former owners, tenants or illegal occupants; or there are property documents that still need to be updated.
Red Tag properties are real estate properties specifically with pending court cases (under litigation) filed by either the previous owners against the bank or 3rd party claimants. Titles of these properties are either with legal annotations, adverse claims or lis pendens. Interested party is directed to verify status of the case/s from the court/s.
How to buy Buena Mano/ BPI foreclosed properties via "Online Sealed Bidding"?
Please refer to the guidelines below, which is a summary of how to buy via online sealed bidding:
Sealed Bidding Guidelines (Summary)
"GUIDELINES

1. Sale is on an "AS IS-WHERE IS" basis.

2. Bidders should make reasonable examination of property title/s and tax declaration/s and inspection of the physical condition and location of the properties. It is best to contact the specific Sales Advisors indicated on the properties listed for further queries.

3. Buyers should make a bid through the online submission platform as indicated on www.buenamano.ph from July 11, 2022, at 9:00:00AM to July 27, 2022, at 9:00:00AM. The official time indicated on the online registry will serve as our official time of receipt of the bids.

4. The Bank shall not accept bids beyond the defined cut-off date and time.

5. The Seller reserves the right to withdraw the Property/ies at any time before the deadline for submission of bids.

6. The Seller reserves the right to reject any and all offers at its sole discretion, waive any defects or informality on the offers received and accepts the most advantageous to the Seller but does not guarantee that any award shall be made."

Source: Sealed Bidding Flyer via Buena Mano official website
Note: The above guidelines are just a summary. The complete details are in the "Terms and Conditions" page on BPI's website which is too long to add to this page, so I'll just add the following link to the page / button below. I highly recommend that you read it before participating in the online sealed bidding to avoid any surprises.
~ Jay Castillo
Complete Terms and Conditions for Real Estate Sealed Bidding
To view the complete details about the sealed bidding, please read the Terms and Conditions on the following page (this is a direct link to the page on Buena Mano's website):
==> Click to view Real Estate Sealed Bidding Terms and Conditions at BPI's website
FAQ for Buena Mano / BPI Foreclosed Properties for sale
Here are answers to frequently asked questions (FAQ) from the Buena Mano FAQ page:
What taxes and fees are to be shouldered by the buyer?
"Once you submit an Offer to our Customer Care Desk, you will be informed if your offer has been accepted. A Letter Advise containing the terms and conditions of the sale (with the following information) shall be sent to you:

a. Selling Price
b. Property Address/Description
c. Schedule of payment/s to complete the purchase price

After you sign the Letter Advise, which signifies that you agree with all the terms and conditions of the sale, you must send us an originally signed copy for our official files and as our basis to reserve the property for you until you pay the minimum Ten Percent (10%) Earnest Money on or before the date stated therein. If the Earnest Money is not paid on the due date, then the property will be offered to other interested buyers.

The following are the related taxes and fees due to the National Government of the
Philippines in a real estate transaction:

STANDARD POLICY ON PAYMENT OF TAXES AND INCIDENTAL FEES:
·    Government may impose other taxes and fees that are not covered by the above schedule.

·    Computations of taxes and fees are not final and are subject to change based on government-mandated rates or BIR rulings or computations prevailing or applied during the registration of the documents covering the transaction.

·    CWT [Creditable Withholding Tax] is computed using the Selling Price shall be for the account of the Seller. However, any amount of CWT that maybe due that is in excess of the CWT determined using the Selling Price as basis shall be for buyer's account.

·    The Documentary Stamp Tax, Transfer Tax, Registration Fee, IT Fee and other sales related fees and charges are for the account of the Buyer.

·    Transfer Tax should be paid within 60 days from date of notarization of Deed of Absolute Sale.

·    Registration Fee – graduated rate based on the Selling Price."
What are the payment modes available when I purchase a BPI / Buena Mano foreclosed property?
"Payment schemes for your property purchase may be:
• Cash   
• Bank Loan/Financing – Through BPI or  BPI Direct BanKO, Inc., A Savings Bank
– Terms are subject to separate credit approval by the lending bank"
I am a licensed real estate broker, how do I become an accredited Buena Mano broker to be able to sell your properties?
"We are most happy to welcome you to be part of our Buena Mano Accredited Brokers.  However, you must first submit and comply with our broker's accreditation requirements so we can immediately process your accreditation.

For more information, please visit our Broker's Corner: Click here"
How to inquire
Contact the designated bank officer
To get details faster, please contact Buena Mano directly. You may refer to the listing for the telephone numbers of the designated bank officer/person-in-charge that handles the foreclosed property you are interested in.
Where are the Buena Mano / BPI Foreclosed Properties for negotiated sale?
If want more properties from BPI, they currently have more than 800 properties on their website that are for negotiated sale. Here's a direct link to their search page for real estate:
==> https://www.buenamano.ph/#realestate-sale
I'll see if I can add their negotiated sale list to my foreclosed real estate database. Speaking of…
If you still want more foreclosed properties, check out my foreclosed real estate database that currently has more than 20,000 properties from various banks/ government entities, see below:
Search our foreclosed properties database…
Wait, there's more! You can also search from over 20,000 foreclosed properties in our database that includes multiple banks and lending institutions that have foreclosed properties for sale. Quickly search using the link below:
==> Click for foreclosed properties database
All locations with foreclosed properties by Province/City
You can also browse all locations within the Philippines with foreclosed properties available from ALL banks/lending institutions inside our database, grouped by Province/ City, on this page:
==> Click to browse all foreclosed property locations
Note: The "Foreclosed Properties Database" is a work in progress. If you have comments/ suggestions, please do let me know by leaving a comment below.
Disclaimer
Here's the disclaimer from BPI:
"ALL PROPERTIES FOR SALE ARE ON "AS-IS, WHERE-IS" AND "FIRST COME, FIRST SERVED " BASIS. Prices are not applicable to buyback transactions with former owners, call for buyback prices. PRICES ARE SUBJECT TO CHANGE and MAY BE WITHDRAW WITHOUT PRIOR NOTICE. ALL OFFERS ARE SUBJECT TO MANAGEMENT APPROVAL. PLEASE CONFIRM ENTRIES BY CALLING OUR HOTLINE OR SENDING AN EMAIL TO BUENAMANO@bpi.com.ph. Misprints and other errors are unintended and do not consider acts of misrepresentation, intentional non-disclosure, fraud or withholding of accurate property details and pricing."
Full disclosure
Nothing to disclose, we have stopped with brokering of foreclosed properties. Please contact Buena Mano directly if you are interested in any of their properties.
Got questions?
Since we have extensive experience in buying and selling foreclosed properties from Buena Mano / BPI, please feel free to ask questions below and I'll try to answer them. But if you have questions and/or inquiries about their properties, you should contact them directly!
~Jay Castillo