Since we decided to stop brokering foreclosed properties to focus on our own deals, we have not been able to get updated catalogs of Buena Mano/ BPI foreclosed properties … until now! Here's their most updated catalog which they gave to us last week. Check it out below.
Note: The telephone numbers of the designated bank officer and their assistant that handles properties for a specified location can be found inside the catalog. So if you are interested in a foreclosed property, please call them up directly. This is the fastest way for you to get information. If you are abroad, you may email Buena Mano at BUENAMANO@bpi.com.ph. Thank you for understanding!
Just to give you an idea of what's inside the catalog, here's a copy of the cover and table of contents: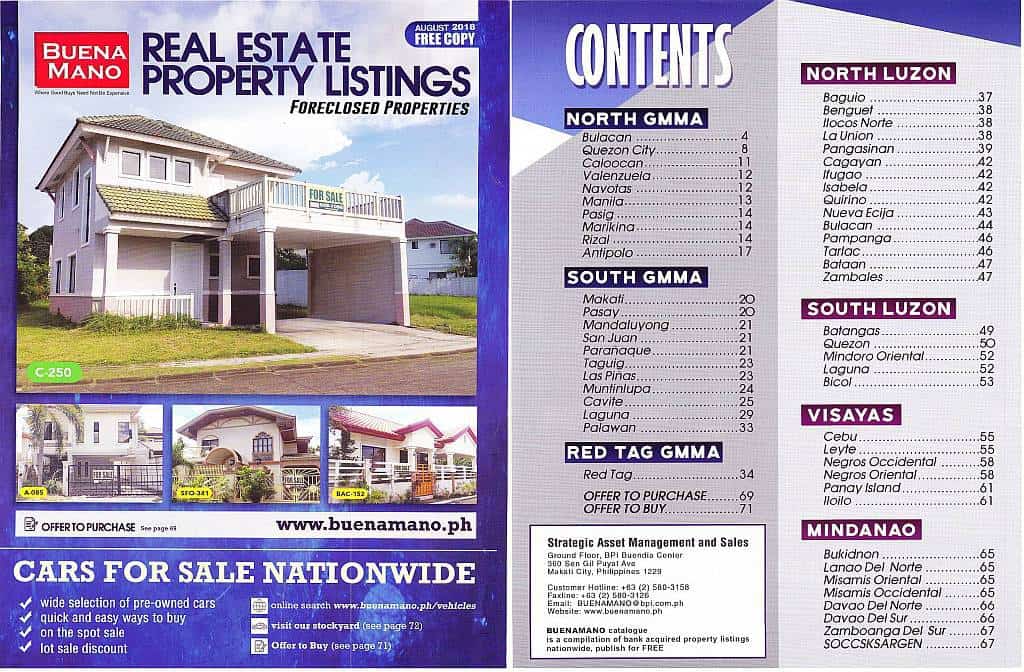 If you will notice, this catalog contains listings of foreclosed properties all over the Philippines. The list is actually quite big and has 72 pages in total.
Property classifications for Buena Mano/ BPI foreclosed properties
This catalog already contains Green Tag, Yellow Tag, and Red Tag properties, as defined below: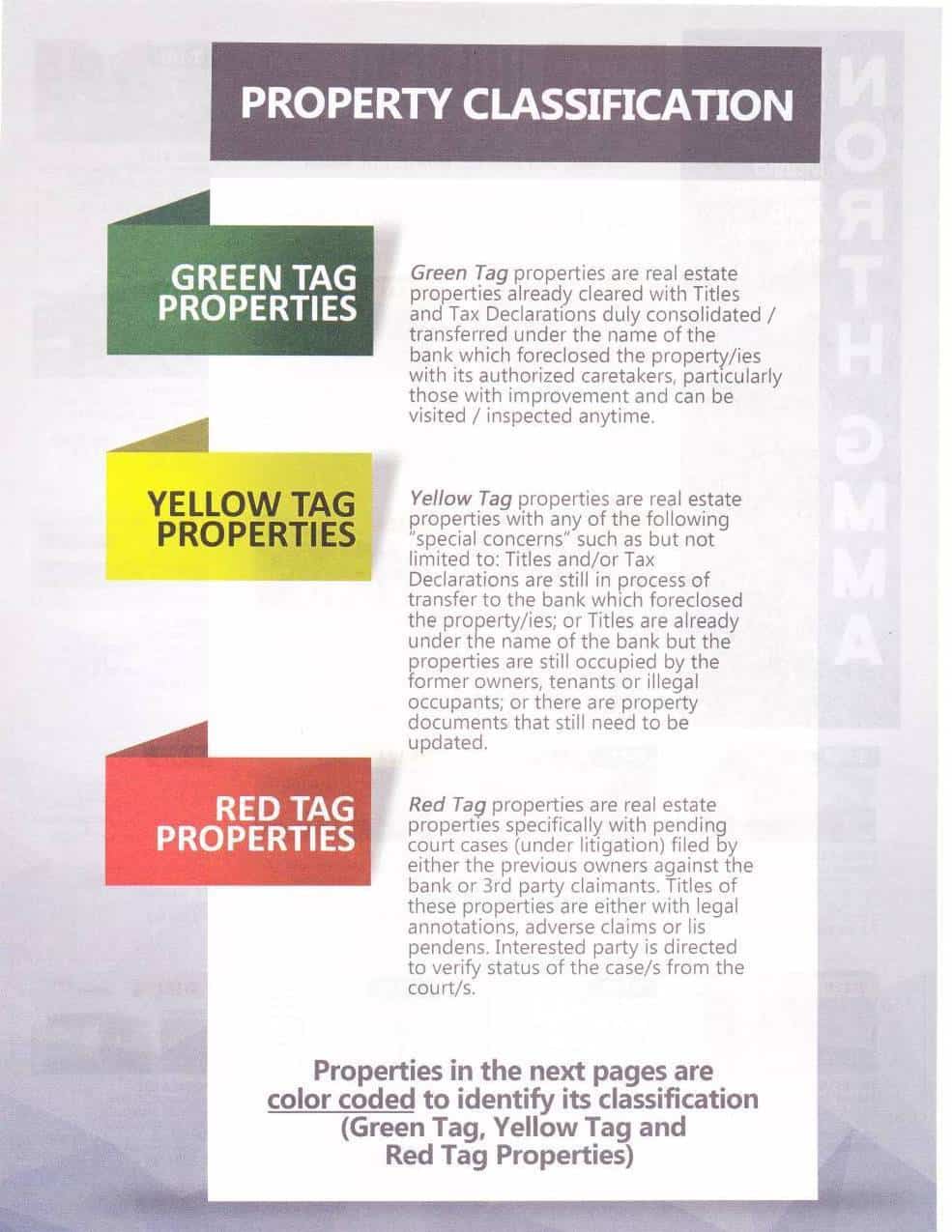 Download the Buena Mano/ BPI Foreclosed Properties Catalog (August 2018)
You may download the whole catalog in PDF format below (13.6MB)
Click to download a copy of the Buena Mano foreclosed properties catalog (August 2018)
Note: You will need Adobe Acrobat Reader to view PDF files, which is free to download at Adobe.com
How to buy Buena Mano/ BPI foreclosed properties?
Please refer to the FAQ below, which is actually in page 68 of the catalog.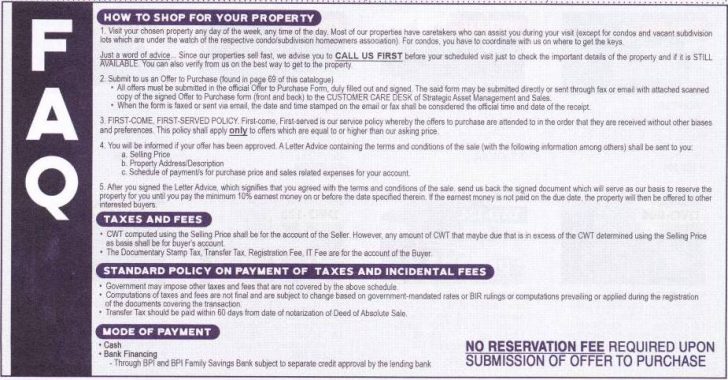 Source: We got a hardcopy of the catalog during a General Membership Meeting of the Real Estate Broker's Association of the Philippines (REBAP) held last September 20, 2018, where Buena Mano was giving away copies of the catalog at their booth.
How to inquire
1. Contact the designated bank officer
To get details faster, please contact Buena Mano directly. You may refer to the catalog for the telephone numbers of the designated bank officer/person-in-charge that handles the foreclosed property/location you are interested in.
2. Contact their head office
Strategic Asset Management and Sales:
Office address: Ground Floor, BPI Buendia Center, 360 Sen Gil Puyat Ave, Makati City, Philippines 1229
Customer Hotline: +63 (2) 580-3158
Faxline: +63 (2) 580-3126
Email: BUENAMANO@bpi.com.ph
Website: www.buenamano.ph
Disclaimer
ALL PROPERTIES FOR SALE ARE ON "AS-IS, WHERE-IS" AND "FIRST COME, FIRST SERVED " BASIS.
Prices are not applicable to buyback transactions with former owners, call for buyback prices. PRICES ARE SUBJECT TO CHANGE and MAY BE WITHDRAW WITHOUT PRIOR NOTICE.
ALL OFFERS ARE SUBJECT TO MANAGEMENT APPROVAL. PLEASE CONFIRM ENTRIES BY CALLING OUR HOTLINE OR SENDING AN EMAIL TO BUENAMANO@bpi.com.ph.
Misprints and other errors are unintended and do not consider acts of misrepresentation, intentional non-disclosure, fraud or withholding of accurateproperty details and pricing.
Happy hunting!
~~~
P.S. Yeah I know, it can be hard to search for foreclosed properties in a PDF catalog like this. Unfortunately, it would be very hard for me to upload this into our classifieds database because of how the listing is formatted. I can either get an encoder to type the contents into an excel sheet, or get a list from Buena Mano that is in tabular format. I tried asking years ago, but after several followups, it just did not materialize. I'll try again when I am able to drop-by their office.
Full disclosure: Nothing to disclose, we have stopped with brokering of foreclosed properties at the moment. Please contact Buena Mano directly if you are interested in any of the foreclosed properties in the catalog(s).