Foreclosed properties might seem attractive at first. But if you are not careful, you might end up buying a property that is actually overpriced and not worth buying. You might realize this only when you consider a lot of issues that must be factored in. So here are my top 5 things you should consider before you start buying foreclosed properties.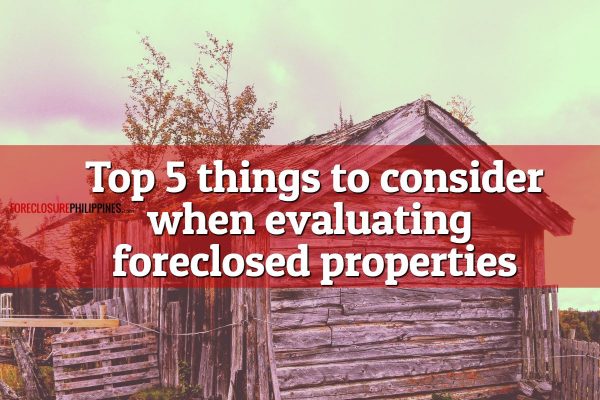 But before I proceed, here's a background of why I came up with this list…
With thousands of foreclosed properties for sale in the Metro Manila area alone, I found it overwhelming to choose which properties to purchase as real estate investments. To get around this, what I initially did was to identify particular areas that I am familiar with so I can focus only on them. The areas I identified included Marikina, Pasig, Quezon City (excluding Novaliches), San Juan, Mandaluyong, and Makati. However, I am still left with several hundreds of properties.
To shorten my list further, I chose to apply the 5 criteria below when evaluating prospective foreclosed property investments. By the way, I did not come up with these criteria. These came from Robert Allen's book "Road To Wealth" (previously published as "The Challenge"). I decided to use these because two of my mentors have also shown me very similar methods of evaluating properties. I figured that since it worked for them, it would also work for me.
I built on their set criteria and enhanced them to include things that I have learned to look for and avoid in real estate investing.
Here are my top 5 things to consider when evaluating foreclosed properties:
1. Location
I guess everyone has heard the saying that there are only 3 things to consider when buying real estate — location, location, and location! Well, location really is a major criterion one should consider when buying a property, whether foreclosed or not. In most cases, location dictates the profitability of your property since it directly affects the following:
a) the selling price that you may get if you decide to sell the property
b) the rental rates if your strategy is buy-and-hold.
When considering a property, one should check if the location is in a high growth area or will soon be in a high growth area (for example, an SM mall will be built in the area in a few years) as this indicates a high potential for appreciation. Other factors like accessibility, security, and availability of utilities like electricity and water are standard things to look for.
It is also essential that the location is close to convenience stores, schools, churches, hospitals, malls, grocery stores, wet and dry markets, or even business districts. Locations that are in flood-prone areas, near fault-lines, areas with high incidence of crime, squatters, piggeries, slaughter houses, garbage dumps, and the like will fetch lower selling prices and rental rates.
2. Selling price plus other costs
Quoting Robert Kiyosaki in his book Rich Dad Poor Dad, "You should make money when you buy, not when you sell". I often asked myself before how the heck can I make money when I'm buying a property and obviously letting go of money? The answer is really simple. One makes money when buying a property if it is bought at a price below market value. If this approach is used, you help ensure that you will make money without depending on appreciation.
Relying on projected property appreciation where you hope a property would appreciate in value so you can sell it later for a profit is purely speculation and is no different from gambling.
Other than the selling price, one should also consider the major taxes like Capital Gains Tax (CGT) and Documentary Stamps Tax (DST), just in case the seller decides to pass these on to the buyer. Other taxes such as transfer tax, real property tax, and VAT (if applicable), should be factored in as well. When all of these taxes are factored in, they can turn what had initially looked like a bargain into a deal not worth pursuing.
Other expenses such as association dues (in case a property is a condo unit), homeowners' association dues (in case a property is in a subdivision), property maintenance costs, property management costs (if you are an investor who wants a truly passive real estate investment), etc. should also be factored in to see if the property is really a good buy for the long term.
I also set a maximum limit of 2.0M for my investment properties but I can increase this as I get more experienced.
3. Property Condition
When investing in real property, one should look for a structurally sound investment that is preferably made of concrete and other durable materials that would last for years. When dealing with foreclosed properties, however, it is not unusual to see quite a number that are not well maintained and would need repairs. Put in mind that the repairs should bring significant value to the property which would cover the related cost. A property which would need extensive repairs that are too costly should be avoided.
For example, a property that has horizontal or diagonal cracks could have a major structural flaw that may prove to be too costly to repair. Vertical cracks might only need superficial patching. Many properties only need a new paint job.
Other things to things to watch out for include termite infestations, rotting wood, water stains, flood lines and water damage, etc. It is also a must to check the condition of the electrical, water, and sewage systems of a property to see if major repairs are needed or if they even exist. It would be best to let professional contractors evaluate a property's physical condition, just to be sure, before actually purchasing a property.
When a property needs repairs, it can actually be good for real estate investors as it can be the basis for low-ball offers. In case these low-ball offers do get accepted, having a contractor that can do quality repairs cheaply can lead to bigger savings and margins. I envy those investors that have friends or relatives that are contractors. If anyone who happens to read this would like to refer anyone, please leave a comment below.
4. Financing
Aside from a favorable selling price, availability of financing that offers very flexible payment terms and low home loan rates are also a big consideration. Imagine finding what seems to be a bargain property but then you find out that you need to pay in cash and you only have until the end of the week to come up with the money.
Compare that to another property that may have a higher selling price but with very flexible terms that could include a low down payment, low interest rates that are fixed for at least five years (always remember to negotiate for this – this protects you from soaring interest rates and gives you time to refinance your mortgages if needed), and long payment terms that result in lower monthly amortizations.
I'm sure a lot of you would choose the property with the flexible terms, unless you have a lot of partners or investors that are ready and waiting to finance your deals.
When the monthly amortization is lower than the rentals, you will have a property that can generate positive cashflow, a true "asset" using Robert Kiyosaki's definition that "an asset puts money in your pocket".
By the way, you should also check if financing is through a mortgage loan or through a contract-to-sell. Mortgage loans requires the buyer to submit financial documents and not everyone can get approved, while financing through a contract-to-sell is easily approved by banks. I'll discuss these further in another article.
5. Seller Motivation
A motivated seller is a seller that badly needs to sell his or her property at the soonest possible time. Banks are a good example as their inventory of Real and Other Properties Owned or Acquired (ROPOA) or Real Estate Owned (REO) are non-performing assets that they need to dispose quickly.
Some may find it too good to be true but some banks really sell properties way below market values and others also accept offers that are also way below the original asking price indicated on their foreclosure listings. This is because when a seller is highly motivated, they tend to be willing to sell a property at a huge discount, with little or no money down, and at very favorable terms.
For example, I once submitted an offer for a 9-door apartment complex in Pasig for only 1.9M while the original price was 3.4M. To my surprise, they accepted it! Turns out that the loan amount that they needed to recover was about 1.8M (I actually offered too much for this real estate investment property) and they just wanted to remove that particular property from their inventory of non-performing assets.
What to do next?
For each of the criteria above (which you can also modify for your own use), I can give a property a score of 1 to 3, with 3 being the highest. I then get the total of all of the criteria. If a property gets a score of 11 and below, I move on to the next property. A score of 12 or above warrants further evaluation of a property.
I am then supposed to apply the 100-10-3-1 rule which I got from the audiobook entitled "6 Steps to Becoming A Successful Real Estate Investor" by Robert Kiyosaki and Dolf De Roos. The same ratios were also mentioned in Larry Gamboa's book, "Think Rich Pinoy!".
Once I get to analyze 100 properties that scored 12 or above, I can further trim down by calculating the return-on-investment (ROI), the monthly cashflow, and the cash-on-cash returns, which I will be discussing in greater detail in another post.
I then get the resulting top 10 properties and do further due diligence like checking the legal documents of a property, checking with the bank if it is still occupied by the previous owner or a stubborn renter, etc.
I then make written offers on the top 3 that appear to be free of any problems.
From the offers accepted, I proceed to buy one property.
Sounds simple enough right?
However, it may still sound tedious for the average Joe. Well, there's no such thing as a free lunch.
Let me know if you have any questions or if you may have anything to add that should be considered by leaving a comment.  Thanks!
Good luck and Happy Hunting!