I just found this notice for Quezon City taxpayers yesterday and thought of sharing it here. The Quezon City Treasurer shall be holding a tax foreclosure auction sale of all real properties with delinquent tax payments and it will be held on October 7, 2010, at the ground floor, Taxpayer's assessment and payment Lounge, Quezon City Hall. The full text of notice follows.
NOTICE TO Q.C. TAXPAYERS

THE CITY TREASURER SHALL HOLD AN AUCTION SALE OF ALL REAL PROPERTIES WITH DELINQUENT TAX PAYMENTS ON LAND, BUILDING AND MACHINERIES AT 10:00 AM, ON OCTOBER 7, 2010, GROUND FLOOR, TAXPAYER'S ASSESSMENT AND PAYMENT LOUNGE, QUEZON CITY HALL.

IN THIS CONNECTION, ALL TAXPAYERS ARE ADVISED TO SETTLE/UPDATE REALTY TAX ARREARAGES BEFORE THE SAID DATE TO AVOID INCLUSION OF THEIR PROPERTIES.

ALL PROSPECTIVE BIDDERS ARE ALSO REQUESTED TO VERIFY THE PROPERTIES TO BE BIDDED WITH THE CITY ASSESOR'S OFFICE AND THE REGISTER OF DEEDS OF QUEZON CITY.

ALL PROPERTY OWNERS WITH NEWLY ACQUIRED PROPERTIES ARE REQUIRED TO SUBMIT TO THE CITY ASSESSOR'S OFFICE A CERTIFIED TRUE COPY OF THEIR TRANSFER OF CERTIFICATE OF TITLE (TCT) FOR REGISTRATION PURPOSES, AND ISSUANCE OF NEW TAX DECLARATION AND CORRESPONDING TAX CLEARANCE.

(SGD.) EDGAR P. VILLANUEVA

City Treasurer
The original notice can be seen below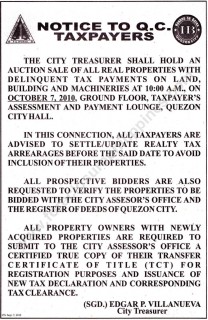 Source: Philippine Star, September 7 issue, page B-9
List of tax delinquent properties for sale
Sorry guys and gals, I don't have a copy of the complete list of Quezon City tax delinquent properties for sale on October 7, 2010, I only got the notice. The complete list of tax delinquent properties for sale is now available. Click here to view the complete list. Keep in mind that the list will grow shorter as I am hoping that residents with tax delinquencies will settle/update all their realty taxes prior to the auction.
If you are interested on joining the tax foreclosure auction and want to get a copy of the tax delinquent properties for sale, I highly suggest that you drop by the Quezon City Taxpayer's Lounge and get a copy from their office directly.
It is open from Mondays to Fridays, 7:00 AM to 5:00 PM, except during January of every year when the City Treasurer's Office is open 7 days a week.
Schedule of Sale of Tax Delinquent Properties
If you will notice, the Quezon City Treasurer's office has been regularly conducting their tax foreclosure auctions on a quarterly basis. I checked their website and found the following schedule, so it's confirmed, they will auction tax delinquent properties on a quarterly basis, at least until the end of 2010.
Schedule of Sale of Delinquent Real Properties

April 6, 2010 – 1st schedule of sale delinquent real properties
July 2010 – 2nd schedule of sale delinquent real properties
October 2010 – 3rd schedule of sale delinquent real properties
December 2010 – 4th and last schedule of sale delinquent real properties
Want to learn more about investing in tax delinquent properties?
If investing in tax delinquent properties is new to you, checkout these posts about my own lessons learned:
Happy investing!
To our success and financial freedom!
Jay Castillo
Real Estate Investor
Real Estate Broker License #: 20056
Blog: https://www.foreclosurephilippines.com
Follow me in Twitter:http://twitter.com/jay_castillo
Find us in Facebook:Foreclosure Philippines facebook page
Text by Jay Castillo and Cherry Castillo. Copyright © 2010 All rights reserved.
PS. Are you a new visitor? Click here NOW to start learning more about foreclosure investing in the Philippines
PPS. Don't be the last to know, subscribe to e-mail alerts and get notified of new listings of bank foreclosed properties, public auction schedules, and real estate investing tips.