This is part 2 of a series on the "Matthew Effect". If you have not yet read part 1, you can read it here : The "Matthew Effect" and how it applies to real estate investing (Part 1)
Imagine the time when a real estate investor finally nails his first deal. Can that be a stroke of genius, the result of sheer hard work, or just plain luck? I believe it all starts with what Malcolm Gladwell refers to as  extraordinary opportunities in his book Outliers, and being the person willing to act upon these opportunities when they come.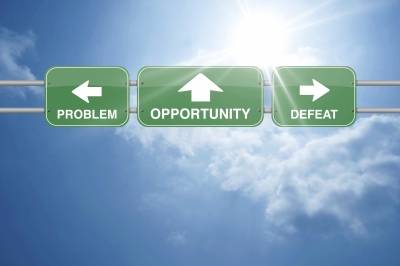 For those who have, more will be given…"
I remember from way way back when I always looked at the Sunday edition of the Manila Bulletin (I still do) and looked at their acquired assets section. In fact, I had a big pile at my side table but never got to buying any foreclosed property, it seemed I could not find any that were worth a second look.
Does this sound familiar? Have you ever been in the same situation and had the same feeling?
Things changed however during the early part of 2008. It was during this time when my mentor Jon Abaquin a.k.a. "Doctor Rent", gave me and my friends (there were three of us) an assignment. After explaining what to look for, we were tasked to find foreclosed properties and analyze them, with the goal of submitting offers, and eventually end up acquiring a property.
After a day or two, from the same pile of newspapers on my table, I found a 9-door apartment from a listing that I had previously looked at. I probably missed it the first time I read that listing because I did not know what to look for.
No, the listing did not mention it was a 9-door apartment, it only indicated it was a lot with improvement as seen below.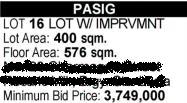 If you will notice, this had an unusually big floor area and it was most probably a multi-door property. I missed this before but I saw it the second time around and checked and found out I was correct. My mentor, along with his partners, owned a 24-unit property back then. I wanted a similar property.
My offer for the 9-door apartment at Php1.9 M got approved but it turns out the owner was still living in one of the units and the deal is still pending, which is why I blotted out the address (this in itself is another story and I'll write about it in another article).
Anyway, I believe that the skill of  knowing what to look for is a perfect example of how the "Matthew Effect" applies to real estate investing. Once you have that skill, "more will be given" to you.
This is because you will begin to see more opportunities in the form of good real estate deals. The good deals did not really appear from nowhere, you simply could not see them before. They were actually there all along.
After "seeing" the property above, I began to see more good deals, they really exist!
More examples of extraordinary opportunities
From my own experience above, I can see two examples of extraordinary opportunities that went my way.
I found a mentor. A mentor is someone who can say that he's "…been there, done that, doing it tomorrow". (How I found my mentor is  another long story.)
I learned what to look for because of my mentor
I am just thankful that I was given a chance to do so.
But how can one find those opportunities?
I believe one reason why we don't see those opportunities that come our way is we are too preoccupied doing other things, or we simply let opportunities pass. We hear words like "I don't have time to do that, I have too much work" or "I have to do this and that…".
Let me try to explain something by asking the following 10 questions, the very same questions I asked myself before, some of which I still ask myself to this day:
Have you really tried to make time, instead of complaining?
Have you really decided to do something rather than just dream about getting out of the rat race through real estate investing?
Have you taken the opportunity to analyze potential deals during your free time when you came home from work, instead of watching TV which is really just a waste of time? We have had no TV since early 2008, believe it or not!
To begin with, have you even bought a newspaper or visited bank websites to seriously look for foreclosed properties? Are you just like those who dream of winning the lotto but never buy any ticket?
Have you really tried to find a location which you can turn into your own niche? You need a niche where you can be an expert so you can easily spot good deals, provided you know what you are looking for.
Have you tried to go to the banks to get updated listings or at the very least leave your calling card so they can contact you or send you their updated listings when they become available?
Do you even have calling cards that let people know you are a real estate investor? This alone can open a floodgate of opportunities.
Have you even tried to learn the whole process of buying a foreclosed property from banks? Even if you don't have the money yet, start learning so that you will be ready when the time and opportunity comes.
Have you even attended an auction? I believe attending not only gives you an idea of what goes on, you get to meet other real estate investors, and you also become a familiar face with banks and they will remember you and send you foreclosed property listings and even some deals.
Have you grabbed the opportunity and took the time to learn from other real estate investors who have had success with real estate investing?
Are you beginning to see the big picture? If you answered yes to some of the questions above, I believe you have found and seized "small opportunities".
If none, what are you waiting for, Christmas?!
A lot of these small opportunities are actually out there for just about everyone who are willing to grab them, and act upon them.  They can lead to a "series of opportunities" and advantages.
This "accumulated advantage" can really help one get started with real estate investing.
But wait, there's more! I believe the same applies even more when one already has a successful real estate deal.
After the first deal, more opportunities come
When you already have a successful deal, do you believe that even more opportunities will come your way? You bet!
Banks will look at you as a credible and serious buyer and may send good deals your way.
Other real estate investors who get to know you will be more than happy to network with you. You will be "in the loop" and you'll know it when there are good deals where partners are needed, or other real estate investors simply might send good deals your way.
As your credibility grows, so does the number of people who are willing to work with you.
Aside from other real estate investors, this can also include passive investors, sellers, buyers, real estate brokers, contractors, lawyers, and other people who are involved in the real estate industry.
From those who have nothing, even what they have will be taken away"
In contrast, someone who does not yet have this "accumulated advantage" and still has "nothing" to show for it yet (in reference to his attempt at real estate investing), and may have difficulty finding the opportunities that I have described above.
This can even lead to a downward spiral as the beginning real estate investor, because of the lack of results which happens because of what seems to be the lack of opportunities, simply loses interest.
Another example of having "nothing" which can lead to circumstances where "what they have will be taken away" would be the lack of integrity. As Peter Scotese said:
Integrity is not a 90% thing, not a 95% thing; either you have it or you don't."
In real estate investing, or in any business for that matter, would you deal with someone who has no integrity? I don't think so. And with that, I believe that in a way, all opportunities will be taken away, not by others, but rather by one's choice to act without integrity.
We always have a choice
In the end, I believe it all boils down to the choices that we make. Yes, we always have a choice.  I believe this is the essence and deeper meaning of being proactive.
The choices we make dictate if we will have opportunities and be given even more, or end up with nothing, and even what we have, be taken away.
~~~
To our success and financial freedom!
Jay Castillo
Real Estate Investor
Real Estate Broker License #: 20056
Blog: https://www.foreclosurephilippines.com
Follow me in Twitter: http://twitter.com/jay_castillo
Find us in Facebook: Foreclosure Investing Philippines facebook page
Text by Jay Castillo and Cherry Castillo. Copyright © 2010 All rights reserved.
PS. Don't be the last to know, subscribe to e-mail alerts and get notified of new listings of bank foreclosed properties, public auction schedules, and real estate investing tips. Mailbox getting full? Subscribe through my RSS Feed instead!
Image courtesy of scottchan / FreeDigitalPhotos