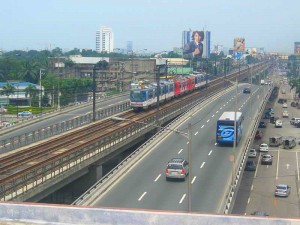 I really should pay more attention to current events in Philippine real estate developments.
In a yahoogroup I belong to as a broker, a co-broker was looking for 100-150 hectares of land in San Jose Del Monte, Bulacan. I found an 85-hectare vacant lot worth more than 200 million in a listing of bank foreclosed properties, but upon confirmation with the bank officer, I learned that the sale was near closing already.
I thought to myself, "Sayang!"("What a missed opportunity!") and at the same time, I wondered if something was cooking in the area…
Then, in a recent meeting we had with a client, we learned that there were rumors that San Miguel Corporation will be building its own airport somewhere in Bulacan.  "Aha!" I thought, and so I did some sleuthing.
Of course many of you may have known this a long time ago, but for a southern belle like me whose interest is not that piqued by developments in the north, this was very interesting. Consider the following:
 A ManilaStandardToday.com article reported that real estate speculations have been sparked by the airport relocation plans of Mr. Ramon S. Ang, the head of San Miguel.
A PhilStar.com article reported that the Department of Finance (DOF) and San Miguel Holdings Corp., the proponent of the MRT Line 7 are discussing ways to enhance the $1.2 billion project.
The MRT 7 project was approved a long time ago, but has been delayed. I tried to access the website of the original proponent of the MRT 7, Universal LRT Corp.  (ulc.com.ph) but it is gone, even in Google's cache. A past article from gmanetwork.com  shows the proposed MRT 7 route map. The said stations match those reported in a photo on DMCI's website, except for Station 14 which the gmanetwork article called Araneta station which dmcinet called San Jose.
Since ulc.com.ph does not exist anymore, I had only Wikipedia (which cited ulc.com.ph when it was still online) to rely on regarding the locations of the stations of the MRT Line 7 (Manila Red Line). Based on the said website, the proposed MRT 7 stations are as follows:
I believe that it is still possible for the exact locations of the MRT 7 stations to change (which is probably why they erased the website ulc.com.ph where the proposed stations were shown). The general location, however, will probably stay the same since the project has already been approved and they are only fine-tuning the details. The clincher, I believe, will be the location of the new airport in bulacan.
I noticed that there are a lot of listings of foreclosed properties in the above areas (I know what you're thinking!). Of course, buying a property should not be based purely on speculation of a future price increase. It is still wise and prudent to buy at a price lower than the current market value, and the potential for increase in market value is just a plus factor.  What do you think?
~~~
To our success and financial freedom!
Cherry Vi M. Saldua-Castillo
Real Estate Broker, Lawyer, and CPA
PRC Real Estate Broker License No. 3187
PRC CPA License No. 0102054
Roll of Attorneys No. 55239
Text by Jay Castillo and Cherry Castillo. Copyright © 2008 – 2012 All rights reserved.
Photo credit: Wikipedia
Full disclosure: Nothing to disclose.