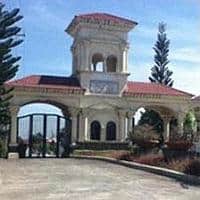 Here is the latest list of foreclosed properties from Paragon Finance Corporation updated as of January 27, 2012. This listing contains foreclosed properties located in Cavite, Laguna, and Rizal. These are all for negotiated sale, which means prices are negotiable, subject to management approval.
Terms of payment and other details
Payment can be made through cash or installment.
Reservation Fee: Php5,000
Down payment: 20% of the total contract price with option to pay up to 12 months without interest
Balance: 80% to be paid via In-House Financing at 18% interest rate per annum; Bank Financing and Pag-IBIG Financing
Properties are for sale on an "AS IS WHERE IS BASIS". PRICES ARE SUBJECT TO CHANGE WITHOUT PRIOR NOTICE.
Download the complete listing of Paragon foreclosed properties below
Just right-click and "save as…" on the following images to download the listings of Paragon Foreclosed Properties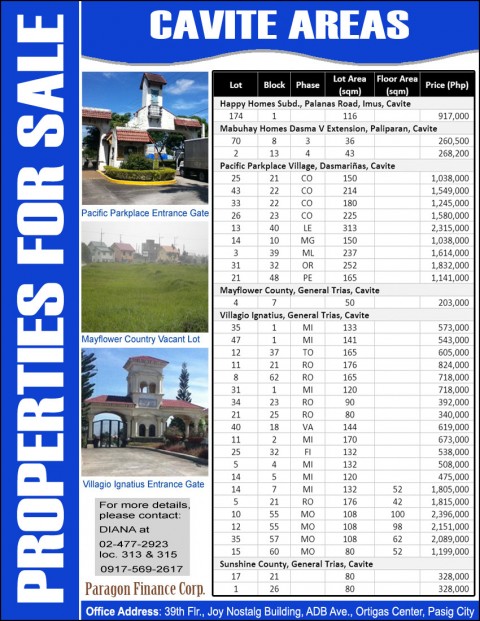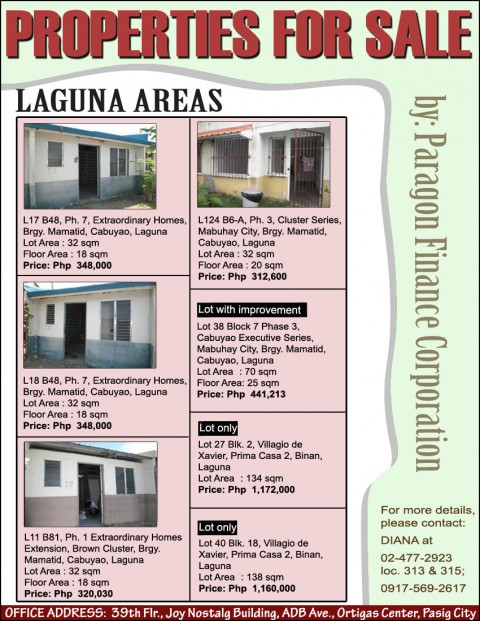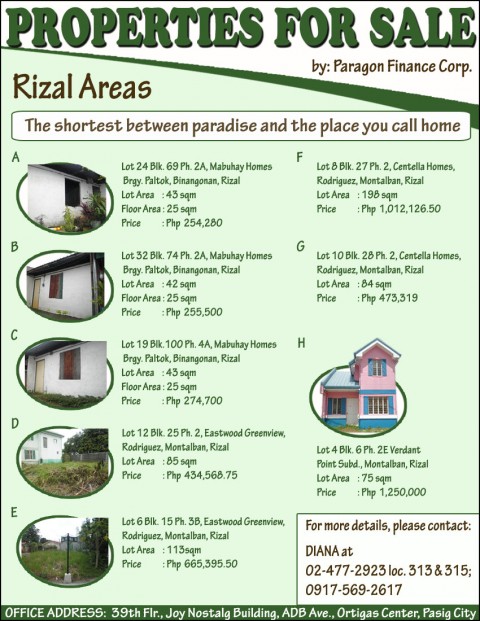 A text only listing is available here: Paragon Finance Corporation foreclosed properties for sale as of January 2012 (PDF)
For more details
To get more details, please contact Paragon Finance Corporation DIRECTLY through the contact details on the listings above.
Happy hunting!
~~~
To our success and financial freedom!
Jay Castillo
Real Estate Investor
PRC Real Estate Broker Registration No. 3194
Blog: https://www.foreclosurephilippines.com
Follow me in Twitter: http://twitter.com/jay_castillo
Find us in Facebook: Foreclosure Investing Philippines Facebook Page
Text by Jay Castillo and Cherry Castillo. Copyright © 2008 – 2012 All rights reserved.
Full disclosure: Nothing to disclose