You are here:
Home ›

Negotiated Sale
Tag: Negotiated Sale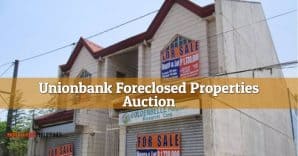 A total of 185 UnionBank foreclosed properties in VISMIN and Luzon/Metro Manila areas are included in their 273rd and 274th Special Public Auctions, both of which are to be held ...
Read More >
This is my first time to feature listings from UCPB Savings Bank, and this has a total of 83 foreclosed properties for sale. I received this last November 9, 2017 ...
Read More >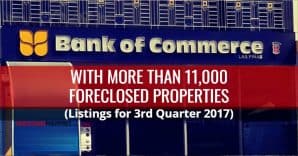 Probably the biggest listing I have encountered so far, this one from Bank of Commerce has a total of 11,840 foreclosed properties (includes real estate, memorial lots, and repossessed cars) ...
Read More >
This is an updated list that has a total of 319 BDO foreclosed properties that are under promo starting this November 2017 (get up to 20% discount). I got this ...
Read More >
A total of 157 SSS foreclosed properties remain available for negotiated sale in their latest update, dated October 20, 2017. Details below ...
Read More >
Here's the second update for PSBank foreclosed properties for sale for the month of October 2017. Their nationwide list now contains a total of 382 foreclosed properties as of October ...
Read More >
A total of 124 foreclosed properties from Country Builders Bank or CBB, are included in their latest listing, which is updated as of October 17, 2017. Details below ...
Read More >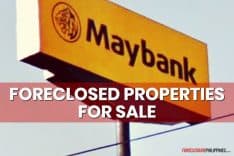 Here is an updated listing of foreclosed properties of Maybank and their property arm, Philmay Property, Inc. Although I received this recently, it's stated that this list is updated as ...
Read More >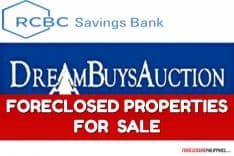 I recently got this list of RCBC  Savings Bank foreclosed properties and this is updated as of September 26, 2017. Since there's no auction announcement, then I believe these are ...
Read More >
A total of 813 BFS foreclosed properties are available for sale in their nationwide list, as of October 1, 2017. This update comes directly from Bahay Financial Services (BFS). More ...
Read More >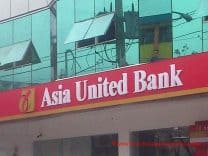 A total of 368 foreclosed properties are available for negotiated sale from Asia United Bank (AUB) and its subsidiaries Cavite United Rural Bank (CURB), and Rural Bank of Angeles (RBA) ...
Read More >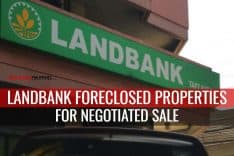 It's been a long while since I last shared any listing from LANDBANK (the last one was from the 2013 Housing Fair), and I'll make it up to you all ...
Read More >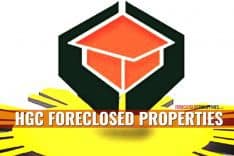 Here's the most updated list of HGC foreclosed properties for sale posted on their website and is updated as of August 15, 2017. Get more details and download the listing ...
Read More >