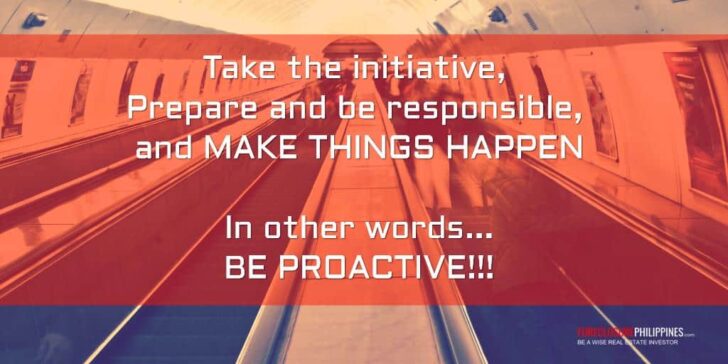 A successful investor is often a proactive investor. We often hear it, but do we really know what it means to be proactive? How can we apply this to real estate investing? Read on to find out my ideas on how we can be proactive and successful real estate investors.
Definition of proactive
Wikipedia defines proactive behavior as follows:
"Proactive behavior (or proactivity) by individuals refers to anticipatory, change-oriented and self-initiated behavior in the work place. Proactive behavior involves acting in advance of a future situation, rather than just reacting. It means taking control and making things happen rather than just adjusting to a situation or waiting for something to happen. Proactive employees generally do not need to be asked to act, nor do they require detailed instructions."
In his book "The Seven Habits of Highly Effective People", Doctor Stephen R. Covey defines it as something more than just taking initiative, as it means that we are ultimately responsible for our own lives. We behave based on our decisions, not based on the conditions around us, where we take the initiative and the responsibility, and make things happen.
For me, it simply means we always have a choice, and through the choices we make, we are giving ourselves the ability to respond accordingly to whatever comes our way, and that includes the challenges that we face as real estate investors.
We cannot blame others because everything is a matter of choice and these choices dictate our ability to respond, and not just react.
Rich Dad was proactive
In the book "Rich Dad Poor dad" by Robert Kiyosaki, Rich Dad's way of thinking where he forbade words like "I cannot afford it…", and encouraged words like "How can I afford it?" was really a perfect example of being proactive. He wanted Robert and Mike to make a choice to find ways and the means, rather than just blame the lack of money.
Proactively investing in real estate
In real esate investing, there are countless ways of being proactive. I would even look at being proactive as a prerequisite as I believe that it is needed at the very start of one's real estate investing career.
The mindset of believing that real estate investing can really be done here in the Philippines and taking the initiative to do what needs to be done to turn this into reality is being proactive. Deciding and taking action is being proactive. If you want to start, I encourage you to first learn the habit of being proactive.
Examples of being a proactive real estate investor
Here are just a few examples of being proactive when it comes to real estate investing
When looking for suitable foreclosed properties
Instead of saying "If only there were really cheap properties that can produce positive cashflow…" why not ask "How can I find properties that can produce positive cashflow?" Why not take charge and analyze more properties instead of giving up after looking at just a few listings of foreclosed properties?
Instead of saying that "If only ejecting tenants was easy and not costly…", why not avoid properties that are occupied to begin with? There are just too many unoccupied properties out there and the proactive thing to do would be to decide to focus only on unoccupied properties.
We should take the initiative and set the criteria for properties that we would be looking for, along with the options that we can take.
When buying a foreclosed property
When we intend to buy a property using our own money, we can take proactive steps like making sure that the numbers work, checking the physical and legal condition of the property, finding out what we can or what we can't do, with regards to our contract with the bank, finding out if we can we assign the contract, finding out exactly what taxes do we need to pay, what expenses are for the account of the bank and for the buyer, etc. This is part of due diligence and doing due diligence is really being proactive.
When dealing with contractors
Proactively ask for quotations from several contractors before you even consider buying a foreclosed property. Check for their track record by talking with other investors who got their services in the past, and look at their past projects, etc. Make sure everything is itemized and as detailed as possible in a written agreement that gives you more than adequate protection.
When paying for a foreclosed property
Proactive steps to take when paying for a foreclosed property would be through post-dated checks, ensuring the checking account is funded accordingly, and replenishing the post-dated checks before they run out. This prevents surprises that might happen if due dates happen to fall on holidays or if a typhoon has made it impossible for you to pay over the counter.
When investing on other people's deals
Whether we are looking at partnering with an investor as an equity partner or just funding other people's deals by loaning them money, we should take the initiative to check if a deal really makes sense, if we can really get the return of our investment(the return of our capital), if it can produce the returns being promised to us(the return on our investment), and making sure all parties are more than adequately protected through a contract that is duly notarized.
We should also take the initiative and check the track record and the credibility of the person asking us to invest in his/her deal. We can ask for feedback from other people, who have invested their money in the past, or you might even consider asking for an NBI clearance, one can never be too careful right?!
Accepting that you made a mistake
Being proactive also means being able to accept that you have made a mistake, accept that one cannot change past mistakes, and move on and just keep moving forward. I suppose the only thing one can do is take action to correct things which are still within your control, learn as much as possible from the mistake, and take steps to avoid such mistakes in the future.
How about you, do you have anything in mind that is a good example of being a proactive real estate investor? Please share them below. Thanks!
Happy investing!
To our success and financial freedom!
Jay Castillo
Real Estate Investor
Real Estate Broker License #: 20056
Blog: https://www.foreclosurephilippines.com
Follow me in Twitter:http://twitter.com/jay_castillo
Find us in Facebook:Foreclosure Philippines facebook page
Text by Jay Castillo and Cherry Castillo. Copyright © 2010 All rights reserved.
PS. Are you a new visitor? Click here NOW to start learning more about foreclosure investing in the Philippines
PPS. Don't be the last to know, subscribe to e-mail alerts and get notified of new listings of bank foreclosed properties, public auction schedules, and real estate investing tips.