I'm a bit short in time so I will go direct to the point. San Juan City tax delinquent properties will be up for sale through a tax foreclosure auction on February 9, 2012, 10:00am, at the Multi-Purpose Hall of the City of San Juan.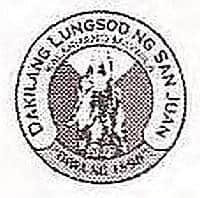 The auction will be conducted by The Office of the City Treasurer of San Juan, by virtue of the provisions of Section 260 and 263 of RA 7160 otherwise known as the Local Government Code of 1991.
According to the notice of sale, the list of tax delinquent properties is still "Subject to Adjustment" and was "Computed as of September 30,2011". Furthermore, taxpayers were advised that "If payment has been made please present to this office the corresponding official receipt for verification/validation"
Download the complete list of San Juan City Delinquent Real Properties
The complete list of delinquent real properties included in the tax foreclosure auction sale on February 9, 2012 can be found viewed/downloaded below. Keep in mind that this was published last October 28, 2011 and it is highly possible that the updated list contains less properties.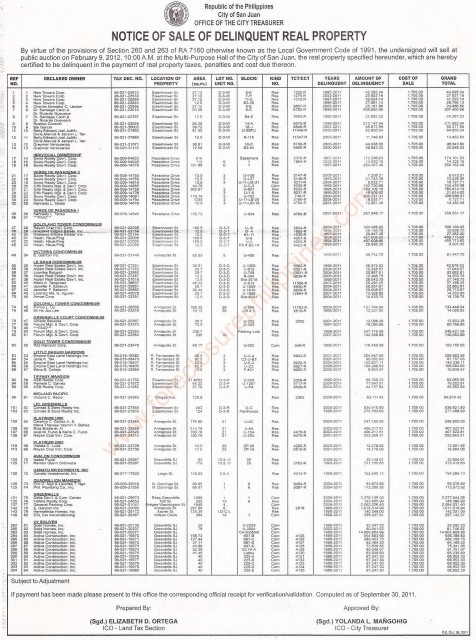 A PDF version is also available: San Juan City tax delinquent properties auction listing on February 9, 2012 (PDF)
Source: Philippine Star, October 28, 2011 print edition.
Learn more about tax delinquent properties
Marikina Public Auction of Real Properties with Tax Delinquencies – Nov 13, 2008 – My wife and I along with fellow real estate investor friends attended a Tax Foreclosure Auction in Marikina City last November 13, 2008. Although I did not win the bidding for any of the Marikina tax delinquent properties that I was interested in, the time was well worth it as I had learned so much […]
9 Lessons Learned From The Real Property Tax Foreclosure Auction Sale In Quezon City – I attended the Quezon City real property tax foreclosure auction sale yesterday and although I was only able to make it to the last forty minutes of the auction, I was still able to learn a lot and I would like to share these lessons here. Incoming search terms: real property tax, real property tax […]
~~~
To our success and financial freedom!
Jay Castillo
Real Estate Investor
PRC Real Estate Broker License No. 3194 
Blog: https://www.foreclosurephilippines.com
Follow me in Twitter: http://twitter.com/jay_castillo
Find us in Facebook: Foreclosure Investing Philippines Facebook Page
Text by Jay Castillo and Cherry Castillo. Copyright © 2008 – 2012 All rights reserved.
Full disclosure: Nothing to disclose.