Join us for the last "face-to-face" Usapang Foreclosed property Investing seminar on September 26, 2015, Saturday, 2pm to 6pm, at Meeting Room 4-6 of SMX Aura, Bonifacio Global City. Get more details below.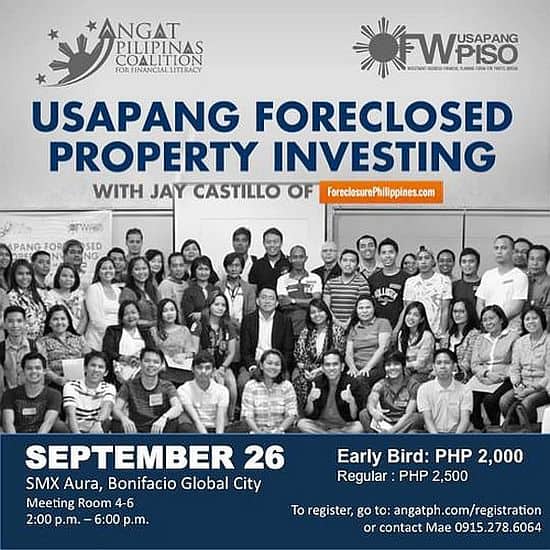 Seminar starts in:
Thanks again to
Burn Gutierrez
  and his team for organizing the third run of this seminar and for inviting me back to speak. Thank you also to the OFW Usapang Piso Forum, and the
Angat Pilipinas Coalition
.
Seminar outline
Here's an outline of what I will cover during the seminar:
What are foreclosed properties – There are many types of foreclosed properties out there, at different stages of the foreclosure process. This topic will explain the pros/cons of buying at each stage.
Who can invest in foreclosed properties – Find out who can really start investing in foreclosed properties.
Overview of the foreclosed property investing process – See and understand big picture of the whole process of investing in real estate, focusing on foreclosed properties.
Recommended real estate investing strategies for beginners – There are a lot of real estate investing strategies out there, and I'll show you which are the most do-able for newbies.
Why invest in foreclosed properties – While you can invest in any type of real estate, this topic will explain the advantages of focusing on bank foreclosed properties.
How to get started – Often left out by other seminars due to "lack of time", I will show you how you can actually get started with investing in foreclosed properties, and what you need to start, from the perspective of an employee who actually did it.
Measures of return – How to "do the numbers" to determine if a property has real profit potential
Up to how much can you offer/bid – How to determine your maximum buying price while ensuring you have enough room for your target profit
Question and answer session/open forum – This will be at the very end of all the topics. Perhaps this is the most important part of the seminar. Please ensure you have also watched the videos below as a lot of frequently asked questions are answered there, before attending the seminar
Disclaimer: If done right, one can make millions with investing in foreclosed properties, but it can take a number of deals to achieve this, and there are a lot of factors to consider. This is not a "get rich quick" scheme, just wanted to make that clear. Anyway, I'll cover this during the seminar.
Here's a topic I will NOT cover
I remember one feedback from a previous batch that complained that the topic "No Money Down" real estate investing was not covered. I really don't understand where this attendee got the idea that I will talk about this. Let me make it clear, it is simply not possible to have zero cash-out when investing with foreclosed properties.
If you believe your problem is you have no money to start investing in real estate, then maybe what you lack is financial literacy, which in my opinion is a pre-requisite for real estate investing.
As to determine how much money is needed to get started, I will cover this in the seminar.
Watch these videos before you attend the seminar…
Sorry, these videos are no longer available.
Why is this the last "face to face" seminar?
I have many reasons and one big reason is, I am moving everything (or as much as possible) online, and I am limiting things that require any physical movement (and that includes face-to-face seminars). With the horrible traffic in Metro Manila, this is something I have to do.
Seminar details
Early Bird rate: PHP 2,000.00
Regular rate: PHP 2,500.00
Seminar date: September 26, 2015 (Saturday), 2:00pm to 6:00pm
Seminar venue: Meeting Room 4-6, SMX Aura Convention Center, Mckinley Parkway and C5 Road corner 26th St., Bonifacio Global City, Taguig.

Seminar starts in:
Register now
To secure your slot(s), please visit the registration page through the button/link below:
Click to register for the Usapang Foreclosed Property Investing seminar on September 26, 2015
For more info/registration confirmation
Please contact Mae at 0915-2786064