After announcing that enrollment is now open to the public the other day, I have received a lot of questions about the "How to buy foreclosed properties" online training. Here's a list of answers to the most frequently asked questions.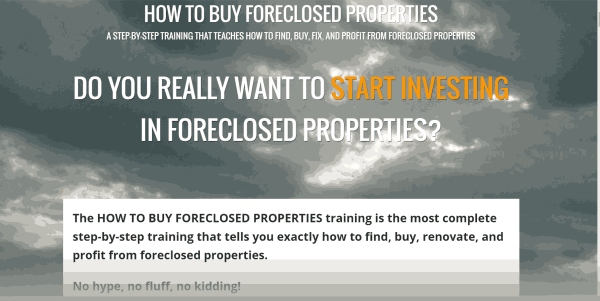 Frequently asked questions:
Q1. Aside from online, do you offer an "actual" training? Why don't you offer a live training instead?
A. At the moment, I don't have an equivalent "face-to-face" training. If we did, that would probably last for more than 6 months.
I could offer one, but a completely "live" and "face-to-face" training that has everything in my online training would be very costly to run, and the enrollment fee will obviously be more expensive (my estimate is more than double).
I created an online training so more people can learn, no matter wherever they are, with a lower enrollment fee, and having it online also overcomes the limitations of a traditional live/face-to-face training (ex. very limited time to ask questions and get answers, no way to update topics, etc.), so offering one would defeat the purpose. (If you really want a live/face-to-face training, please tell me why by replying to this email.)
Q2. Why is the training expensive/cheap?
A. The question depends on who is asking. Let me explain.
For the unfamiliar, they probably don't know that a specialized half-day training session would cost from Php3,000 to Php5,000. Each of the 10 modules in my online training is comparable to a specialized half-day training session.
Using simple math, that would have been Php3,000 x 10 = Php30,000. But my enrollment fee is way below this at just Php22,197.00, and yet you will get a 16-week step-by-step training, which you can review anytime and as much as you want at your convenience, and you can ask as many questions as you need, which is very useful down the road when the time comes (when you need to get answers for a deal you are working on).
Of course, this would be like comparing apples and oranges.
A "laser focused", and highly specialized live training can be priced anywhere from Php38,000 to Php60,000 and more. Now those are better comparables for my online training, but notice the price difference?!
That's why people who know what's included in my training says I'm charging too low.
Q3. How do I enroll?
A. You can enroll online via PayPal or credit card through the following page:
https://www.foreclosurephilippines.com/members/enrollment2016/#buynow
After successful payment online, you will be logged-in automatically into the training area, and your login details will also be sent to you via email.
Alternately, you can also pay via bank deposit. Bank payment instructions are also on the link above.
Q4. After signing up, what is the next step? How do I know I have successfully enrolled?
A. For PayPal/credit card payments, upon successful payment, you will get instant access to the training area, and access to Module 1 and 2. Your login details will also be sent immediately via a welcome email. The welcome email also contains important details like the link to the login page, your username/password, what modules you already have access to, how to get support, etc. (If you you encounter any problems while paying online, please immediately send an email to support@foreclosurephilippines.com or call/text me at +639178843882 so I can assist you)
For bank deposit/remittance, once I identify and tally your payment, I'll create your login details and this will trigger the welcome email that has all the details mentioned above, and you can also proceed with Module 1 and 2 at your own pace. Please take note that bank remittance can take 1-2 business days to appear at our end.
Everyone who has successfully enrolled will receive a notification from us via email. If not, let us know by sending an e-mail to: support@foreclosurephilippines.com or send a text message to +639178843882
Q5. When will the training officially start? Do you already have a schedule?
A. Upon signing-up (for PayPal/credit card payments) or upon verification of bank deposit/remittance, you can already proceed with Module 1 and 2 at your own pace. The next Q and A session will be on Tuesday, September 6, 2016, which will cover Module 1 and 2. The rest of the modules will be released on a weekly basis, 3 times per month (there will be one rest week per month to prevent burn-out, which can also be used for catch-up)
Q6. If I won't be able to enroll for this online training, how soon is the next batch?
A. The earliest schedule for the next batch will be by January 2017. Please keep in mind that you still get a chance to get one of the remaining 64 slots (As of August 30) that will have lifetime access to the training and the lifetime/unlimited access to Q and A webinar/mastermind sessions. I can't guarantee this will be available for the next batch.
Q7. Is this an ebook selling network marketing plan?
A. The training is a combination of both training videos and live question and answer webinar sessions.
It is not in ebook format because it would simply be too long to read all the content if I were to transcribe all the videos and Q and A sessions in an ebook. The training will last for 16 weeks, and is like a subject in college for 1 trimester, but I will make sure you will not feel overwhelmed with proper pacing.
With regards to marketing, I have one module dedicated to marketing your property, after you have renovated it. The topics in this module are as follows:
Module 9 – Marketing strategies for your property
Overview of marketing real estate
How to sell your property quickly
Effective Internet Marketing strategies for real estate Part 1: The basics
Effective Internet Marketing strategies for real estate Part 2: Online Classifieds and Social Media
Effective Internet Marketing strategies for real estate Part 3: Your Online Sales Funnel
How to Conduct An Open House And Sell Quickly
For your reference, a complete list of all modules/topics can be found at the enrollment page:
https://www.foreclosurephilippines.com/members/enrollment2016
Q8. I'm a real estate broker, will this training allow me to get Continuing Professional Development (CPD) units to renew my real estate broker license?
A: Not at the moment, this training will not earn for you any CPD units as of now.
Checking if this can can qualify as part of "self-directed learning" activities with the PRC is in our to-do list, but I can't give any promises as of now on when we can do this.
More questions?
If you have more questions that were not answered here, just let me know by leaving a comment below.
Remember, enrollment shall only be open to the public up to September 2, 2016, 11:59pm.
Time left to enroll:


Enrollment closes when the timer reaches zero.
Click here to learn more / enroll for the training
Best regards,
Jay Castillo – Owner and founder, ForeclosurePhilippines.com | True North Online Marketing Services
P.S. For everyone who enrolled via bank deposit (thank you!) but have not received their login details, please let me know immediately by sending an email to support@foreclosurephilippines.com with the following details:
Name
Email
Telephone #
Scanned copy/picture of deposit slip/remittance (for bank payments)
Bank branch (for bank payments)
For those who enrolled via PayPal/credit card, but did not receive the welcome email from us, please forward to us PayPal's email with payment details so we can check and resend the welcome email.
Thanks again!