Are you a licensed real estate broker looking for CPD seminars for your license renewal? Did you find potentially good real estate deals that are under the name of deceased individuals?
If you answered yes to any of the above, then the following CPD seminar is for you!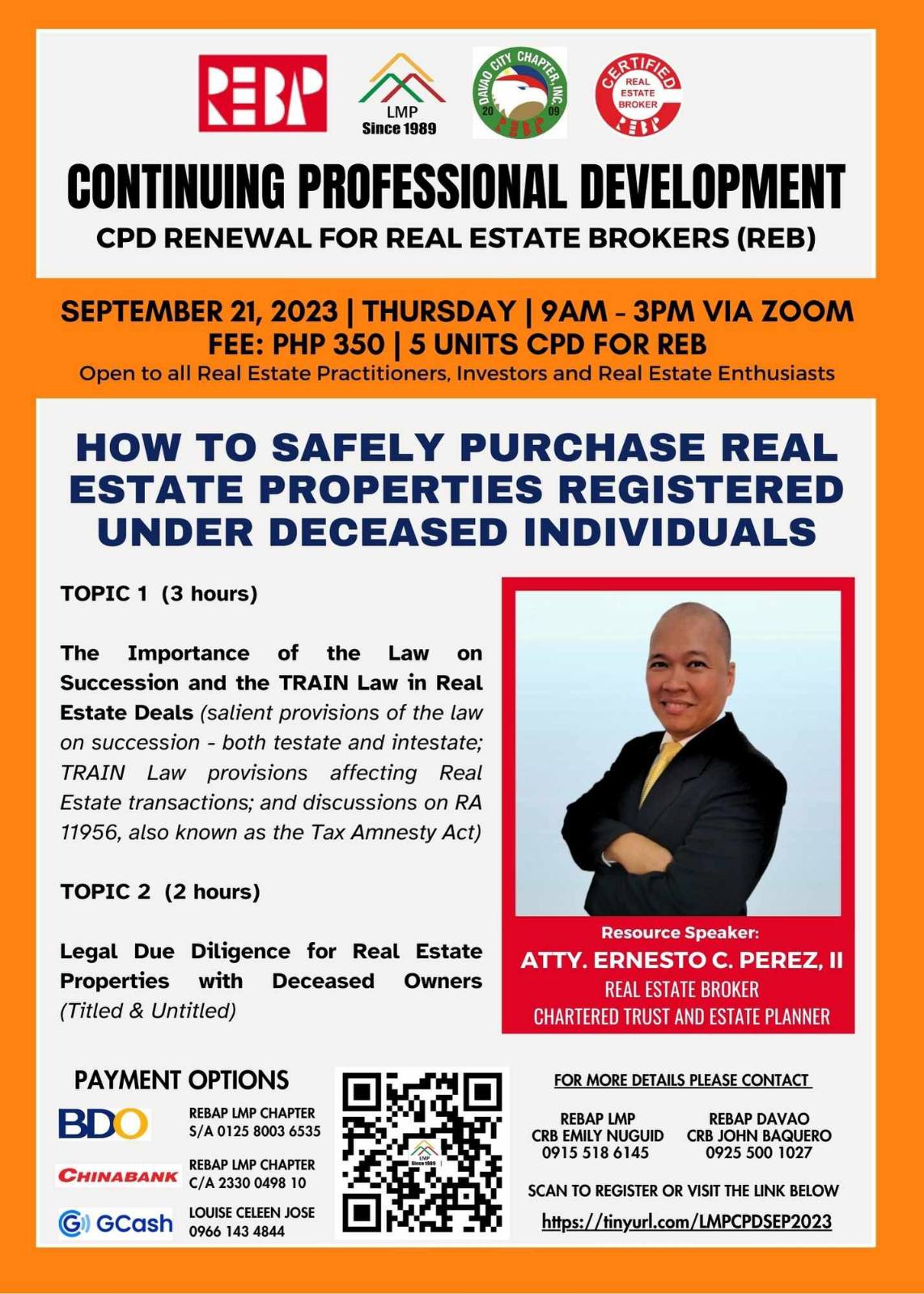 The Real Estate Brokers Association of the Philippines (REBAP) Las Pinas, Muntinlupa, Paranaque (LMP) and Davao Chapters will be conducting a Continuing Professional Development (CPD) Webinar on September 21, 2023 (Thursday).
There will be 5 CPD unit credits for licensed real estate brokers. The webinar is also open to all real estate investors and enthusiasts (without CPD credits).  
The theme will be "How to Safely Purchase Real Estate Properties Registered Under Deceased Individuals." The topics are as follows:
Topic 1 (3 hours)
The Importance of the Law on Succession and the TRAIN Law in Real Estate Deals
Salient provisions of the law of succession – both testate (with a will) and intestate (without a will)
TRAIN Law provisions affecting Real Estate transactions
Discussions on RA 11956, more popularly known as the law extending the estate tax amnesty until June 14, 2025, and the related implementing rules and regulations (RR 10-2023)
Topic 2 (2 hours)
Legal Due Diligence for Real Estate Properties with Deceased Owners (both titled and untitled real estate properties)
The speaker will be Atty. Ernesto C. Perez II, more popularly known as Realttorney, a highly-regarded CPD speaker who, aside from being a lawyer and a real estate broker, is also a Chartered Trust and Estate Planner.
The seminar proper will be from 9:00 am to 3:00 pm via zoom (sorry, there will be no recordings). The fee is only P350. Register at this link: https://tinyurl.com/LMPCPDSEP2023. Kindly indicate that you were referred by Jay Castillo.
For more details, please message the 2023 REBAP-LMP VP External, CRB Emily Nuguid, at 0915-518-6145 or Joycelyn Miniano, REBAP-LMP office secretary, at 0906-056-5608.
Thank you and we hope to see you at our webinar!