I remember I wanted to attend this very same lecture series way back in 2007-2008 to satisfy my quest not just to learn but to actually start with real estate investing.
To cut a long story short, I attended and I was not disappointed. I highly recommend this to all beginning real estate investors out there.
I consider Engineer Enrico Cruz as a true mentor and if  you want to have a solid foundation when it comes to real estate investing in the Philippine setting, then this one's for you.
By the way, all of the topics are stand-alone which means you can still attend even if you missed some of the topics or you can just attend the topics that interest you. Checkout the details below.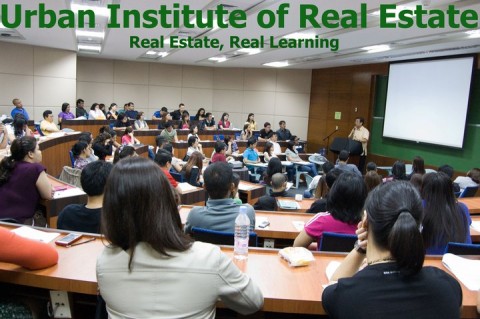 URBAN INSTITUTE OF REAL ESTATE

 

will conduct an

 

INVESTING IN REAL ESTATE LECTURE SERIES

 

Venue: Don Jose Yulo Caseroom, Asian Institute of Management Conference Center, Benavides cor Trasierra Streets,  Legaspi Village, Makati City

 

SCHEDULE OF TOPICS

TIME: 1:30 to 6:00 PM

 

( All topics are stand alone and can be attended separately )

 

Day 1, September 4    INVESTING IN REAL ESTATE: OPPORTUNITIES, TECHNIQUES  & WHAT YOU NEED TO LEARN BEFORE INVESTING
Day 2, September 6    REAL ESTATE ECONOMICS and the UPs & DOWNs OF REAL ESTATE VALUES
Day 3, September 11  HOW TO'S OF PROPERTY DEVELOPMENT WITH HLURB RULES
Day 4, September 13  PROPERTY VALUATION: HOW TO DO IT YOURSELF
Day 5, September 18  JOINT VENTURES FOR REAL ESTATE PROJECTS
Day 6, September 20  LEGAL ASPECTS OF REAL ESTATE SALES AND LEASES
Day 7, September 25 TAXATION OFREAL ESTATE SALES AND LEASES
Day 8, October 2        MAKING BIG MONEY IN DISTRESSED PROPERTIES

 

THESE SEMINARS SHALL BE DIRECTED BY ENGR. ENRICO S. CRUZ, 1ST AND 8TH PLACER,

BOARD EXAMINATION FOR REAL ESTATE APPRAISERS AND REAL ESTATE BROKERS RESPECTIVELY,  WITH PROFESSOR ATTY. REX ENRICO V. CRUZ III

 

For more details and inquiries, Urban Institute of Real Estate may be reached at

Tel. No. 509-4094 or CP 0915-457-3596 or 0939-137-9242

 

 PLEASE FORWARD TO YOUR FRIENDS AND ASSOCIATES IN REAL ESTATE

THANK YOU
Happy learning!
~~~
To our success and financial freedom!
Jay Castillo
Real Estate Investor
PRC Real Estate Broker License No. 3194 
Blog: https://www.foreclosurephilippines.com
Connect with us – Facebook | Twitter | Blog RSS | Google +
Text by Jay Castillo and Cherry Castillo. Copyright © 2008 – 2012 All rights reserved.
Full disclosure: Nothing to disclose. I will not earn anything if you will attend this lecture series. I highly recommend this, I truly believe that Engineer Cruz is a true mentor when it comes to real estate investing!