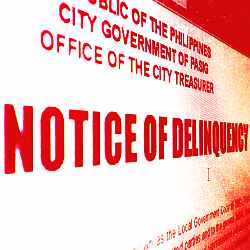 The City Treasurer of Pasig City has recently announced the first notice for tax delinquent properties that will be sold through public auction. The  tax foreclosure auction has been slated on November 13, 2012, at the Real Property Tax Building Lobby, Pasig City, Philippines.
The notice of delinquency and public auction is by virtue of Sections 260 and 263 of Republic Act 7160, otherwise known as the Local Government Code of 1991.
The notice of delinquency states that delinquent property owners can avoid the inclusion of their properties in the tax foreclosure auction through payment of real property tax arrears, surcharges, interest, and penalties. Furthermore, owners of the properties sold during the public auction have the right to redeem their properties within one year from the date of sale.
Download the list of Pasig City Tax Delinquent properties
The complete list of Pasig City's Tax Delinquent Real Properties that are scheduled for public auction on November 13, 2012 can be downloaded below, just click on the image…
… or just click the following link to download the list:
Source: Philippine Star, September 18, 2012 edition, page B-11 to B-13
Frequently asked questions about tax delinquent properties
Question: Are the minimum bid prices for the tax delinquent properties really just equal to the total delinquency on the list?
Answer: Yes.
Question: If the property is redeemed, does the winning bidder get his money back?
Answer: Yes, plus interest, which is usually 2% per month of the winning bid amount.
Question: Can the tax delinquent properties be purchased through a Pag-IBIG Housing Loan or Bank Financing?
Answer: No. Foreclosure auctions require cash payment.
Question: Can I buy any of the unsold tax delinquent properties after the auction?
Answer: No, unsold properties become properties of the Local Government. Only the delinquent property owner can redeem the property within one year from the date of sale.
Question: Where can I find more information with regard to properties on the list as part of due diligence?
Answer: You may visit or call the Pasig City Treasurer's office DIRECTLY!
Got more questions about tax delinquent properties?
Please go ahead and ask your questions now, just leave a comment below.
For further reading
If you want to learn more about investing in tax delinquent properties, checkout past articles I have written which contain tax delinquent property investing tips through the following link:
~~~
To our success and financial freedom!
Jay Castillo
Real Estate Investor
Real Estate Broker License No. 3194 
Connect with us:
Facebook | Twitter | Blog RSS | Google +
Text by Jay Castillo and Cherry Castillo. Copyright © 2008 – 2012 All rights reserved.
Full disclosure: Nothing to disclose. 
PS. Don't be the last to know, subscribe to e-mail alerts and get notified of new listings of bank foreclosed properties, public auction schedules, and real estate investing tips. Mailbox getting full? Subscribe through my RSS Feed instead.