First of all, congratulations to all new real estate brokers! Many of you may have already registered for your licenses but to those who have not yet done so, this post may be helpful. This is based on our experience last April 8, 2011 when my husband and I went to the PRC to register for our licenses.
Things to bring:
1 short brown envelope (This is for sale at the PRC Coop store for Php5 each)
1 paste (This is also for sale at the PRC Coop store for Php3 each)
2 pcs. Passport size picture with white background and complete nametag. If you have extra pictures which you were not able to use during the application period, you may use them. You may also have your picture taken at the photo booths inside PRC (beside the Public Assistance Center nearest to the entrance) for Php80.00 a set.
1 pc. 1×1 size picture with white background and complete nametag. Another Php80.00 for this if you will have your picture taken inside PRC. Personally, the quality of the picture is not so good. I prefer the pictures from Tronix, much cheaper too, and I think they have a set that has passport size and 1×1 together so that's Php60.00 only instead of two Php80.00 sets.
Cedula. Just use the cedula you used for your application. If you lost it, you can buy again inside PRC at the www.express windows near the picture booths. Don't buy cedula from outside PRC as those are fake.
Surety bond. As mentioned in a recent comment by Mr. Nestor Correa, Alpha Insurance set up a small area in front of PRC (below the huge Carl Balita tarp).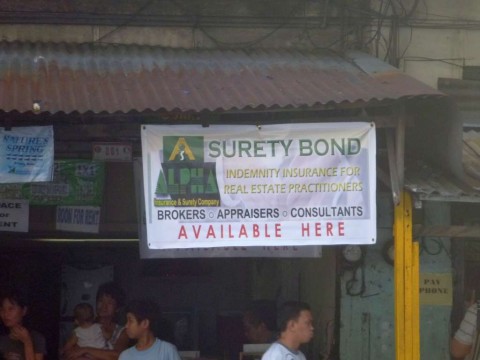 You may get your surety bond in 10-15 minutes(that's according to them), for Php1,950. If you get your surety bond through Ms. Lyn (mobile no. +639303440390) like I did, the fee is only P1,800. Please provide her with your name, address, cedula number, and phone number, and she will meet you at the PRC with the surety bond. Just pay her when you meet.
Steps in applying for your license:
Get the Panunumpa ng Propesyunal Form from the Public Assistance Center (near the entrance). Please see attached: oath form. Fill it up and stick one passport size picture.
Buy two (2) Documentary Stamps from the doc stamps windows. Prepare Php42.00 as the doc stamps are Php21.00 each. The girl will stick one doc stamp on the Form and give one to you. I wasn't paying attention so the wind blew away my doc stamp and I had to buy again.
Go to the 3rd floor of the annex building. Take the stairs beside the coop store or the elevator near the coop store. When you get to the 3rd floor, turn left if you used the stairs. If you used the elevator, just go straight.
Verification. When you get inside the room for Real Estate Service, on the left side nearest to the door, there is a Verification Table. Get your PERRC Form (we filled this out during application). My husband's friend said that you can see your exam grades there, but I wouldn't know because I didn't look at it intently.
Payment. Pay Php1,050.00 at the Cashier.
Proceed to registration. Approach the tables at the right side of the door you entered. There is no clear line. Just get behind a person who is signing the forms and take his/her place when he/she is done.
Fill-up the form. The person there will let you sign and fill out a form. There are around five new brokers per form; one line is allotted for each new broker. Fill out the line allotted to you, back to back. Stick one 1×1 picture and affix your right thumbmark.
Give the brown envelope. The person there will get your brown envelope. Write your name on the envelope (In my case, she wrote my name so I was not able to check if it's surname first, but I think that's the best practice). She put one doc stamp inside and I think the one passport size picture also.
If you don't have a surety bond yet. When I applied last April 8, I still did not have my surety bond so the person just gave me the claim slip stating that I could claim my license at the Oath taking, but she put "HOLD" on my claim slip. When we came back yesterday, we met Ms. Lyn to get my surety bond, and I submitted it at Window 27 of the main building of the PRC. This is in the light blue building where we submitted our application forms, at the leftmost side, near the Food Court (there is a door through the Food Court). If you have your surety bond already, I suppose you can submit it together with your brown envelope.
Next, I fell in line for the Oath taking ticket, it's Php750.00 per ticket for both the broker and the guest. I think the formal oath taking is not necessary though, since in the sheet that you will sign for the Php750.00 ticket, it states that your attendance is voluntary only. But I think it's fun so of course I'm going! Major networking coming up! I'll prepare my calling cards already hehe.
That's it, you're done! See you at the oathtaking!
Cherry Castillo
Cherry is the wife of Jay Castillo. She is a certified public accountant (CPA), lawyer, and a licensed real estate broker.
Text by Jay Castillo and Cherry Castillo. Copyright © 2011 All rights reserved.
PS. Don't be the last to know, subscribe to e-mail alerts and get notified of new listings of bank foreclosed properties, public auction schedules, and real estate investing tips. Mailbox getting full? Subscribe through my RSS Feed instead!