Category: Real Estate News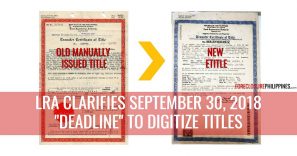 I was relieved to find out that all our manually issued land titles shall remain valid and effective beyond September 30, 2018. This is according to a notice to the ...
Read More ›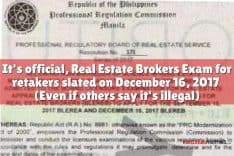 It's official, the next real estate brokers exam (for retakers only) has been scheduled on December 16, 2017. This is according to PRBRES Resolution No. 171 Series of 2017, which ...
Read More ›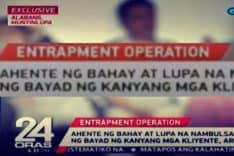 An alleged real state agent was arrested by the NBI for complaints that she pocketed money meant as payments for the purchase of house and lots. Let me share some ...
Read More ›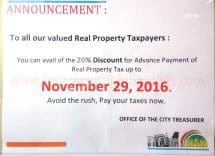 It's that time of the year again, real property owners need to pay property taxes. The good news is, cities like Las Pinas and Paranaque are now giving up to ...
Read More ›

We chanced upon this announcement at the official website of Pag-IBIG, which is basically a reminder that delinquent Pag-IBIG housing loan borrowers still have a chance to avoid cancellation (under ...
Read More ›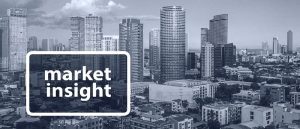 With the start of the Duterte Administration, people generally have a positive outlook for real estate in the Philippines. In this post, we will see a lot of reasons why ...
Read More ›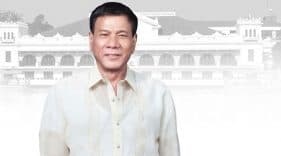 Today, July 1, 2016, is the start of the six-year presidency of Rodrigo Duterte. While I did not vote for him (although I almost did, but only Jay voted for ...
Read More ›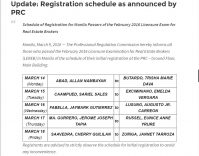 Update: Registration schedule as announced by PRC Schedule of Registration for Manila Passers of the February 2016 Licensure Exam for Real Estate Brokers Manila, March 9, 2016 --- The Professional ...
Read More ›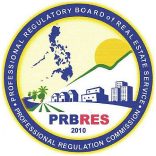 Finally, the Professional Regulation Commission (PRC) has announced the results of the Real Estate Appraisers Exam given last August 30, 2015 by the PRBRES. Out of 4,731 who took the ...
Read More ›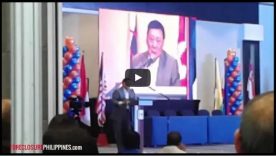 Confirmed! At the speech of Mr. Eduardo G. Ong, Chairman of the Professional Regulatory Board for Real Estate Service (PRB-RES) at the iRISE event at the SMX Mall of Asia, ...
Read More ›