The last batch of Real Estate Consultants, Real Estate Brokers, and Real Estate Appraisers approved for registration without examination for 2011 was recently released by the Professional Regulatory Board of Real Estate Service or PRBRES.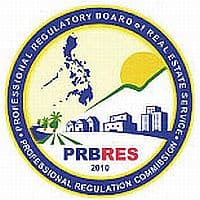 The December 2011 batch was approved through PRBRES Resolutions No. 24 and 25, series of 2011 which were posted in PRC's website last January 3, 2012.
The complete list which includes 1 Real Estate Consultant , 183 Real Estate Brokers, and 8 Real Estate Appraisers approved without examination as listed in PRBRES Resolutions No.24 and 25 can be seen below.
The following real estate professionals can register with the PRC without taking any exam, because they are covered by the "grandfather clause" of the RESA Law, which are Sec. 20, Article III of R.A. No. 9646, and Sec. 20, Rule III of Board Resolution No. 02, known as the "Rule and Regulations of R.A. No. 9646" or RESA Law IRR.
REAL ESTATE CONSULTANTS

1 LISONDRA, EDWIN LUMBA

REAL ESTATE BROKERS 

1 ALBA, CATALINO ALBA

2 ALBERTO ABNER TITO LOFAMIA

3 ALIPIT, JOCELYN YAP

4 ALTURA, JOAN JOY SALES

5 ANCAJAS, EDNA MONTEROYO

6 ANDRADA, CHRISTIAN MARTIN YAP

7 ARANTON, ANGELINA ALMEDA

8 AROMIN, MARIA VIRGINIA LORENA

9 BARGAMENTO, RAMELO ARJENAL

10 BASILIO – BATU, INDIRA FELIX

11 BASISTER, ROMEO STO. DOMINGO

12 BATTUNG JR., TEOFILO FERNANDO

13 BERNASOL, NOEL LABRADOR

14 BILDAN, MARCO FERRRER

15 BOLINAO, EDNA GARCIA

16 BORDON, JANET CRUZ

17 BRUNIO, LEODEGARIO JR. NIERON

18 BUBOD, BERNADETTE DINAMLING

19 BUDOMO, DIVINA MERIOLES

20 BUENCAMINO, VENUS SUGUITAR

21 BUHAY, ROSELMO SORIANO

22 CABALLERO, EILEEN CELESTIAL

23 CADA, SILVINO RODOLFO OBMERGA

24 CAMASO, MARY LANN PANGILINAN

25 CAMPOS, ERLINDA LOPEZ

26 CANONIZADO, BENEDICT MIAVE

27 CAPARAS, ANGELITA GANAL

28 CAPARAS, SHERYL LYN MATIC

29 CASIÑO, ERIC MANGUBAT

30 CASTRO, BENEVICI DALAYDAY

31 CASTRO, ROSALIE FUNGO

32 CAYABYAB, VIRGILIO YUMUL

33 CHAVEZ, ELVIRA DE VERA

34 CHUA, WILBERT LEE

35 COLINA, BOGARD ORTEGA

36 CONTAWE, ROGELIO QUINAGON

37 CONVENTO, JUVY ANTONETTE DE GUZMAN

38 CORDERO, ERNESTO ONG

39 CORDERO, EUFROCINA CARRASCO

40 CORDERO, JOSE MARIE PARCON

41 CRUZ, CLEOME CACERES

42 CRUZ, DANILO CRUZ

43 CRUZ, RUBEN TOBIAS

44 CUASAY, CELIA CANONO

45 CUICO, NENA BEBILONE

46 CURATA, LOURDES MENDOZA

47 DE GUIA, MANUEL ATIENZA

48 DELA FUENTE, MARIA CRISTINA GIMONGALA

49 DEMAISIP, JOSE PADERNAL

50 DOB, ARTEMIO JR MENDOZA

51 DUEÑAS, MARIA TERESA SICAT

52 DULAY, TEODORO DE JESUS

53 DUQUES, HORACIO VALENCIA

54 DY, NENITA UY

55 EBIO, AMELIA AREVALO

56 ESCARO, GLORIA UMALI

57 ESPIRITU, EDGARDO CASTRO

58 EUFEMIO, ALICE TAN

59 EUFEMIO, DEOGRACIAS GAWHIOH

60 FAJARDO, GERALDINE BAUTISTA

61 FERNANDO, ALFREDO JR ALBERTO

62 FIGUEROA, MARIA LUISA TALICOL

63 FLORES, JOHNNY ZANORIA

64 FRANCISCO, JOSE MACABAGDAL

65 GABAY, CHER ANNE THERESE MARTINEZ

66 GAMBITO, ARNULFO ANTONIO FERNANDEZ

67 GARCIA, CARMEN ELSISURA

68 GARCIA, NANCY NIPALES

69 GARCIA, RAYMUND LAURENCE DE VERA

70 GEREZ, MARTIN VIRTUDAZO

71 GRABADOR, ENRIQUITA LAURON

72 GUIOGUIO, MIGUEL VALENDEZ

73 HALILI, JOSE ERWIN LUMABAS

74 HENSON, CARMENCITA GENATO

75 HONTIVEROS, MARIA CECILIA JAVIER

76 ILAGAN, CEFERINO GARCIA

77 INGLES, HECTOR FELICIANO

78 JIMENEZ, RENATO MUÑOZ

79 JUNIOSA, MARIA SVETTANNI TORRES

80 KADUSALE, JESUS JR. LUBATON

81 KALAW- ALFONSO, RITCHIE EVANS LACSAMANA

82 LAHOM, RICARDO SALAZAR

83 LANADO, EUMELIA TOLEDO

84 LANDICHO, MAURA SALONGA

85 LAPID, MARIO BARIN

86 LAPID, PAMELA SOFIA LAGMAN

87 LAVARIAS, ANNALY AGUIRRE

88 LEJANO, EUGENE MENDOZA

89 LEONEN, RODOLFO DADLI – I

90 LIM, ABIGAIL JOAN ONGYANCO

91 LIM, CLIFFORD HUI CHIN NGO

92 LIM, JEREMY ANONUEVO

93 LLAMAS, AUGUSTO ISMAEL JESENA

94 LUNA – SANTOS, MELANIA LORESTO

95 MACABENTA JR., ANTONIO INAY

96 MAGPOC ANTONIO ISIDRO

97 MAHIPOS, ZITA BANGHAL

98 MALIXI, SARI JEAN GARCIA

99 MANAS, RENE SISON

100 MANGALI, JEFFREY DELA CALZADA

101 MANZANO, MARIETTA NOCILLADO

102 MARAMOT, MARYANN MAGBATA

103 MARCELINO, FILEMON JR. LEGASPI

104 MARTINEZ, VICTOR SANTOS

105 MATEO, MANUEL JULIAN

106 MENDOZA, FLORO HUBILLA

107 MENDOZA, MARIE O'NEAL SANTOS

108 MENDOZA, PATERNO JR., SAGA

109 NIGUIDULA, ERNESTO BAIRD

110 NUNAG, CARLOS ZAMORA

111 ONG, MARY MICHELLE TOLENTINO

112 ONG, NELLY TUAZON

113 ONGKINGCO, MARITES MERIOLES

114 ORQUINA, HELEN CONSIGO

115 ORTEGA, MARIA LUISA ALBA

116 PABUSTAN, NOVA HIPOLITO

117 PACHECO, DONNA MARIE AYZA INVIERNO

118 PADUAL, JOSEPH CADAYONG

119 PAGDANGANAN, JEOFFREY GATON

120 PAJE, THEODORE BASA

121 PAMINTUAN, RENALD AQUINO

122 PANES, AVELINA GASPAY

123 PARAYNO, MARIA CRISTINA ROSETTE VENZON

124 PEÑAFIEL, MA. GLESLILLI ADVIENTO

125 PEÑAMANTE, BESSIE LAGOS

126 PEREZ, AMBROCIO KERWIN AGUILA

127 PERONA, EVANGELINA AQUINO

128 PUGEDA, EDGARDO JOSE MOSS

129 QUIAMBAO, ROMEO JR. MACLANG

130 RAMOS, MUTYA ERTES IMPERIO

131 RAQUEPO, RACHELLE JUCAR

132 RAZ, LENY BENOLIGO

133 RECTO, MARIBEL ROMINA TANCHOCO

134 RESARI, KATHERINE UBANDO

135 RETA, HELEN MALAVEGA

136 REYES, FELICIANO JR. PAJARILLO

137 RIGOR, CARMEN MILLARE

138 RIGUERA , RIO HANS

139 ROMERO, ENRIQUE RIVERA

140 ROQUE LAMBERTO CALIMBAS

141 ROS, SUSAN SOL

142 RUBIA, NOEL BALUYO

143 SALAS, JOSE ROMARX CRUZ

144 SALAZAR JULIETA MOTAS

145 SANTOS, ALAIN PINEDA

146 SANTOS, ELLADA EDRALIN

147 SANTOS, PETER NOEL HIPOLITO

148 SARINO, RODEL SALEM

149 SARMENTA, GERARD SAPALASAN

150 SERQUIÑA, LUIS MELCHOR VALERIO

151 SILANG, ROBERTO LLEDO

152 SILVA, MA. EMILIA ZAVALLA

153 SIPIN, ISMAEL GAGASA

154 SOLIDUM, NELDA DE LA PAZ

155 SOLIS, LARRY QUEBADA

156 SOLIVEN, MARIA ELIZABETH RAMIREZ

157 SORIANO, HUGH CYRIL LIMBO

158 SORIANO, MARIA PAGUIRIGAN

159 SORIANO, MARISSA ADECER

160 SYYAP, ANNA MARIA BALAGUER

161 TALOSIG, MA. SHIRLEY VILLAGRACIA

162 TANAEL, EVELYN ALMEDA

163 TANJANGCO, MARIA VICTORIA QUEMA

164 TANKIATSY, JOSHUA UY

165 TELLES, VENANCIO QUINONES

166 TIONGCO, JEFFREY HO

167 TOLEDO, HENEDINO RUFILO LAUREL

168 TRIBINO, JOSE LUIS GUMABAY

169 TUGON, JOEMILIA RIOBUYA

170 UAJE, FILOMENO III CELO

171 UNTALAN, AILEEN MERCEDES BORBON

172 UNTALAN, EDGAR ABRAHAM UMALI

173 VALDEZ, GLORIA PLANAS

174 VILLANUEVA, MARY GRACE PLASABAS

175 VILLAR, WILFREDO NAVIDA

176 VILLASOL, MA. MILAGROS JULAO

177 YAP, MARIA VICTORIA RAYMUNDO

178 YORONG, EDILBERTO ENDRINA

179 YU, ALAN MORENO

180 YU, LEILA TAN

181 YUPANGCO, GRACE JOSON

182 YUTIU, CARMEL SINGCO

183 ZAMORA, ROSARIO CHARIE ABAD

REAL ESTATE APPRAISERS

1 ABUCAY, MARCIAL BLAYA

2 ARLANTE, DONALY CAOILE

3 CALOLOT, MAXIMO BONIFACIO LAPIZ

4 DAWSON, MARLYN RECTO

5 LAMBUNAO, JIMMY GUEVARA

6 MAGPANTAY, JUANCHO TERRONES

7 OMEGA, DOMINADOR CHIONG

8 TALAN, ROMEO SONEJO
Oath taking ceremonies
According to the announcement at the PRC website:
"The Oath taking ceremonies of the Real Estate Service practitioners for Consultants, Appraisers and Brokers, are to be held on January 31, 2012 at the Fiesta Pavilion, Manila Hotel, One Rizal Park, Manila at 1:00pm in the afternoon. Those who were included in the prior approved resolutions may opt to attend the oath taking."
Prior approved resolutions
As of December 2011, the following is the complete list of PRBRES resolutions for real estate professionals approved for registration without examination which includes all prior approved resolutions.
*Note – PRBRES resolutions that DO NOT include real estate professionals approved for registration without examination are excluded from the list above.
~~~
To our success and financial freedom!
Jay Castillo
Real Estate Investor
PRC Real Estate Broker License No. 3194
Blog: https://www.foreclosurephilippines.com
Follow me in Twitter: http://twitter.com/jay_castillo
Find us in Facebook: Foreclosure Investing Philippines Facebook Page
Text by Jay Castillo and Cherry Castillo. Copyright © 2008 – 2012 All rights reserved.
Full disclosure: Nothing to disclose.