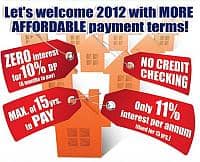 This is it! The first UnionBank foreclosed properties auction using their new payment terms will be held on January 28, 2012 (Saturday), 9:00am, at the 29th Floor, UnionBank Plaza, Meralco Avenue corner Onyx Road, Ortigas Center, Pasig City, Philippines.
If you missed the buzz about UnionBank's new payment terms and how it might help make real estate investing easier in 2012, check this out!
Actually, this is UnionBank's 180th Special Public Auction of foreclosed properties and this includes properties from the Metro Manila and Luzon areas.

New payment terms
Minimum downpayment – 10% at Zero interest, 6 months to pay
Maximum 15 years to pay
11% interest per annum fixed ofr 15 years
Still NO CREDIT CHECKING!
How to Join
Interested bidders just need to bring Php20,000 show money in the form of cash or manager's check to qualify to bid per property. Don't forget to do your due diligence before you even consider bidding on any of the foreclosed properties on the list.
Download the complete listing of UnionBank foreclosed properties
You may view/download the complete listing of UnionBank foreclosed properties for sale through public auction on January 28, 2012 below.

Also available in PDF format:

 Unionbank foreclosed properties for sale through auction on January 28, 2012 (PDF)
Source: Lance Yadao of UnionBank
For more information
Call:
Lance / Eriq / Ronald / Rap 637-1445
Doris 638-0125
Jenny 638-0092
Gel 636-6359
Mobile Nos. 0920-96-ASSET (27738) & 0917-81-ASSET (27738)
E-mail:
Or visit:
The "fine print"
Creditable withholding Tax (CWT) is for the buyer's account.

MISPRINTS ARE NOT MISREPRESENTATION OF ANY PROPERTY, ALL PROPERTIES FOR SALE ARE ON "AS IS WHERE IS" BASIS.

UnionBank may, at anytime, withdraw any of the properties listed above prior to auction.
Happy hunting!
~~~
To our success and financial freedom!
Jay Castillo
Real Estate Investor
PRC Real Estate Broker License No. 3194
Blog: https://www.foreclosurephilippines.com
Follow me in Twitter: http://twitter.com/jay_castillo
Find us in Facebook: Foreclosure Investing Philippines Facebook Page
Text by Jay Castillo and Cherry Castillo. Copyright © 2008 – 2012 All rights reserved.
Full disclosure: Nothing to disclose.