A lot of people are thinking of taking the Real Estate Appraiser Exam this August 30, 2015. Someone told me that like the Real Estate Broker exam, this 2015 exam will be the last Real Estate Appraiser exam wherein a real estate service degree is not required for examination purposes. Is this true?
Is 2015 the last year wherein a real estate service degree is not required to take the real estate appraisers exam?
Under Section 14 of R.A. 9646 or the Real Estate Service Act (RESA) Implementing Rules and Regulations (IRR),
"as soon as a course leading to a Bachelor's degree in Real Estate Service is implemented by the CHED, the Board shall make this course a requirement for taking the licensure examination."
This requirement is for those who will take the licensure examination for "real estate service". I interpret this to mean both real estate broker and real estate appraiser, since the qualification for real estate consultants is dealt with specifically in a separate letter.
Since graduates of a degree in Real Estate Service are expected come 2016, I believe the August 30, 2015 Real Estate Appraiser exam will be the last which will not require a B.S. in Real Estate Service.
Why take the exam?
Those who are currently working as real estate appraisers or government assessors but do not wish to take up a course on Real Estate Service need to take this exam this year.
Those who wish to have additional knowledge to boost their performance or add to their credibility as real estate brokers or real estate investors may also wish to take the exam this year.
With the provision in the RESA IRR which states that a person with five (5) years experience as a licensed real estate appraiser may take the Real Estate Consultant exams, those who wish to be a Consultant may also take the appraiser exam in order to have a "shortcut".
Where can one review for the Real Estate Appraiser exams?
1. Philippine Association of Realty Appraisers Inc. (PARA) [Makati]
PARA is one of the leading producers of topnotchers in the real estate appraiser exams. What I like about PARA is that they have handbook which contains almost everything you need to know about the exams and their lecturers are practicing valuers.
What's more, a lot of the government assessors and bank appraisers took or are taking their review classes at PARA, so you have your network there. In appraisal, when you need comparables or when you need info or help for property transfer purposes, having a wide and reliable network is invaluable.
The 2nd batch will start on May 30, 2015 and will end on July 12, 2015. Classes are held on Saturdays and Sundays from 8 am to 5 pm at Tiara Oriental Hotel, Malugay St. Makati City.
For inquiries, call them at telephone number 813-2708 or e-mail them at appraisersinc2013@gmail.com. The regular fee is P20,000.00, reservation is P5,000. There is a 5% discount for those enrolling in a group of five (5), 10% discount for a group of ten (10).
Inclusive of:
Comprehensive Review Materials
Intensive Tests Per Module
Morning and afternoon snacks, lunch, and coffee
Certificate of Attendance
Ask the Expert – an off-the-classroom support for a PARA student's follow up queries
Payments can be made thru Bank:
Account Name: Philippine Association of Realty Appraisers, Inc.
Current Account No: 1731-0111-21
Branch: Bank of the Philippine Islands – Ayala East Branch
Note: Please send a scanned copy to appraisersinc2013@gmail.com
Walk-ins:
Please feel free to visit their office at Room 2202 Cityland Tower 1, H.V. de la Costa, Salcedo Village, Makati City. Look for Ms. Roan.
Hotlines: 8132708 / 9985695 / 8132677
Smart : 0939-7799596
Email : appraisersinc2013@gmail.com
I believe that PARA is also conducting real estate appraiser reviews in different parts of the country. Please just contact them to inquire if they will be holding a review session in your area.
2. PREVAIL [Manila]
Seminar starts June 13, 2015 (Saturday-Sunday; 8am)
Venue: Best Western Hotel La Corona Manila, MH del Pilar St. corner Arquiza St. Ermita Manila (near Ermita Church)
Enroll NOW and Avail their Early Bird Rate + Special Installment Scheme as LOW as P993/session!
Seminar Investment Package Includes:
*AM-PM Snacks with Lunch
*Seminar Kit: Review Materials + Lecture Notes
*Certificate of Attendance
PREVAIL Inc.
PRC Accredited Service Provider 016
353-7892 | 400-7423
0908-4146328
0923-9579482
0916-3588168
Prime Real Estate Values And Integrated Learnings Inc. – prevail
"Your Most Responsive Real Estate Service Provider"
3. Manila Board of Realtors Inc. [Manila]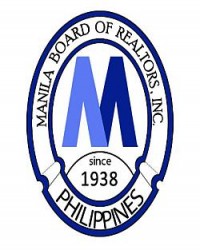 Review Dates: June 13 to August 01, 2015. 15 days – Saturdays and Sundays only 9AM to 6PM (8 hours/day).
Venue: Manila Manor Hotel, Jorge Bocobo St. Malate, Manila
Topics: Fundamentals of Real Estate Principles, Standards & Ethics, Theories & Principles of Appraisal, Human & Physical Geography, Methodology of Appraisal, Valuation Procedures, Practical; Appraisal Math, Appraisal Report Writing, Real Estate Finance & Economics, Land Management System & Real Estate Laws, other related subjects.
Facilitators: PRC-accredited lecturers who are licensed practitioners – brokers/appraisers/consultants.
Seminar Fee: P20,000.
Special offer : Reserve a seat for P5000 only and pay the balance of P1000 every session.
(inclusive of all meals, handouts, certificate.)
To reserve seats, pre-register and deposit P3,000. to — BDO S/A 2580175454.
Forward copy of deposit slip via:
email: deposit slip with your name @ manila_board@yahoo.com / secr.mbri@gmail.com
For more details:
MBR Secretariat / 244-7547/ 5616849/ 09273091717.
Email: secr.mbri@gmail.com/manila_board@yahoo.com or contact Engr. Willy Segovia (0917-839-4409)
4. NREA [Quezon City]
This announcement was posted by Mr. John Winston Jimenez in an FB group. The review will be held in Quezon City. Please see poster below.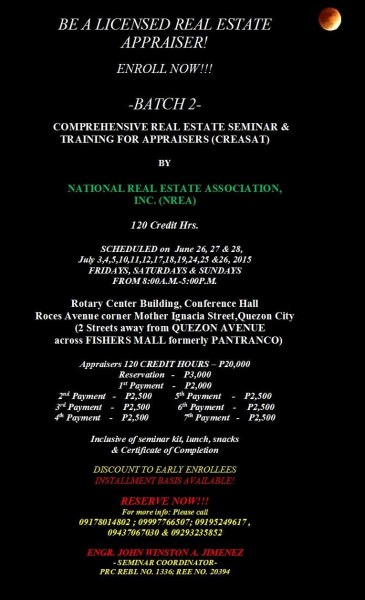 5. Urban Institute [Weekdays in Makati]
Urban Institute will be conducting a Real Estate Appraiser Review from July 3 to August 5, 2015. The schedule will be on weekdays from 5:30 pm to 10:30 pm, except for one review day, July 19, which will be on a Sunday and the schedule will be from 1:15 pm to 6:45 pm.
I believe this schedule will be a good fit for those who still have day jobs in Makati, as the sessions will be held at the Asian Institute of Management (AIM) Conference Center, Legaspi Village, Makati. I also know that weekend schedules are quite difficult for those who are in active real estate practice, as a lot of viewings happen on weekends. Those who would like to keep their weekends for family may also appreciate the schedule.  Those who are taking a long time to decide to take the exam will also appreciate that the review will start on July 3.
The general reviewer will be Mr. Raoul Gungon. Other reviewers include Engr. Enrico Cruz (a first placer in the Real Estate Appraiser exams), Engr. Wilfredo Segovia, and Atty. Rex Enrico DV. Cruz III, among others.
For details, inquiries and reservation, please email: urbanet.ph@gmail.com
Do you know other review schedules for the real estate appraisers exam?
If you know other review schedules for the upcoming real estate appraisers exam, please share it here by leaving a comment below. Thanks! For all review centers, please don't forget to verify their legality on your own.
We will also update this when we find more schedules.
Full Disclosure: Nothing to disclose, we just want to share all review schedules for the appraisers exam.