Everyone is invited to the 2nd Angat Pilipinas Awards Night on September 24, 2016, which will be at held at the Asian Institute of Management (AIM) Conference Center, Makati City. Details below.
We attended last year's awards night, and it was great to see champions of financial literacy being recognized for an advocacy that can literally change people's lives for the better.
Actually, events like this often becomes a reunion of sorts… hehe!
Anyway, here's what to expect in this year's awards night, from the official Angat Pilipinas Coalition website:
The Angat Pilipinas Awards Night is a celebration of people and for people in the Philippine personal finance, investment, and entrepreneurship arenas. This is where we can focus our spotlight on financial institutions, banks, government units, NGO's, personal finance bloggers, mentors, coaches, advisors, social media groups, authors, teachers, print and broadcast media – so often the unsung heroes of microeconomic progress and financial literacy movement in the Philippines.
The Angat Pilipinas Awards (APA) will be honoring another batch of financial literacy heroes on its sophomore outing which will take place on September 24, 2016 at Asian Institute of Management (AIM) Conference, Makati City. Register now and be part of APA2016.
Foreclosure prevention through financial literacy
Even if most people consider it taboo to talk about this, I'll talk about it anyway… I believe that the lack of financial literacy is one of the reasons why a lot of properties end up in foreclosure. Which is why we support Angat Pilipinas Coalition's advocacy of spreading financial literacy.
Being financially literate is a proactive way of preventing foreclosures down the road, so let's all do our part to support initiatives that promote financial literacy.
With live performances!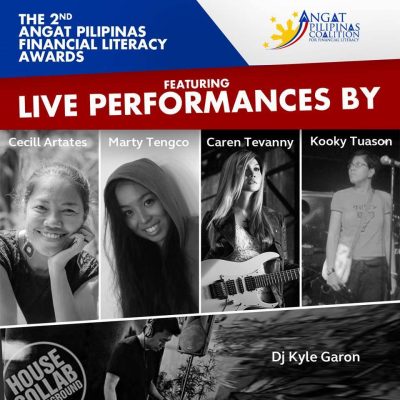 This will also be a fun night with live performances from:
DJ Kyle Garon
Darryl Shy
Talahib Music
Romancing Venus (with Kooky Tuason, Caren Tevanny Kaunang Mangaran, Marty Tengco, and Cecill Garcia Artates)
Acel Bisa van Ommen
You are all invited!
On behalf of Angat Pilipinas Coalition for Financial Literacy, Inc. we would like to invite you to the 2nd Angat Pilipinas Financial Literacy Awards Night on September 24, 2016, Saturday, 5:30pm, at Asian Institute of Management (AIM) Conference Center, Benavidez cor. Trasierra Streets, Legaspi Village, Makati City., Philippines.
To register and to reserve tickets, please visit the following page:
http://angatph.com/event/angat-pilipinas-awards-night-2016/
See you there!
**Proceeds of this event will benefit the financial literacy missions of Angat Pilipinas Coalition to public schools and poor communities around the Philippines.
About Angat Pilipinas Coalition
Angat Pilipinas Coalition is a global non-profit organization of active and former Overseas Filipino workers (OFWs) and personal finance advocates based in the Philippines who have bonded together as a support group to address issues, discuss concerns, and share knowledge on entrepreneurship, investment, and financial literacy in order to contribute to poverty alleviation and improve the quality of life in the Philippines.
It also aims to share an interest in advancing financial literacy among Filipino youth and students. It is committed mainly to bring financial education to schools and public learning institutions in the Philippines.
Main Missions
OFW UsapangPiso – (Mission for OFW's, dependents, and former OFWs)
Financial Literacy for the Youth (FLY)
Financial Literacy for Artists, Musicians, Etc. (FLAME!)
Financial Intelligence Trainings (Mission for Soldiers, Policemen, Security Forces, Coast Guard, etc.)
Parents-Teachers Academy (PTA) – (Missions for Teachers and Parents)
KasamBuhay – Missions for Home Employees (Maids, Security Guards, Messengers, etc.)
Head Office
Unit 306 Tangerine Bldg. Cedar Crest,
Acacia Estates, Brgy. Bambang,
Taguig City, 1231 Makati
Corporate Office
U2807 28th Floor Cityland Pasong Tamo Tower 2210
Chino Roces Avenue (Pasong Tamo)
Makati City, Philippines 1230
Angat Pilipinas Coalition about page