As we celebrate and greet all fathers out there a Happy Father's Day today, let's see an example of how fathers can look at having children very differently.
In his book Rich Dad Poor Dad, Robert Kiyosaki narrated how his two dads' way of thinking were worlds apart. His Poor Dad, who was actually his biological father, said "The reason I'm not rich is because I have kids.". On the other hand, his Rich Dad, who was really the father of his best friend Mike, said "The reason I must be rich is because I have kids".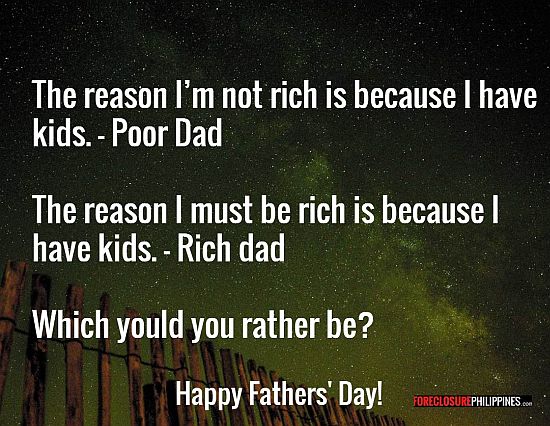 If you are a father, which would your rather be?
Blaming others versus being proactive
Think about it for a moment. The Poor Dad was blaming his having kids as the reason he is not rich. Maybe he thinks that because of his kids, he has a lot more expenses, and he can't save enough money he can use to invest in real estate for example. Maybe he thinks that he has no time left for real estate investing because he has to do his part to take care of his kids, which obviously takes a lot of time.
Rather than taking control of his life, he blames others.
The Rich Dad was totally different. I have a feeling he believes his kids are his inspiration to be the best dad he could be. He loves them so much that he wants only the best for them, and instead of blaming them, they have become the "big enough why" that fuels his passion to become truly rich and financially free. Without this, even one knew how to be rich, it won't be sustainable.
He was proactive and took charge of his life.
Which would you rather be?
Why I'm glad I have read Rich Dad Poor Dad
At one point in my life, I too felt that I was trapped in the rat race because I became a dad. I felt I had no choice but to face reality that being stuck in the rat race is something that comes with being a father. I believe I had this feeling barely four months after my son was born way back in 2005, and It was just a month after I accepted a job in another company.
The pay was good, but I had to travel to Bauan Batangas almost every other day, and then I had to head back to the office in Makati in the evening. Keep in mind that after all of this, I had to drive home to Provident Village in Marikina back then.
Later on, my staff introduced me to the book Rich Dad Poor Dad, and after reading chapter one, I knew that I was not really trapped in the rat race. I realized that I should never blame my being a father if I was stuck doing something I would rather not.
From that point on-wards, I knew that I always have a choice. It was really up to me to make that choice, which I did.
Now I just have to teach my son CJ what it means to be a Rich dad who is truly rich, so that he himself can become one when he grows up and becomes a father, maybe in 25 years (my wife insists that should be at least 30 years from now) . 🙂
I believe the best way is to lead by example.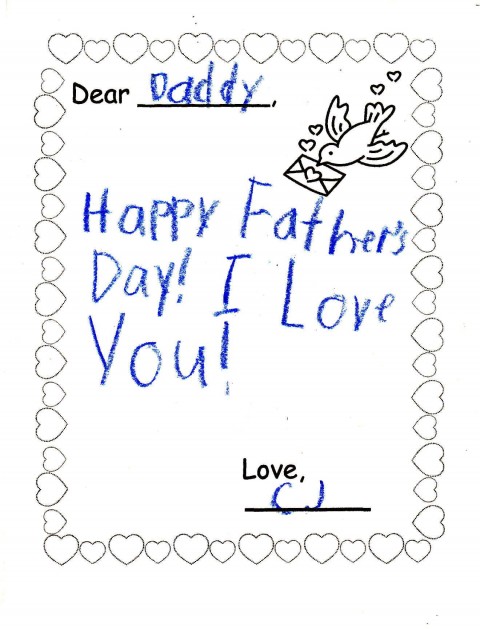 Happy Father's Day!
To our success and financial freedom!
Jay Castillo
Real Estate Investor
PRC Real Estate Broker Registration No. 3194
Blog: https://www.foreclosurephilippines.com
Follow me in Twitter: http://twitter.com/jay_castillo
Find us in Facebook: Foreclosure Investing Philippines Facebook Page
Text by Jay Castillo and Cherry Castillo. Copyright © 2011 All rights reserved.
Full disclosure: Nothing to disclose.