The Rizal Commercial Banking Corporation or RCBC is offering a number of foreclosed properties from the Visayas and Mindanao areas and interested parties can now submit offers for the said foreclosed properties. All offers for these RCBC foreclosed properties must be submitted on or before April 23, 2010, Friday, at the 12/F Yuchengco Tower, RCBC Plaza, Ayala Avenue corner Buendia Avenue, Makati City, Philippines.
All offers must be submitted with the following:
Ten percent (10%) deposit based on published price
Submission of the accomplished forms (forms can be secured at any RCBC Branch)
All offers must be submitted on or before April 23, 2010 to avail of low interest rate and downpayment (Please call RCBC directly for more details)
Available properties for sale are from the following areas
Mindanao foreclosed properties
General Santos
Iligan City
Maguindanao
Pagadian City
Sarangani Province
South Cotabato
Sultan Kudarat
Visayas
Bacolod City
Bohol
Guimaras Island
Iloilo
Negros Occidental
Roxas City
Northen Samar
Tacloban City
Tagbiliran City
Click here to download the complete listing of RCBC foreclosed properties from Visayas and Mindanao included in this listing or just click on the image below.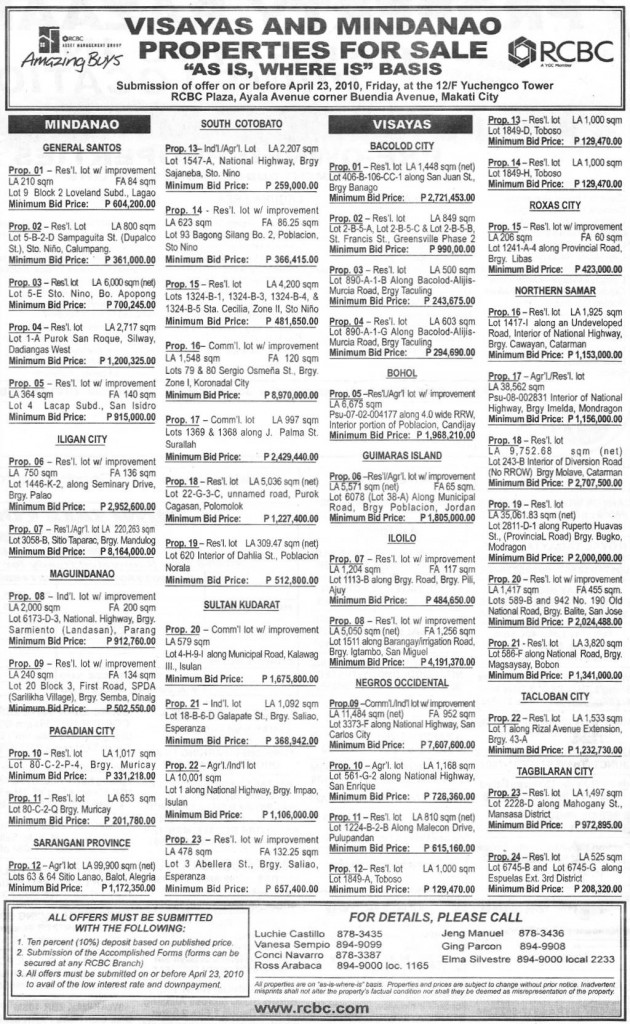 Source: Manila Bulletin, April 4, 2010 issue
For more details, please call RCBC directly through the following:

Please read!
All properties are on "as-is-where-is" basis. Properties and prices are subject to change without prior notice. Inadvertent misprints shall not alter the property's factual condition nor shall they be deemed as misrepresentation of the property.
Please be reminded that I am just posting this as a free service to all readers and subscribers of foreclosurephilippines.com. Please call RCBC directly for more information with regards to this foreclosed properties listing.
Happy hunting!
To our financial freedom!
Jay Castillo
Real Estate Investor
Real Estate Broker License #: 20056
Blog: https://www.foreclosurephilippines.com
Click here to contact me via E-mail
Mobile phone (Call/SMS): +639178843882
Follow me in twitter:http://twitter.com/jay_castillo
Become a Fan in Facebook:Foreclosure Philippines fan page
Text by Jay Castillo. Copyright © 2010 All rights reserved.
PS. Are you a new visitor? Click here NOW to start learning more about foreclosure investing in the Philippines and don't forget to subscribe to e-mail alerts and get notified of new listings of bank foreclosed properties, public auction schedules, and real estate investing tips. Inbox getting full? Subscribe through my RSS Feed instead!
PPS. Due to the large number of inquiries from readers who either want to buy or sell properties, I have created online forms where interested parties can enter details online which helps us all save a lot of time as all the required information can be answered in one shot. If you are a buyer looking for a property, please fill-up this form: https://www.foreclosurephilippines.com/tools/buyproperty. If you want to sell your property, please fill-up this form: https://www.foreclosurephilippines.com/tools/sellproperty. Thanks!