The second Mega Property Auction featuring foreclosed properties from Metro Manila and Luzon happens on April 24, 2010, Saturday, 9:30AM, at the Podium 4 Lobby, RCBC Plaza, Ayala Avenue corner Buendia Avenue, Makati City, Philippines.
The Mega property Auction is a joint auction that combines foreclosed properties from RCBC and RCBC Savings Bank.
Bid Terms
Foreclosed properties can be purchased for as low as 10% downpayment, with the balance payable in 10 years, with fixed interest rates. Nice!
Only Php25,000 show money per property is required, and can be in the form of cash or manager's checks.
Click here to download the complete listing of foreclosed properties in the RCBC Mega Property Auction on April 24, 2010 or just click on the thumbnail below: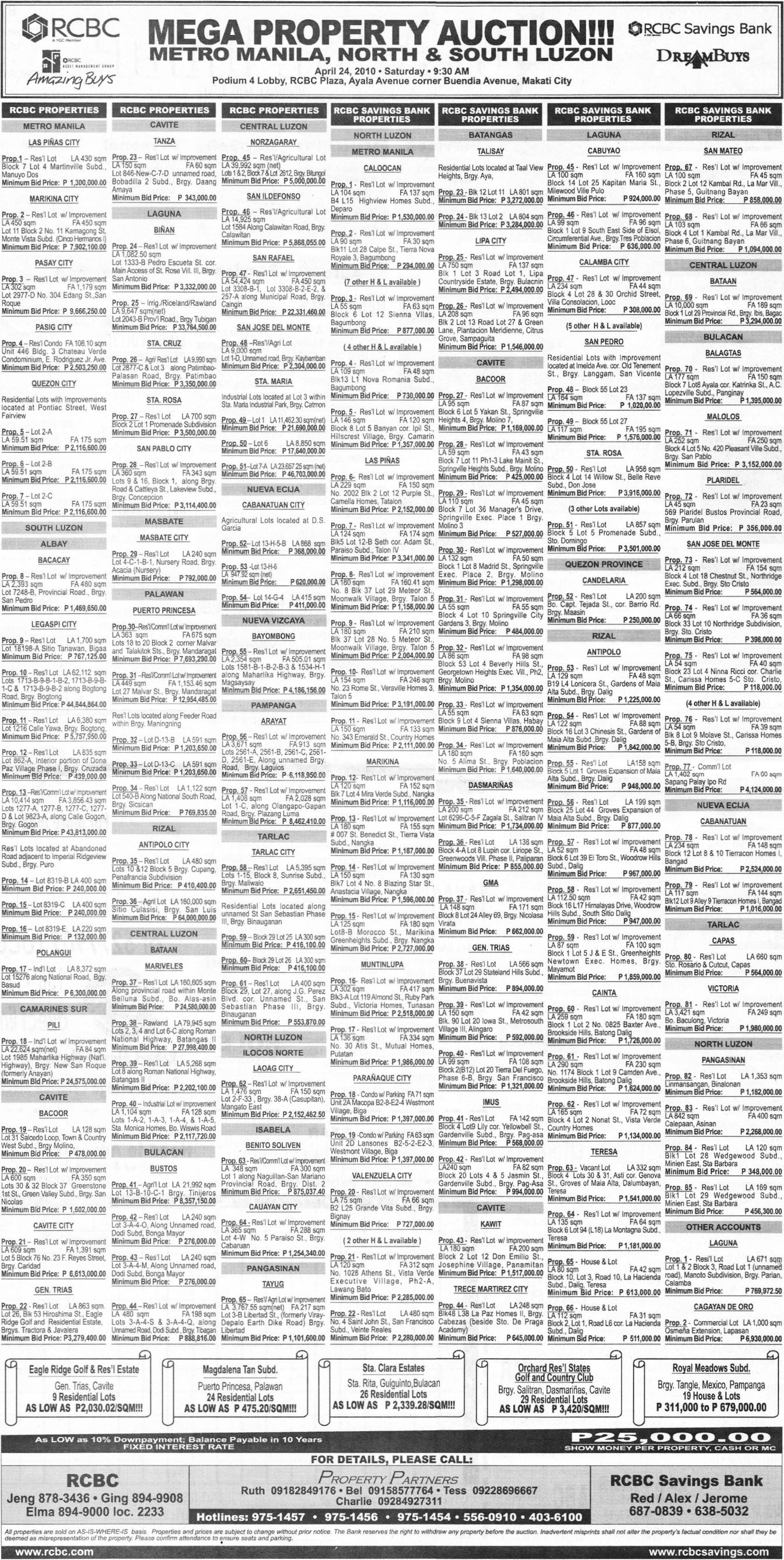 Source: Philippine Star, April 8, 2010 edition, page B-5
For details, please call the following directly


What to do next?
Don't know where to start? Getting listings of  foreclosed properties is one thing, but finding good deals is a completely different thing.  We must still find opportunities in listings of foreclosed properties like this one from RCBC. Checkout this article on how you can do this: How to turn listings of foreclosed properties into opportunities
Happy hunting!
To our financial freedom!
Jay Castillo
Real Estate Investor
Real Estate Broker License #: 20056
Blog: https://www.foreclosurephilippines.com
Click here to contact me via E-mail
Mobile phone (Call/SMS): +639178843882
Follow me in twitter:http://twitter.com/jay_castillo
Become a Fan in Facebook:Foreclosure Philippines fan page
Text by Jay Castillo. Copyright © 2010 All rights reserved.
PS. Are you a new visitor? Click here NOW to start learning more about foreclosure investing in the Philippines and don't forget to subscribe to e-mail alerts and get notified of new listings of bank foreclosed properties, public auction schedules, and real estate investing tips.