The Philippine National Bank – Special Assets Management Sector shall be holding a public auction of foreclosed properties on September 3, 2009, Thursday, 2:00pm, at the Ritz Tower de Leyte, Real Street, Tacloban City, Leyte, Philippines. The Properties for auction are from Samar, Leyte, Cebu, and Bohol.
According to the property listing which I received through e-mail, foreclosed properties are available at up to 30% discount*, for as low as 8% interest rates*, and with payment terms up to 10 years.
*Rates may vary according to the market value of the property.
What to Bring
Installment buyers are advised to bring proof of income such as ITR, Certificate of Employment, Bank Statement, Etc. Participants are also required to make a deposit of Php25,000 cash or managers check(No Deposit, No Participation)
Purchase proposals submitted prior to the auction will be treated as valid bids. Submissions must be made to the PNB-Special Assets Management Head Office-Manila by August 28, 2009 at 3pm.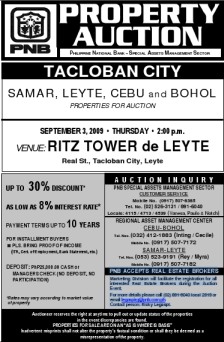 Click here to download PNB's foreclosed property listing for public auction on September 3, 2009.
Auction Inquiries
For auction inquiries, you may contact the following:
PNB SPECIAL ASSETS MANAGEMENT SECTOR
CUSTOMER SERVICE
Mobile No. (0917) 507-8385
Tel. No. (02) 526-3131 / 891-6040
Locals: 4115 / 4713 / 4539 (Vanesa, Paulo & Notch)
REGIONAL ASSET MANAGEMENT CENTER
CEBU-BOHOL
Tel. Nos. (032) 412-1883 (Inting / Cecile)
Mobile No. (0917) 507-7172
SAMAR-LEYTE
Tel. Nos. (053) 523-9191 (Rey / Myra)
Mobile No. (0917) 507-7182
The auctioneer reserves the right at anytime to pull out or update status of the properties in the event discrepancies are found.
PROPERTIES FOR SALE ARE ON AN "AS IS WHERE IS BASIS"
Inadvertent misprints shall not alter the property's factual condition or be deemed as a misrepresentation of the property.
PNB ACCEPTS REAL ESTATE BROKERS
Marketing Division will facilitate the registration for all interested Real Estate Brokers during the Auction Event. For more details please call (02) 891-6040 local 2919 or email legaspirg@pnb.com.ph. Contact person: Ricky Legaspi.
I am not an accredited broker of PNB though I may consider this in the near future.
Happy hunting!
To our financial freedom!
Jay Castillo
Real Estate Investor
Real Estate Broker License #: 20056
Blog: https://www.foreclosurephilippines.com
Social Network: http://foreclosurephilippines.ning.com
Mobile: +639178843882
E-mail: ph.investor@gmail.com