The RCBC Asset Management Group will be having another Amazing Buys sale of foreclosed properties through sealed bidding which features properties from Metro Manila and Luzon. Deadline of submission of offers is on or before August 31, 2009, Monday, at the 12/F Yuchengco Tower, RCBC Plaza, Ayala Avenue corner Buendia Avenue, Makati City, Philippines.
Metro Manila foreclosed properties for sale include properties from Makati City, Pasig City, Quezon City, and Valenzuela City.
Luzon foreclosed properties include properties from Albay, Cavite, Laguna, Palawan, Bataan, Bulacan, Nueva Ecija, Nueva Vizcaya, Pampanga, Tarlac, Ilocos Norte, Isabela, Pangasinan, and Quezon Province.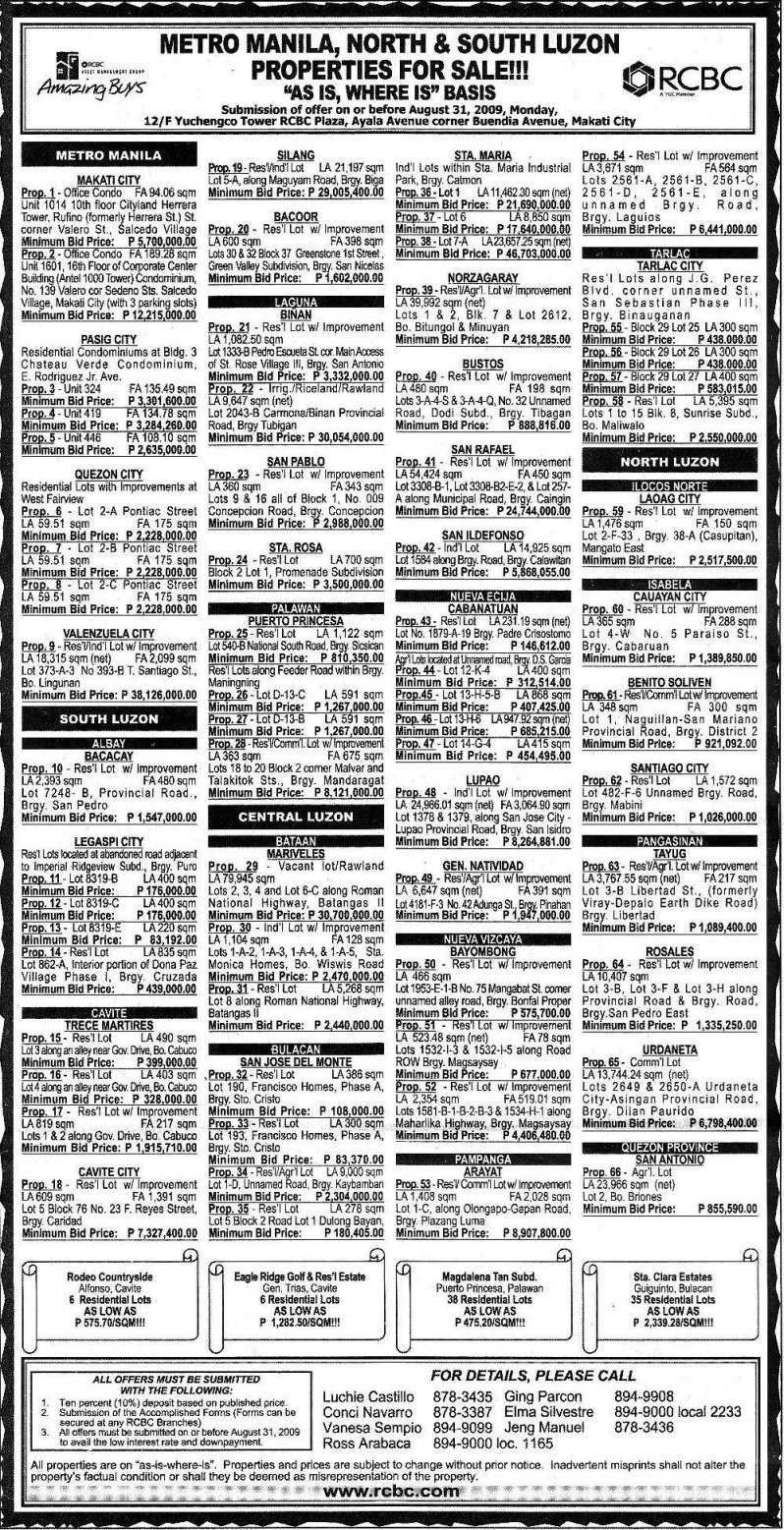 Click here to download the complete list of Metro Manila and Luzon foreclosed properties for sale in RCBC's Amazing Buys sealed bidding on August 31, 2009.
( Source: Manila Bulletin, August 16, 2009 issue, page G5)
Bid requirements
According to the print ad, all offers must be submitted with the following:
Ten percent (10%) deposit based on published price.
Submission of the accomplished forms (forms can be secured at any RCBC branch)
All offers must be submitted on or before August 31, 2009 to avail of low interest rates and downpayment.
However, the exact figures for "low interest rates" and "low downpayment" were not indicated on the print ad. To get more details, please call the following:
Luchi Castillo 878-3435
Conci Navarro 878-3387
Vanesa Sempio 894-9099
Ross Arabaca 894-9000 loc. 1165
Ging Parcon 894-9908
Elma Silvestre 894-9000 local 2233
Jeng Manuel 878-3436
You may also visit their website: http://www.rcbc.com/prop.php
"AS IS, WHERE IS"
All properties are for sale on an "as-is-where-is" basis. Properties and prices are subject to change without prior notice. Inadvertent misprints shall not alter the property's factual condition or shall they be deemed as a misrepresentation of the property.
To be honest, I rarely find any promising investment properties in RCBC Amazing Buys auctions as I find them to be too expensive. Do take note that the RCBC Amazing Buys auctions are different from the RCBC Savings Bank Dream Buys auctions.
Happy Hunting!
—–
To our financial freedom!
Jay  Castillo
Real Estate Investor
Real Estate Broker License #: 20056
Blog: https://www.foreclosurephilippines.com
Social Network: http://foreclosurephilippines.ning.com
Mobile: +639178843882
E-mail: ph.investor@gmail.com
Text by Jay Castillo. Copyright © 2009 All rights reserved.
P.S. – If you are a new visitor, please start here to learn more about foreclosure investing in the Philippines.