Here are a couple of listings from Capital Services Group. I got the longer list through e-mail last September but I could not post it because I did not know exactly where interested parties may call to inquire about their foreclosed properties.
More than a week ago however, they came out with an ad at the Manila Bulletin and it included their contact details, which is why I am now posting the complete list of foreclosed properties here. Keep in mind that you should call them up directly if you are interested in any of Capital Services Group's foreclosed properties for sale.
Download the listing of foreclosed properties
Click here to download a copy of their Early Christmas Sale listing of foreclosed properties in PDF format or just click on the image below to download a copy in JPG format.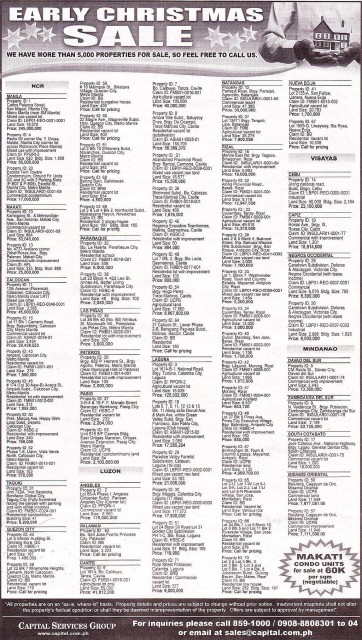 Source: Manila Bulletin, October 24, 2010 edition, page G-4
If you will notice, it was stated in the ad above that they have more than 5,000 properties for sale… nice! Just to give you a teaser, the following list includes a listing of their foreclosed properties in the Metro Manila area: Capital Service Group Metro Manila foreclosed properties for sale. This was e-mailed to me by Ms. Vermalyn Marino – Sales Officer, REI/REO.
If you are looking for foreclosed properties from other areas in the Philippines, just give them a call through their phone numbers below:
859-1000
0908-8808301 to 04
Or email them at sales@capital.com.ph
You can also visit their website at www.capital.com.ph
Happy hunting!
To our success and financial freedom!
Jay Castillo
Real Estate Investor
Real Estate Broker License #: 20056
Blog: https://www.foreclosurephilippines.com
Follow me in Twitter:http://twitter.com/jay_castillo
Find us in Facebook:Foreclosure Philippines facebook page
Text by Jay Castillo and Cherry Castillo. Copyright © 2010 All rights reserved.
PS. In order to help improve foreclosurephilippines.com, I would appreciate your feedback through this survey, which should take no more than 5 minutes to complete. Please click on this link to answer the survey: http://bit.ly/fipsurvey
PPS. Don't be the last to know, subscribe to e-mail alerts and get notified of new listings of bank foreclosed properties, public auction schedules, and real estate investing tips. Mailbox getting full? Subscribe through my RSS Feed instead!