It's common sense that good investments are properties that are priced below market value. But how do we determine if a property is indeed below market value? It's quite simple really, but first, we have to define market value.
Market Value definition
According to Wikipedia, International Valuation Standards define market value as
"The estimated amount for which a property should exchange on the date of valuation between a willing buyer and a willing seller in an arm's-length transaction after proper marketing wherein the parties had each acted knowledgeably, prudently, and without compulsion."
In other words, a buyer and a seller who have no compelling reason or special circumstances to buy and sell, respectively, agree on this price.
Market value is not the same as the technical term "fair market value" (FMV) which is used for taxation purposes, and is based on the zonal value of a property.
Why do we need to know the market value of a property?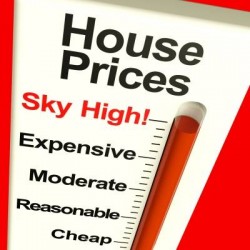 As Robert Kiyosaki said in his book Rich Dad Poor Dad,
"You should make money when you buy, not when you sell"
I have touched on this subject in my post about the Top 5 Things To Consider When Buying Foreclosures, where I said that in essence, you make money when you buy a property at a price below market value, because if you sell the property on the same day you bought it, you have a potential gross profit equal to the difference between your purchase price and the market value.
There is thus no need to wait for the property to appreciate before you will earn any money.
The key therefore is to know how to make a fairly accurate estimate of a property's market value, so that you can evaluate if you can really make money from that property.
Property valuation principles
Most real estate books out there would say that there are three basic approaches for property valuation, namely:
Cost approach –  establish an estimate of the current total cost to acquire or develop a property, less depreciation;
Market approach – the price of comparable properties that have very similar specifications at the same area or vicinity are used as the basis for property valuation; and
Income approach – assumes that the value of a property is equal to the net benefits that the property will generate for its owner over its remaining economic life.
In this article, rather than expound on the valuation principles above, I will focus on the practical applications of the two principles that I actually use which are the cost approach and the market approach.
As a real estate investor who focuses primarily on residential foreclosed properties, I find the cost approach and the market approach as easy to use and most appropriate. I would like to share how I do these below.
Cost Approach
For the cost approach, I try to determine the approximate cost of the land of the property I am evaluating and the estimated cost for the construction of the improvement using the same floor area. Then I deduct the depreciation to get the depreciated value of the property. I do this as follows:
I determine the average going rate of land in the same vicinity of the property I am evaluating. The nearer, the better. If I can get prices for land on the same street, much better.
Using the price per square meter of the going rate of land, I multiply this with the lot size. The result is the approximate cost of the lot. For example, if a lot near a foreclosed property in a certain village in Marikina City I'm evaluating costs Php5,000 per sqm, then the approximate cost of the lot of a foreclosed property I'm evaluating that has a size of 150sqm would be about Php750,000 (150sqm x 5,000pesos/sqm)
To determine the cost of the improvement, I multiply the floor area with the current going rates for construction of improvements per sqm of floor area. Currently, I am using a conservative construction cost of Php15,000 per sqm of floor area. For example, if a house has a floor area of 55sqm, then the cost for the improvement is about Php825,000 (55sqm x 15,000p/sqm)
I then add the cost of the lot and the improvement to get the total cost. Following our examples above, the total cost shall be Php1,575,000 (Php750,000pesos + Php825,000).
Next, I compute for the depreciation of the property. Take note that the depreciation I am talking about is not the depreciation used for accounting purposes, but rather depreciation in terms of deterioration, obsolescence, or any factor that may contribute to a deficiency of the property as compared to a brand new property. A good example would be the loss in value caused by a property's deterioration due to age, wear-and-tear, etc. and the cost to have this fixed to bring it back to a "ready for occupancy" (RFO) or "brand new" or"good as new" condition. Going back to our example, let's say the property has deteriorated a bit as it is already 7 years old and if repair estimates to make the property good as new and ready for occupancy is Php150,000, then I can use Php150,000 as depreciation.
I then subtract the depreciation from the total cost of the lot and improvement to get the depreciated cost of the property. Using our example, it will be Php1,575,000 – Php150,000 = Php1,425,000.
Therefore, the estimated current market value of our example property above, using the cost approach, would be Php1,425,000. I can now compare this to the selling price of the foreclosed property.
What if the foreclosed property in our example above was being sold for Php1.6M, would it be a property worth buying?
Not really! First of all, its selling price is above the market value I have determined by Php175,000 (Php1.6 – Php1,425,000).
Secondly, why would I buy a foreclosed property at Php1.6M when I can buy a same sized lot and have a new house constructed for only Php1,575,000?!
Of course there are other things to consider like time to construct, etc., but for me this serves as a good basis for comparison. If you ask me, I would only consider buying a property if the selling price was about 40% below its market value.
By the way, in my opinion, the "After Repair Value"(ARV) should at least be equal to Php1,575,000 or the cost we have arrived at in step 3 above.
Market Approach (using comparables)
For the market approach, I would have to look for houses for sale in the immediate vicinity of the foreclosed property I am evaluating that are "comparable" or very similar in terms of lot area, floor area, number of bedrooms, number of toilets and bath, capacity of garage or parking slots, etc., and get their selling prices.
Of course it may be hard to find properties with exactly the same characteristics so I would have to settle for what is the nearest comparable property. Take note that the advertised selling prices are just the sellers' asking price or "wish price" and may not necessarily reflect an accurate picture of the property's market value.
If I can find a comparable property that has just been recently sold, then that would be an even more accurate estimate of the current market value. But where do I look for these comparable properties? I can go around the vicinity, or look for properties online at the following websites: bahay.ph, sulit.com.ph, olx.com, craigslist.com, buyandsellph.com, etc.
As I am not interested on their "wish price", I would have to call them up and ask a question like "If I were to pay in cash and close the deal in less than 1 month, what would be the lowest price you would be willing to accept?". Their answer to this question, which is like the seller's last price, would be the price I can use as a basis for comparison.
Let's say I was able to get the last prices of 3 comparable properties in the vicinity of the foreclosed property I'm evaluating and their average price is Php1.5M, and again, using the example in the cost approach, the foreclosed property is being sold at Php1.6M. Obviously, the property is not a bargain as it is not being sold below market value.
How about rentals?
Determining current rental rates for a particular area is a lot simpler and pretty straight forward. I often hear stories from other real estate investors that all you have to do is go to the nearest sari-sari (convenience) store, buy a bottle of softdrinks and some snacks, then while consuming these, engage the tindera (seller) with some small talk and ask if there are any houses or apartments for rent in the area.
To get more details and ensure you are getting relevant data, you also need to ask questions such as:
Where are these houses for rent?
How much are the rental rates?
Is it easy to find vacant units in the area?
If a vacant unit is available, how long would it remain vacant?
And so on and so forth…
This approach actually works and is very easy to do, provided you are willing to get out of your comfort zones and go out on the streets.
Use bandit signs
Another tactic which I heard from another real estate investor, which is quite unorthodox in my opinion, would help determine the demand for rental units at the rental rates you have determined above.
This calls for putting up bandit signs in the same area that says "Apartment for rent PhpX,XXX per month" or "House for rent PhpX,XXX per month" that includes your number and then you  just have to wait for interested callers or texters.
You can then gauge if there really is a demand for a rental property at the same area at that rental rate.
You would then have to tell the callers that the property will not be ready until after a few weeks depending on certain factors (use your creativity to explain this). You can even say that the property already has a tenant but if they want, you can contact them if a unit becomes available and you ask again at what rental rates are they willing to be your tenant. It's like doing a market research for rentals.
I have never actually done this yet but I certainly would like to try it someday.
Is there an easier way?
If I'm feeling lazy or if I'm too busy due to work, which is often, is there an easier way to do these? Well, one option that comes to mind would be to just the avail of the services of a reputable and licensed real estate appraiser. The problem here is I really can't hire an appraiser each time I am looking at a prospect property as the going rate for appraisers is from P3,000-P5,000 per property appraisal and I'm not willing to spend that amount on every property that comes my way.
Another option would be to just rely on my broker. This is where having a broker comes in handy, provided they have already sold a number of properties in the same area or vicinity. They are in a good position to give a fairly accurate estimate of the market values of properties in their areas of specialization. It would also help a lot if your broker also invests in real estate and knows that you are looking for properties that are below market value.
What next?

Using the information gathered from the approaches described above, one can have an objective means of determining if a foreclosed property is being sold below market value. In my case, If do find a foreclosed property that appears to be sold at a price below market value, I still have to determine if I really am going to make enough profit, or if I am going to make any profit at all, after all expenses like repairs, taxes, broker's commissions, etc. are considered.
I also have to check if the property will make a decent positive cashflow if I do decide to have it rented out, or if I decide to sell it through a rent-to-own scheme. These will have to be discussed in a separate article.
Take note that I learned the above methods partly from my review classes for the November 2007 Real Estate Brokers' Licensure Exam under Engineer Enrico Cruz of the Urban Institute of Real Estate, and partly from actual experience. I hope this helps those who are new to real estate investing.
How about you, how do you determine the market value of a foreclosed property? Please share it here through the comments section below and lets compare notes. Thanks!
Happy investing!
To our financial freedom!
Jay Castillo
Real Estate Investor
REBL#: 3194
Blog: www.foreclosurephilippines.com
Text by Jay Castillo. Copyright © 2009 All rights reserved.
Image courtesy of Stuart Miles / FreeDigitalPhotos