If you are looking for bank acquired assets in the Visayas and Mindanao areas, then this one's for you. Here is the Buena Mano Visayas and Mindanao Q4-2010 catalogue. This free catalogue of acquired assets is published quarterly and contains Green tag, Yellow tag, and Red tag properties for sale.
*As far as I know, this is the last installment for the Q4-2010 batch of catalogues from Buena Mano. Other Q4-2010 catalogues can be found below:
Download the Buena Mano Visayas and Mindanao Q4-2010 catalogue
This time around, the file size of the softcopy of the catalogue is significantly smaller than the Metro Manila and Luzon catalogues, and I no longer had to split the file. You may download the complete Buena Mano Visayas and Mindanao Q4-2010 catalogue below.
>>>Click here to download a copy of the Buena Mano Visayas and Mindanao Q4-2010 catalogue in PDF format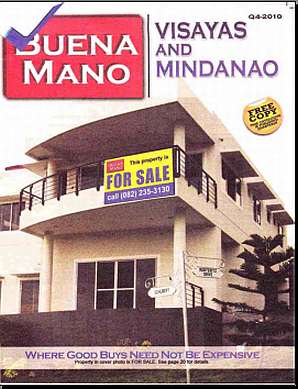 Interested?
If you are interested in any of the properties in the Buena Mano Visayas and Mindanao Q4-2010 catalogue and need assistance, or if you need help with making an offer to purchase, please leave a comment below. You may also contact Mr. Roel Vergel through his contact details below, and he will be more than glad to assist you.
Call or text: +639125169315
E-mail: good_rich23@yahoo.com
More properties from Mindanao
One of the feedbacks I received in the ongoing Foreclosure Investing Philippines Survey* is to feature more properties from Mindanao. I hope this listing will help fill that need. Rest assured, I will continue posting listings from all over the Philippines once I get them.
Hint: If you are working for a bank, Special Purpose Asset Vehicle (SPAV), lending institution, etc, which has listings of bank foreclosed properties or acquired assets located in the Philippines that you want to get featured and exposed, just send them to me and I will post them here at no cost! Just leave a comment below!
*If you haven't answered the survey, please do so as I would appreciate all of your inputs to help improve Foreclosure Investing Philippines. Please answer the survey here. Thanks!
Disclosure: I am a duly accredited real estate broker of Buena Mano Property Sales and Leases and Roel is helping me with this.
Happy hunting!
To our success and financial freedom!
Jay Castillo
Real Estate Investor
Real Estate Broker License #: 20056
Blog: https://www.foreclosurephilippines.com
Follow me in Twitter:http://twitter.com/jay_castillo
Find us in Facebook:Foreclosure Philippines facebook page
Text by Jay Castillo and Cherry Castillo. Copyright © 2010 All rights reserved.
PS. In order to help improve foreclosurephilippines.com, I would appreciate your feedback through this survey, which should take no more than 5 minutes to complete. Please click on this link to answer the survey: http://bit.ly/fipsurvey
PPS. Don't be the last to know, subscribe to e-mail alerts and get notified of new listings of bank foreclosed properties, public auction schedules, and real estate investing tips. Mailbox getting full? Subscribe through my RSS Feed instead!